By Grant Ehrlich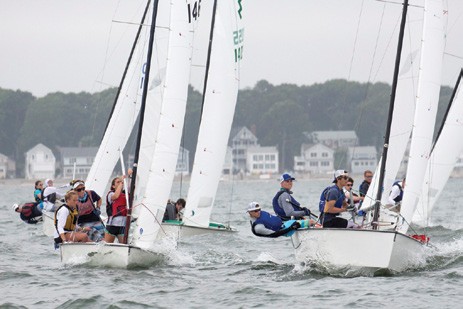 The stars aligned over Niantic Bay June 30 and July 1, 2017 for the Connecticut/Rhode Island Lightning Junior District and US Sailing's Chubb U.S. Area B Triplehanded Championship, a two-day event hosted by Niantic Bay Yacht Club in Niantic, CT.
Six teams representing American Yacht Club, MudRatz, Riverside Yacht Club, Sail Newport and Westhampton Yacht Squadron competed in the the CT/RI Lightning Junior District and Chubb Area B Triplehanded Championship. Many of these young sailors were new to the Lightning, and all agreed that this venerable 19-footer rocks!   © Julia Cronin
Day 1 included a clinic, practice racing, and video debrief by 5-time U.S. Match Racing Champion and Chief Rules Judge Dave Perry with guest appearances by current Lightning District Champion Dave Peck and Lightning expert Randy Shore.  The clinic began on land with a demonstration of the nuances that make good teams great and the details that make great teams champions. Perry, Peck, and Shore covered mast tuning, the synergistic interplay between the backstay, wire and sheet controls, and the subtleties of sail trim. Then it was on the water for two hours of training under the megaphone of Coach Perry, and two hours of practice racing, to be revisited in a video debrief.
Six junior teams participated, using borrowed boats provided by Niantic's Lightning Fleet 85. When the boat covers came off, the next expression was awe. "Yo, dude, these Lightnings are sick!" was the immediate reaction of MudRatz sailor Alex Hughes. Day 1 concluded with a gourmet cookout by Chef Carol Faye of Niantic's Slipper Shell Galley.
Day 2 was dedicated to championship racing. Niantic Bay YC's crack race committee hammered out seven back-to-back "no rest for the weary" races. This was a national qualifier, after all, with no wimping out to the "I," "U," or "Z" flags by this RC. "X" was all they needed.
Early on, Parker Colantuono, Amelia Reed and Jackie Morrison from Sail Newport, sailing More Cowbell, were looking very strong, with 1-2-1 for Races 1 to 3. MudRatz Zach Champney, Peter Cronin and Alex Hughes on Shaken, not Stirred were also placing well, taking the gun in Race 2. Then Chris Lukens, Timothy "TJ" Danilek and Pierce Ornstein from Riverside Yacht Club found their mojo, putting in 1-1-2 for Races 4, 5 and 6.
Going into the 7th race, the Lukens and Colantuono teams were in the hunt for the podium, tied with 8 points, and the American Yacht Club team of Eric Dowd, Nicholas Hein and William O'Leary were just two points over MudRatz Lisa Spalding, Evan Spalding and Iain Jaeger. Better still the breeze was building, so much so that the video drone had to head for shore. Chris Lukens' team from Riverside YC prevailed, earning the right to proceed to the Chubb U.S. Junior Championships at Toms River Yacht Club in Toms River, NJ August 8 -11, where they will compete for the Sears Cup.