Sponsors Historic Swim for the Ocean
By Lynn Oliver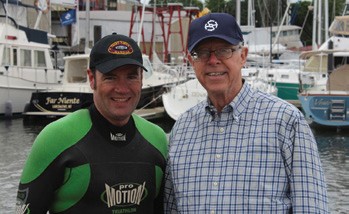 On June 15, swimmer and clean water advocate Christopher Swain became the first person in history to swim the entire 133-mile length of Long Island Sound and the East River. The purpose of Swain's swim, from Montauk, NY to New York City, was to call for a permanent end to the dumping of raw sewage into coastal waterways.
Swimmer and clean water advocate Christopher Swain shares a moment with Brewer Yacht Yards & Marinas founder Jack Brewer at Brewer Post Road Boat Yard in Mamaroneck, NY. ©byy.com
At the 100-mile mark of his swim, in Mamaroneck, NY, Swain paused to say hello to Jack Brewer, founder of Brewer Marinas. Together, they announced a partnership to distribute a revised version of Swain's Best Practices For Boaters. During their meeting, Brewer spoke of his mother, an avid open water swimmer who regularly swam three miles through Long Island Sound from Mamaroneck to Rye Playland, becoming a strong voice for clean water in the region. The importance to her of clean, swimmable water became a foundational value of Jack's and helped shaped his approach to marine business.
"The more people we can get to embrace clean water, the better," said Brewer. "We are in a position to help thousands of boaters find ways to clean and paint and protect their boats in ways that support the health of the waters that all of us use and enjoy."
Best Practices For Boaters is by no means the last word on ocean protection, but rather a comprehensive set of suggestions – swap out your zinc anodes for longer-lasting and more ocean-friendly aluminum anodes, avoid single-use plastic bottles, and pump sewage holding tanks into receptacles on pumpout boats or shoreside facilities – that can help boaters do more for the waters they love.
"Thousands of boaters use Long Island Sound and the East River," said Swain. "We developed Best Practices for Boaters to help folks have fun on the water and protect the health of the ocean. The idea is to make boaters aware of the impact their routine activities and choices can have on the health of coastal waterways."
From the start, the Brewer team recognized that they were in a position to protect local waterways. Siting and construction decisions reflected a commitment to protecting fragile coastal ecosystems. Rain gardens and storm water control plans helped to divert and absorb contaminated runoff.
Today, everything from solar panels and electric pumpout boats, to boat washing catch basins, and ground water protection systems – as well as helpful advice on environmentally-friendly choices – can be found at Brewer. With its recent merger with Safe Harbor Marinas, Brewer's environmental initiatives are supported by a national focus including the Sea Bin Project. A floating bin designed to collect debris, these successfully tested at Safe Harbor's San Diego, CA location this spring and will be rolled out in marinas worldwide. When the opportunity arose to shine a light on Long Island Sound's water quality, Brewer stepped up to support Swain, who swims threatened waterways to energize protection and restoration efforts.
This was not Swain's first long swim for clean water. He was the first person to swim the entire lengths of the Columbia, Hudson, Mohawk, Charles and Mystic Rivers, as well as Lake Champlain. Over the last two decades, Swain has braved everything from pesticides, raw sewage and nuclear waste to blood-sucking sea lampreys.
In Long Island Sound and the East River, Swain swam between two and five hours a day, accompanied by a safety boat whose crew assisted him in collecting water quality data, documenting conditions, and conducting a wildlife inventory. "Every 20 to 25 minutes, I swam up next to the boat, took a water sample, hydrated, and re-fueled," noted Swain. "We cooperated with the U.S. Coast Guard, so when there was a small craft advisory, gale warning or dangerous sea state, I didn't swim that day."
Swain swam in a wetsuit, cap, goggles, and a SharkShield repellent device strapped to his ankle. About 50 miles in, an engine failure on his safety boat halted Swain's westbound progress. He and his crew limped into Brewer Bruce & Johnson's Marina in Branford, CT. During the time it took to get the engine repaired and then ultimately replaced, Brewer supported Swain by loaning a private boat. Brewer locations in Stratford, Stamford and Mamaroneck also provided assistance.
Brewer/Safe Harbor Marinas will be an ongoing partner with Swain, working to identify opportunities to leverage their coastal presence for the good of the ocean. Swain's big dream? "One day every waterway in North America will be safe for swimming every day."
For more information about Christopher Swain including Swain's Best Practices For Boaters, visit SwimwithSwain.org. To learn more about Brewer Yacht Yards & Marinas, log onto byy.com.
Lynn Oliver is the Director of Member Experience at Safe Harbor Marinas.