By Azia Keever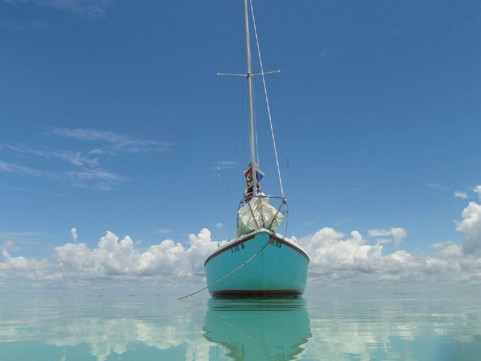 The Florida Keys have always been a sailor's getaway and Key Largo is becoming a sailor's dream destination. Key Largo is the uppermost key in the long chain of islands off the southern tip of Florida. With one of the best coral reefs, Molasses Reef, just three miles offshore of its south end, this key is one you don't want to just merely drive through on your way down to the tourist trap at the end of the rainbow. Any local will tell you Key Largo is a must-experience staple of the Florida Keys.
Guests have the exclusive use of a Catalina 22 for the duration of their visit.  © Jason Hines/keylargocottages.com
For those wanting to experience the epitome of the low-key, sailor lifestyle of the Keys, the Key Lime Sailing Club and its many offshoots around the upper keys is the place to go (keylargocottages.com). Key Lime Sailing Club & Cottages, just an hour's drive from Miami in Key Largo, is where sailors take a break from living aboard their boats to enjoy each other's company and the warm beach breezes over a cool drink and a beautiful sunset.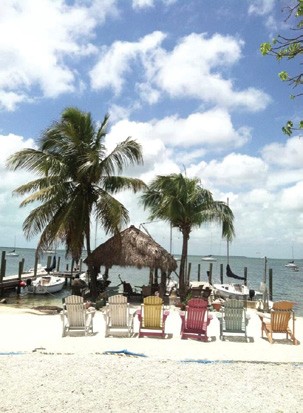 The club is family-owned and sailing-oriented. There is a plethora of free water toys for anyone staying at the club to use at their leisure, including kayaks, paddle boards, snorkel gear, canoes, and fishing gear. The secluded beachfront location of the cottages creates an environment of trust and community among the vacationers. Everyone gets to know each other on the beach and at the waterside Tiki hut.
Key Lime Sailing Club & Cottages is a great place to relax in the slow, rustic, and friendly atmosphere of the Old Florida Keys.  ©Deborah Bastin/keylargocottages.com
The Key Lime Sailing Club is also partnered with Morning Star Sailing Charters (morningstarcharters.com). Morning Star has been around Key Largo for over 30 years and is an important part of the key's sailing scene. In addition to chartering their sailboats, they offer captained sunset sails and snorkel trips seven days a week. A sailboat marina, the South Dade Marina, was also added to the Key Lime Sailing Club in February of 2017, offering eco-friendly kayak tours through the mangroves (southdademarina.com).
In fact, the marina has taken on a community vibe, with kayak rentals and tours with both clear and traditional kayaks, as well as sailboat bareboat charters, captained sunset sails (we love our sunsets, if you can't tell by now!) on a 34-foot Gemini catamaran with an 18-inch shoal draft, 4-hour charters with one or two activities available, everglades kayaking tours, mangrove jungle adventure snorkeling, beach barbeques, and a 10- to 11-hour, 32-mile round trip sail out into the ocean for a snorkel turtle reef tour. Other boats available are a 33-foot Morgan Islander, a 24-foot Hunter, and a few Catalina 22s.
Attached to the club is, of course, an ASA-accredited sailing school. With locations at the South Dade Marina and the Key Lime Sailing Club, the American Sailing Academy (americansailingacademy.com) offers classes from ASA 101 Basic Keelboat Sailing certification to ASA 106 Advanced Coastal Cruising and beyond.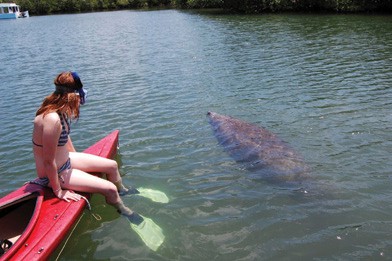 The captains down at the club even have the qualifications to teach the ASA 107 Celestial Navigation Certification course, if you ever want to forgo the modern marvel of your GPS. And if you are thinking of becoming an ASA instructor, you can get certified down here as well! Vacation is a great opportunity to finally get those certificates out of the way and encourage your kids to learn how to sail on their own.
Up close and person with a manatee  ©keylargocottages.com
But one of the most convenient things about the club is when that you book a stay in one of the many seafarer-themed cottages you get a personal Catalina 22 to cruise around in for your whole stay. Imagine yourself taking this no-stress small vessel out to Nest Key, what we like to call Mud Bath Island, and spending the day there with an ice chest full of drinks and food.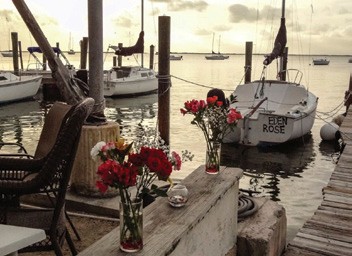 Key Largo has a lot to offer for all of your vacation dreams, and the Key Lime Sailing Club has been slowly focusing the Key into a top sailing destination while supporting and maintaining its important historic areas and cultivating environmental awareness among vacationers and locals alike. Whether you come here to learn, relax, or explore new experiences, the club has what you need, when you need it. Easy to reach and hard to forget: Key Lime Sailing Club & Cottages.
The waterside Tiki hut is perfect for enjoying an after-sail libation.  © Brian Dale/keylargocottages.com