By Karina Zaleski
Editor's note: Thirteen-year-old Karina Zaleski lives in Stamford, CT and sails out of Stamford Yacht Club. Coming from a family of sailors, Karina represented the Northeast U.S. at the America's Cup Endeavour O'Pen, an international event for junior sailors held in Bermuda during the 35th America's Cup.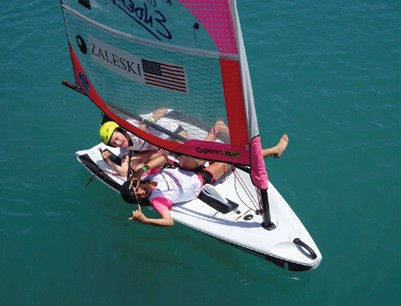 I first started sailing the O'Pen BIC last fall, when my friend from Optis introduced me to the boat. My friend urged me to go to the Junior Olympic Regatta in Florida. I had so much fun at this regatta and with the idea of an "un-regatta." BIC sailing was fun for me and I wanted to sail in another BIC regatta. Nevin Sayre [BIC Sport North America's Junior Sailing Programs Director] encouraged me to do O'Pen BIC North Americans in Sarasota, Florida. I'm really glad that he did.
Karina Zaleski (yellow helmet) and new friend Jesie DeBraga ham it up during Sunday's freestyle event.   © Suzanne & Waldek Zaleski
O'Pen BIC North Americans was my second BIC regatta, and the qualifier for the AC Endeavour event in Bermuda. This event was also an un-regatta. An un-regatta is all about having fun. You never know what you will be told to do on each leg. Sometimes it is only a 360 or a mandatory capsize, but sometimes you must stand until you round the next mark. North Americans was a great experience for me and the experience that it led me to have was even better. Only a few months later, I was on my way to Bermuda!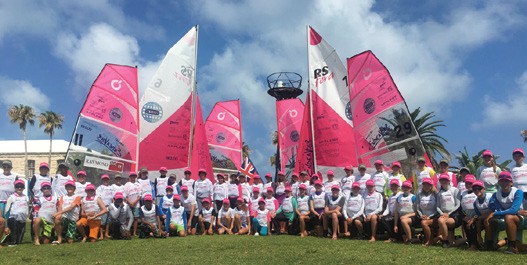 © Suzanne & Waldek Zaleski
When I arrived in Bermuda, I met some of the RS Feva sailors from Holland at the airport along with a few BIC sailors from Japan. Soon we were off to the Messina House, where 32 sailors, 32 chaperones, the O'Pen BIC coaches, and a film crew would be housed. There were sailors from 10 different countries including many representing the U.S.
On the second day of the trip, Jesie DeBraga, a Bermudian friend that I met on the first day, took me to the Blue Hole, which is an old dolphin hole. We went swimming in caves and cliff jumping. Afterwards we got ice cream and went back to the Messina House. In the evening we took a trip on the Spirit of Bermuda to watch some of the Red Bull Youth America's Cup racing. This was a delightful start to my trip.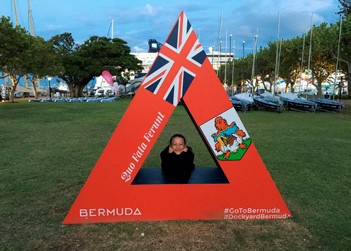 We started practice on the third day. For sailors from outside Bermuda, the AC Endeavour program and the U.S., it was their first time sailing under the "Bridge of Doom" – it's like limbo for boats. Everyone had so much fun with overcoming the obstacles that Nevin put in front of us. That evening, Nevin surprised us with blokarting, which is a lot like O'Pen BIC sailing on land with wheels. We also met Peter "Pedro" Stevenson, who has designed foiling gear for the O'Pen BIC and other boats.
Bermuda's motto, 'Quo fata ferunt,' is Latin for 'Whither the fates carry us.'  © Suzanne & Waldek Zaleski
On Thursday and Friday we sailed the regatta, and Saturday was our big show. We sailed a race for live television, as the halftime show between Race 1 and Race 2 of the America's Cup Finals. All of the sailors had fun and did great, especially in that race. They even asked us up to the main stage at the AC Village.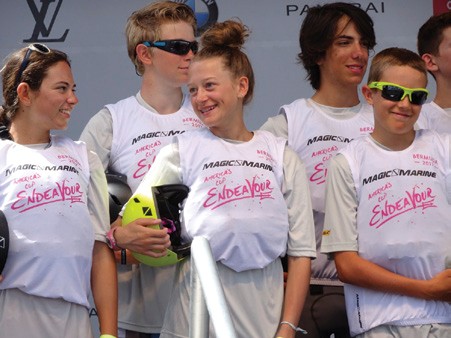 Sunday was almost everyone's last day in Bermuda. Some sailors, including myself, sailed in a freestyle event where the goal was to impress the judges by putting on a show. You can do things like headstands, capsizes, pushups off the boom or across the boat and anything else that you can imagine.
Karina (center) and her fellow O'Pen BIC athletes were invited onto the main stage at the America's Cup Village.   © Suzanne & Waldek Zaleski
Sunday evening was the farewell dinner with the O'Pen BIC and Feva sailors. I headed home on Monday morning, taking the early bus to the airport. This was an amazing experience for me. I'll never forget the friends I met, the places I went, the things I learned, or the entire experience!