By Maeve Gately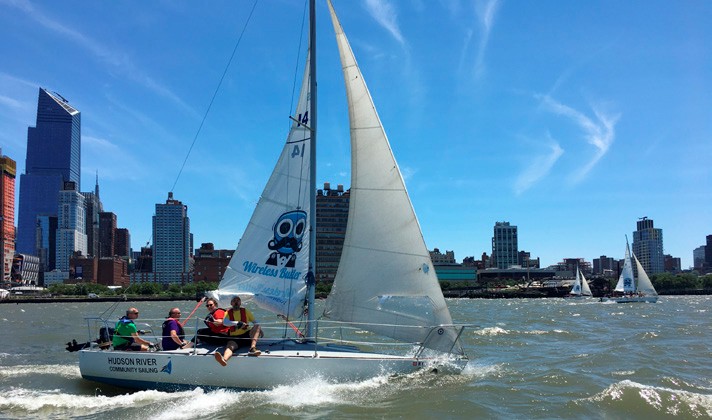 Hudson River Community Sailing (HRCS) and the Knickerbocker Sailing Association (KSA) partnered for the 14th annual Stonewall Sails on June 24. Stonewall Sails, which was the first gay, lesbian, bisexual, and transgender sailing regatta when it debuted in 2003, remains the longest-running LGBT sailing regatta in the world.
With winds gusting over 20 knots, the Stonewall Sails race committee called for reefing on the seven competing J/24s.   © Tom Kluepfel
It is the sixth year that HRCS has partnered with KSA, who in turn raises funds to support HRCS youth programs. This year, KSA members raised over $9,000, and competed for a close first place out on the Hudson.
"Twenty-knot gusts and a very strong ebb current made for some white-knuckle mark roundings," said regatta co-organizer Matt Kapp. By the end of the day, the top three finishers were separated by just one point. "There's never a dull moment on the Hudson," Kapp, added. "And, as always, hats off to HRCS for their professionalism and patience!"
Earlier that same week, HRCS hosted the first annual Mark J. DiStefano Youth Regatta, the final event in HRCS's youth keelboat racing program. This program is the first interscholastic sailboat racing league in New York City, and brings public and private schools together to compete on the water. The regatta honors the memory of Mark DiStefano, an avid sailor who passed away late last year. Family and friends of Mr. DiStefano came down to watch the regatta, which took place on a breezy morning.
"Whether it's KSA, local high schools, or industry groups like the New York Architect's Regatta Foundation, HRCS is proud to provide a venue for organizations of all types to get out on the water and celebrate their mission," said HRCS Community Sailing Director Don Rotzien.
Celebrating its 10th anniversary this year, HRCS was founded in 2008 to develop leadership and academic success in underserved New York City youth through sailing education, and provides maritime education and recreation to the community at large. As part of that mission, HRCS partners with a number of groups and community organizations throughout the season, hosting regattas, team building events, and a membership program to connect the city to the waterfront. Organizations interested in hosting their event with HRCS should contact the organization at hudsonsailing.org.
Maeve Gately is the Development Director at Hudson River Community Sailing.