By David Fasulo
Published by Falcon Guides, an imprint of Globe Pequot   237 pages   paperback   $24.95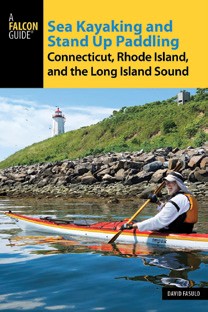 Long Island Sound, Fishers Island Sound, Block Island Sound and Narragansett Bay have some of the very best waters in the country for kayak touring, stand up paddling and kayak fishing, and our friend David Fasulo has written the definitive guide to exploring the many islands and coastal preserves of this scenic area.
After an introduction with an overview of popular areas and tours, how to select the right equipment, launch ramp etiquette, basic navigation, and safety tips including advice on dealing with rough water, the author takes us on an easterly course from Greenwich, CT to Block Island. More than 40 paddling areas are highlighted, with kayak tours for cruising paddlers, distance paddlers and rough water enthusiasts and the best spots for stand up paddlers. We particularly like the "Something Fishy" segments, with tips on the best places and techniques for catching stripers, blues, fluke and other species.
In addition to excellent maps with overviews of paddling circuits and launching areas, this book is packed with more than 100 exceptional photographs, most by author David Fasulo, a professional photographer whose images have graced the cover of WindCheck. Among the other shooters providing images is another avid paddler and frequent WindCheck contributor, Carl Tjerandsen, whose photos of Mystic River Mudhead Sailing Association events have appeared in several issues of this magazine.
A certified American Canoe Association sea kayak instructor and a participant in several Blackburn Challenge open ocean distance races, David Fasulo has envisioned and completed long distance kayak circuits including the "Stonington Triangle" – Stonington, CT to Montauk, NY, to Block Island, RI and back to Stonington in a day, a distance of 54 miles in 14 hours. He is also the author of How to Rock Climb: Self Rescue and Rock Climbing Connecticut.
Whether you're strapping your 'yak or board onto foredeck or roof rack, you deserve a good paddling and Sea Kayaking and Stand Up Paddling Connecticut, Rhode Island and the Long Island Sound is a comprehensive resource and a most worthy companion.