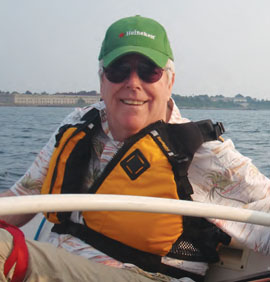 The world of sailing, especially adaptive sailing, lost a great friend when Robie Pierce of Newport, RI passed away peacefully on July 12 at 76 years, surrounded by his family. Known by many names – The Mayor of the Waterfront, Swamp Yankee, Borisll Logical Bob, Mr. Magoo, or just Bob, Robie came into the world quietly on January 3, 1941 in New Bedford, MA…the last time he was ever quiet.
Robie's family lived in South Dartmouth, MA before moving to Marion in the 1950s, and he graduated from Tabor Academy before entering the University of Vermont. Growing up at the Beverly Yacht Club and sailing 110s, he won a number of regattas. Later, on a Ranger 26 named American Pie, he won everything in sight.
Robie's career in the marine business included jobs at Ranger/O'Day with Jim Hunt, J Boats with Bob Johnstone, and C&C. At the Miami Boat Show in 1982, Robie was moving a J/24 when the mast hit an overhead wire. How did he handle this? In true Pierce fashion, he named his own J/24 Full Charge, complete with lightning bolt graphics.
At Christmas 1985, Robie was diagnosed with MS, forcing him to a wheelchair for the rest of his life. Not one to let a little thing like MS get him down, Rob began his career as a disabled sailor. As he said to friends, "I'll continue to sail if I have to crawl to the boat." So much for adversity. He went on to win a number of major adaptive regattas, including the US Disabled Championship in 1991, '93 and '95.
Seeing that sailors with disabilities needed acknowledgement on a world stage, Robie made certain that US Sailing became the RNA (Recognized National Authority) for the sport, then made it his goal to make sailing a Paralympian sport. While the late Ian Harrison MBE of Great Britain led that charge, he would not likely have succeeded without help from Robie, the late Hugh Elliot, and the late Gay Lynn (whose husband Bill was a Past President of US Sailing). Sailing became a demonstration sport at the 1996 Paralympics in Atlanta and was accepted as a medal sport in Sydney in 2000.
As if Robie didn't have enough to do, during the 1990s he was an integral part of Newport-based Shake-A-Leg, which was founded by his friend Harry Horgan after Harry was paralyzed in an automobile accident. With a mission of engaging people in their own mental and physical recovery after an accident or a devastating diagnosis, Shake-A-Leg became a place where people of all abilities could break down previously insurmountable barriers.
Robie continued to clean house on the racecourse, winning the World Disabled Sailing Championship in 1993 and the Japan Match Race Cup in '94. Through Robie's persistence, the U.S. hosted the Disabled Worlds for the first time in 1998, in Newport. Unsurprisingly, he was a moving force in the event's overwhelming success.
In 2004, US Sailing's Committee for Sailors with Disabilities presented Robie with the Gay S. Lynn Memorial Trophy, which is awarded to "a person, volunteer or professional, or an organization, that is selected as having made an outstanding contribution to disabled sailors and the sport of disabled sailing over a sustained period of time." Fittingly, he was the first recipient of the award.
When a group of Robie's friends started a new regatta for disabled sailors in 2009, they knew it had to be named after him. Called for permission to use his name, he responded with a typical Pierce retort: "But I'm not dead." Upon relenting, he bombarded the organizers with alternate names for the event…all featuring his name. Fortunately, they ignored him and it's known simply – and fondly – as the Robie Pierce One-Design Regatta.
Robie will be missed by many, not only for his indomitable spirit but his positive outlook that said there was nothing he couldn't do. I'll miss you Magoo, and so will so many others.
– Bill Sandberg