The 47th Annual World's Longest Sunfish Race, 30th Annual Catamaran Race 7th Annual Laser Race, and 2nd Annual C420 Race Around Shelter Island, NY
By Beth Fleisher, Southold Yacht Club Race Committee Chair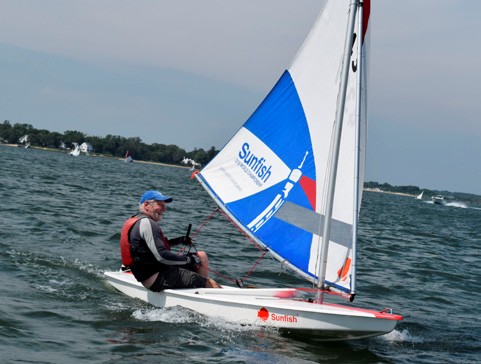 Southold Yacht Club in Southold, NY hosted a unique day on the bay on Saturday, July 8, as a competitive fleet of 29 boats began the World's Longest Sunfish Race Around Shelter Island. A fairly unusual event in the world of dinghy racing, this is a distance race of 18.9 miles in a line drawn around the island…much more when upwind tacking is taken into account.
Jim Koehler was late for the start of this year's World's Longest Sunfish Race Around Shelter Island, but was smiling as he crossed the finish line first.   © Celeste Flick
This was the 47th year for this race, which is on many a sailor's bucket list. Rob Eberle came all the way from North Carolina to the North Fork of Long Island to cross it off his list. He finished sixth after a hard-fought race in foreign waters, posting a time of 4 hours, 1 minute and 49 seconds.
Perhaps more remarkable is the story of this year's winner, Jim Koehler of Amityville, NY. Koehler has raced around the island in years past, but this year traffic on land and a few other complications caused him to be over three minutes late for the start. He was feeling discouraged, but Southold Yacht Club member Peter Young, observing the race from a safety boat, encouraged him: "Jim, it's a long race. You have plenty of time to catch up!" Koehler took his advice to heart, placing first with the ninth best time in the race's 47 years, 3:54:15, three seconds ahead of John Eckart of Massapoag Yacht Club in Sharon, MA.
This perhaps best encapsulates the spirit of the race. Yes, a race of so many miles and hours is a challenge that every participant takes seriously. But while the race is certainly competitive, it is a very supportive fleet, cheering each other to the finish. This is a race for young and old. Some Sunfish sail doubles, so parents can share the experience with their children. Dr. Dick Heinl was a strong competitor in the race, and at 92 was its oldest participant, finishing in 4:41:40. His name will be engraved on the Heinl-Lyman Octogenarian Plaque, for oldest competitor.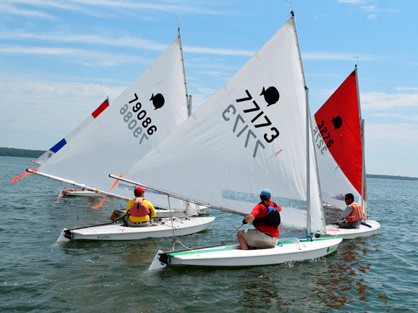 Sisters Kathryn Campbell and Joyce McKenzie grew up sailing in Southold but now live far apart, in the Virgin Islands and Manhattan, respectively. They met up to spend the afternoon on the water. Their effort won the Peggy Wagoner Memorial Trophy, for first woman sailor(s) over the finish line.
© Celeste Flick
Thirty years ago, catamaran sailors decided they had to get in on the fun. This year fielded two divisions of cats on the water. Division A saw Andrew Burdett of Mount Olive Township, NJ in his wickedly fast A Class cross the line in 2:02.20. The race committee had to race back from lunch on land to their position to clock him over the line! He was the first boat in from all the fleets, and won his division. Division B was taken by James Gilmore of Narrasketuck Yacht Club (Amityville, NY) sailing with Geoff Loffredo, who won the race in Sunfish as a teen sailing at SYC. Experience doesn't hurt in a race of this sort.
Lasers joined the race seven years ago. Though this year's Laser fleet was small, the racing was competitive. Arthur Leiz of the Noyack Bay Informal But Competitive Laser Racing Association sailed an outstanding race, finishing in 3:57:02, over 11 minutes ahead of second place finisher Cole Coby of Shelter Island.
This was the second year that Southold YC's youth sailors were allowed to compete in their C420s. The day's breeze and reaches gave them plenty of opportunity to trapeze and fly the chute. Robbie Elliston and Amanda Burke won handily at 4:16:38. After a, long, challenging sail with harsh tide considerations and high wind and waves on the back side of Shelter Island in Gardiner's Bay, they crossed the line with well-deserved huge smiles on their faces.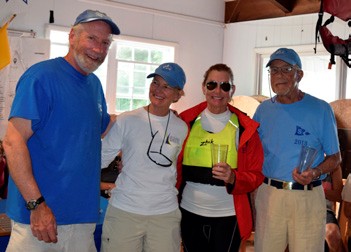 Back at the club, sailors, volunteers, and members relaxed and enjoyed the after-race party. A race like this doesn't happen without a lot of support from the hosting club. Southold Yacht Club rallies for this unique and now historic event. Safety is always top priority. Ten safety boats followed the fleets around the island, never losing sight of the sailors, keeping in constant contact with each other and the race committee. The hospitality committee is large, guaranteeing plenty of good cheer on land.
Left to right are Jim Koehler (first place Sunfish and first place Masters, Kathryn Campbell and crew Joyce McKenzie, who won the Peggy Anderson Wagner Award as the top female finishers, and Dick Heinl, the oldest finisher at age 92   © Celeste Flick
The Race Around Shelter Island is a milestone in the life of every sailor who completes the course. Souvenir t-shirts will be worn for years to come, and competitors relish the chance to answer the question, "What's that?" from their landlocked friends. This race builds memories, which is why it is such a cherished and long- running event. Put it on your calendars for next summer…you won't regret it!
Complete results are posted at regattanetwork.com/event/14876#_newsroom.