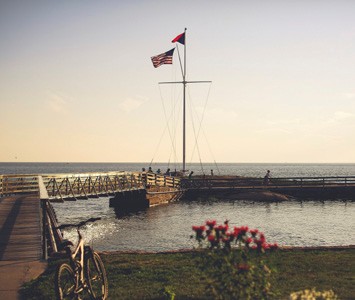 In the yachting world there are many "classic" coastal races. However, there is only one Sachem's Head Coastal Classic. While the Connecticut shoreline does not offer towering volcanic spires to navigate around or the glitz and glam of other world famous sailing venues, it is undoubtedly one of the most beautiful places to spend a warm afternoon on the water. After a long, long hiatus Sachem's Head Yacht Club in Guilford, CT is excited to host an Eastern Connecticut Sailing Association PHRF regatta.
© shyc.club
This year, Sachem's Head YC will host the inaugural SHYC Coastal Classic on Saturday, August 19. This will be a 15- to 20-mile coastal race, and it's open to any sailboat with a current PHRF rating. The course length will be determined based on class breaks and weather conditions. The course will be a coastal tour of the local shoreline, using familiar landmarks and navigational aids as turning marks; not just beating to windward and returning to the starting area. The conclusion of the race will be spectacular, with the finish line just off the Sachem's Head harbor entrance. Following tradition, there will be a festive awards party at the SHYC Clubhouse with dinner and live music
Established in 1896, Sachem's Head Yacht Club has fostered passion for sailing and love of the sea for many local families. The club provides sailing, swimming and tennis lessons for children and a robust sailing and entertainment schedule for adults. Visit www.shyc.club to learn more. The club invites all interested sailors to enter the Coastal Classic. Entry can be completed online at YachtScoring.com.