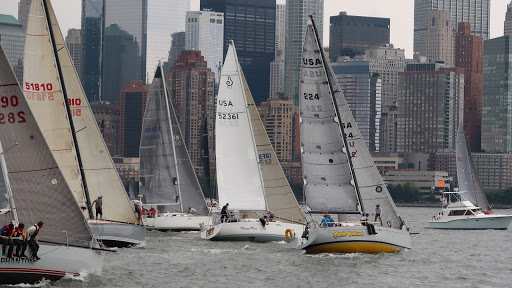 Sea Cliff, NY – July 31, 2017 – This past Thursday, for the first time in the ALIR's history, the race started in the shadows of the Statue of Liberty in New York Harbor with the Manhattan skyline as the backdrop. It was spectacular – complete with a FDNY fireboat showering the fleet with a water cannons sendoff and the Manhattan Yacht Club's Honorable William Wall providing the opportunity for spectators to view the start – close up.
A year ago, Regatta Chairmen, Jim Aikman & Doug Wefer, proposed the start move from 2 miles off of Rockaway Point, NY in the Atlantic Ocean to this new "viewable" location in New York Harbor. The wheels started in motion and the plan came together. 65 boats started the 41 year old race just northeast of Ellis Island on Thursday, July 27th, in a modest southerly headed for the Verrazano Narrows Bridge. It was a perfect addition to the 205 mile race that always features many different elements – ocean sailing, summer Long Island Sound conditions and the full gamet of wind strengths. Now navigating the challenging New York Harbor was added.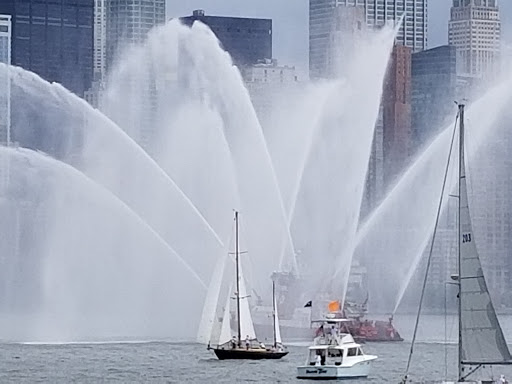 After New York Harbor the fleet proceeded down the Long Island south shore until the seabreeze died on Thursday night. It was tough going all the way into Long Island Sound when a northeasterly from a low pressure system got the entire fleet home in less than 18 hours – a record minimum for the first to last finisher.
James Coffman's Gemini took the PHRF spinnaker fleet ALIR Trophy while Michael Emmert's 80 year old Golden-Eye took the PHRF Non-spinnaker fleet. Max sailed by Moritz Hilf & Peter Kingham took the Doublehanded Fleet and Tom Reese's Flight Simulator II took the Multihull Fleet.
Click for full results.
Yesterday, Sea Cliff Yacht Club hosted an Awards Celebration and Beach Party. The ALIR committee got so much positive feedback to the start move that the plan is to continue to start in New York Harbor in future years.