A Biography of Victor Kovalenko
By Roger Vaughan
Published by Altamira-Verlag GmbH   282 pages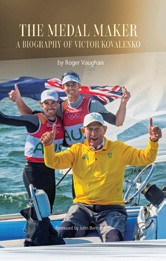 Sailors coached by Victor Kovalenko have won ten medals in eight Olympic Games, six of them gold. As John Bertrand (who skippered Australia II to victory in a certain regatta in the waters off Newport, RI in 1983) observes in the Foreword, Kovalenko is the most successful Olympic sailing coach the world has ever seen.
Cover photo © Daniel Forster/Altamira Creation AG
Born in Ukraine in 1950, Kovalenko was a national champion in the Flying Dutchman (1974) and 470 (1981), but in the wake of the USSR's boycott of the 1984 Summer Olympics he turned part-time coaching into a full-time career. At the 1988 Seoul Olympics (the inaugural year for Women's Olympic Sailing), he coached the relatively inexperienced team of Larisa Moskalenko and Iryna Chunykhovska to a bronze medal in the Women's 470.
Kovalenko began coaching the Ukrainian Men's and Women's teams after the dissolution of the USSR, and sailors from the newly independent nation brought two medals home from Atlanta in 1996. When political upheaval eroded the support for Ukraine's sailing team, Kovalenko accepted a job offer from the Australian Sailing Team and he's never looked back. As the squad's Head Coach (and Men's 470 Coach), Kovalenko is currently preparing his athletes for Toyko 2020. We wouldn't bet against more medals joining his tally.
The founding editor of The YACHT Magazine, Roger Vaughan covered the 1989-90 Whitbread Round the World Race from aboard Fazisi. His other biographies of sailing luminaries include Ted Turner: The Man Behind the Mouth and The Strenuous Life of Harry Anderson. He is the writer and director of the film Of Rails and Sails: The Life of Arthur Curtiss James and, we're proud to say, also a WindCheck contributor. He and his wife, Kip Requardt, live on a river in Oxford, MD, a short sail from Chesapeake Bay. An inspiring story of a remarkable man, The Medal Maker is available in hardcover and Kindle editions at Barnes & Noble, Kobo Books, and Amazon.