Ocean Planning in New York and the Mid-Atlantic
By Noah Chesnin, Policy Program Manager, New York Seascape Program, and Rebecca Kusa, Coordinator for Onsite Programs, Wildlife Conservation Society's New York Aquarium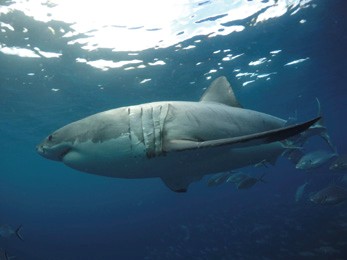 More than 20 million people live in New York City's metropolitan area and help make the city a cultural and economic hub. But this city's frenetic energy doesn't stop at the water's edge. In many ways, New York's seascape is as teeming as its streets with human activity that is both diverse and economically important. From boating and fishing (for recreation and income), to shipping and mining, to new uses such as offshore wind development, there's no end to how we have found ways to utilize our coastal waters.
With the waters of New York Harbor cleaner than at any time in the last 100 years, marine mammals and sharks – including Great Whites – are making a resurgence.
More than 348,000 New Yorkers were employed in marine-related jobs in 2014. While the ocean serves as an important economic engine for the state, these waters also support a broad range of wildlife species. Our local seascape serves as either a permanent home or migratory corridor for whales, sea turtles, sharks and tunas, coldwater corals, seabirds, and economically vital and fascinating fish and invertebrates. Increasingly, we understand the importance of science-based, stakeholder-driven ocean planning to balance the existing and emerging human uses of the ocean while making room for wildlife. To further progress, government agencies and stakeholders must work together to develop plans that set priorities, anticipate future needs, and inform decisions and practices by drawing from the best available scientific data.
Emerging infrastructure projects could pose a threat to wildlife and restrict recreational uses like sailing and boating. For example, Governor Cuomo recently announced a commitment to develop up to 2.4 gigawatts of offshore wind power by 2030. This would be enough energy to power 1.25 million homes and would be a critical milestone to meet the Governor's directive of reaching 50 percent renewable power by 2030. Ensuring that offshore wind generation and other uses are sited in a way that allows wildlife to thrive while supporting sustainable ocean uses such as fishing requires proactive, science-based ocean planning that engages all stakeholders.
That's why New York State and the Mid-Atlantic region are moving full steam ahead with ocean planning. In 2013, the New York Department of State (DOS) finalized the Offshore Atlantic Ocean Study. Spanning from inshore waters to the edge of the continental shelf, this study compiled the most comprehensive dataset of physical, biological, geographic, and socioeconomic information available for the Atlantic Ocean waters offshore New York State.
Four years later, the New York State Department of Environmental Conservation completed the New York Ocean Action Plan. This ten-year, 61-point action plan is designed to promote "better-managed and healthier ocean ecosystems that will benefit people, communities, and the natural world." At the regional level, the Mid-Atlantic Regional Planning Body (RPB) – comprising federal, state and tribal government leaders – has designed and carried out the region's first planning process for ocean waters from New York to Virginia.
The Wildlife Conservation Society's New York Aquarium is actively involved in engaging the public in the ocean planning process at the state and regional levels. The Aquarium has devised innovative ways to leverage its public platform to raise awareness about local marine wildlife and develop tools that encourage visitors, teachers, school groups, and the general public to get involved in conservation. For example, the Aquarium partnered with National Geographic to make a map of the New York Seascape that highlights the range of species and human uses in the region and provides a visually compelling illustration of the importance of ocean planning.
New York State and the region have made great strides to develop and implement innovative ocean plans. The New York Aquarium has been an active partner, engaging visitors, teachers, and students to join our mission. With their combined efforts, we are optimistic that ocean planning will help ensure that the sea that never sleeps will remain a vibrant, biodiverse economic center long into the future.
This Sailors for the Sea Ocean Watch essay is reprinted with permission. For more information and to join the race to restore ocean health, visit SailorsfortheSea.org.