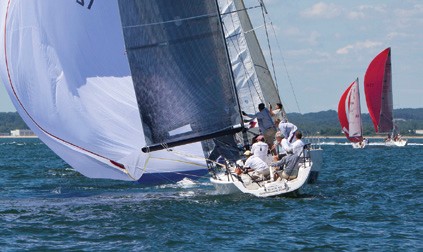 For more than a quarter-century, sailors in southeastern Connecticut have raced to raise funds and awareness for Center for Hospice Care, and the Mystic River Mudhead Sailing Association's Mudhead Benefit Cup has become the "Go to Regatta" on the Eastern Connecticut Sailing Association circuit.
Sailors on more than 50 boats, including Laura Grondin's Melges 32 Black Ice (West Hartford, CT), supported Center for Hospice Care in last year's Mudhead Benefit Cup.   © Carl Tjerandsen
The event kicks off at 6 pm Friday, July 13, 2018 with the Racer's Jam under the tent at Mystic Shipyard in Mystic, CT. Having won several ECSA "Best Managed Race" awards over the years, The Mudheads are well known for their ability to run a rockin' regatta, but how many of these sailors can actually rock on guitar, or drums, or at the mike? The Racer's Jam is your chance to find out, so bring your ax! Sailors and non-sailors are welcome (as are musicians and non-musicians). Beverages will be available, and Munchies food truck will be on site.
The youth sailors competing in the 4th Annual Dinghy Race by Volvo Construction Equipment, a distance race modeled after the Volvo Ocean Race, will be finishing during the Racer's Jam, and sailors competing in the Mudhead Benefit Cup can pick up their Sailing Instructions and give these sailors a rock & roll welcome.
The Mudhead Benefit Cup is Saturday, July 14, and it's open to all PHRF monhulls, NEMA multihulls and one-design boats with an LOA of at least 16 feet. Entrants in this ECSA "Near Shore" event may select to race on one of three racing circles: a PHRF Spinnaker Circle; a One-Design Circle; and a Navigator's Circle (to include Spinnaker and Non-Spinnaker classes). After the racing, the Mudhead MegaParty starts at 5 pm under the tent at Mystic Shipyard. This legendary shindig features a buffet dinner, full bar, silent auction, prize drawings, and live music by Rock N Soul Revue.
For the tenth consecutive year, the Mudhead Benefit Cup is a Sailors for the Sea Clean Regatta. Pledging their commitment to clean waters and shores, the Mudheads encourage all sailors to fulfill the goals set forth by the Newport, RI-based non-profit environmental organization. "We are committed to running our race as cleanly as we can," said Bob Austin-LaFrance, Mudhead Past Commodore. "By signing up as a Silver Level Clean Regatta, we hope to create a focus for sailors in southeastern Connecticut for keeping our oceans and shorelines healthy." Mudhead Race Committee Chairman Greg Gilmartin added, "It's common sense: no trash overboard, no discharging of waste, recycle your paper and cans, and have a good time on the water and at the party on shore." For more information and to register, visit mudhead.org and YachtScoring.com.
The Mudhead Benefit Cup is a fundraiser for Center for Hospice Care, a community-based, non-profit organization that provides care in the home and, often, in skilled nursing facilities for those facing the end of their life, regardless of age, disease or inability to pay. Located in Norwich, CT, the organization also provides bereavement services for families in Eastern Connecticut free of charge, regardless of whether their loved one died under Hospice care or not. To learn more, log onto hospicect.org.
Allison Keck, Event and Communications Coordinator at Center for Hospice Care, contributed to this report.