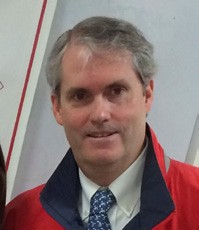 McMichael Yacht Brokers of Mamaroneck, NY has announced that John Glynn has joined its team of yacht sales professionals. Many will know Glynn from his long tenure as the U.S.-based Vice President of Sales & Marketing at Bitter End Yacht Club, the well-known sailing and water sports resort in the British Virgin Islands. He looks forward to continuing his warm relationship with BEYC (and all the wonderful guests he has met over the years) as they rebuild their future.
Glynn brings to McMichael more than three decades of sailing, boating and sales experience. In addition to his time at BEYC, Glynn's resume includes years as an Associate Editor (and Contributing Editor) for Sailing World magazine, where he was part of the team that created both the "Boat of the Year" awards and the NOOD Regattas. Over the years he has raced aboard C&C 40s, New York 36s, J/35s, Express 37s and Farr 40s, as well as his own J/30 and Soverel 33 Grey Seal. He boats with his family out of Captain Harbor in Greenwich, CT.
"John brings a wealth of experience as a racer, boat owner and industry professional," said Michael Beers, McMichael Sales Manager. "He will be a fantastic resource for his clients in buying and selling boats. We're proud to have him on our team, and his background will help us continue to fulfill our motto, 'Experience Counts!'"
"I've been fortunate enough to spend my career in and around the sailing and boating community, enabling me to love the various jobs I've held," said Glynn. "In joining McMichael Yacht Brokers I've found another fresh, new outlet from which to apply my knowledge of and passion for yachting. Moreover, I'm able to do that while working in the company of some of the finest yacht brokers in the business. It is my hope to bring to my brokerage customers a sense of confidence and satisfaction as they make yacht transactions, both from the buyer's and seller's sides." Glynn will be based out of McMichael's Mamaroneck, NY office and can be reached at johng@mcmyacht.com or at 203-247-0470.