By Grace M. Vincens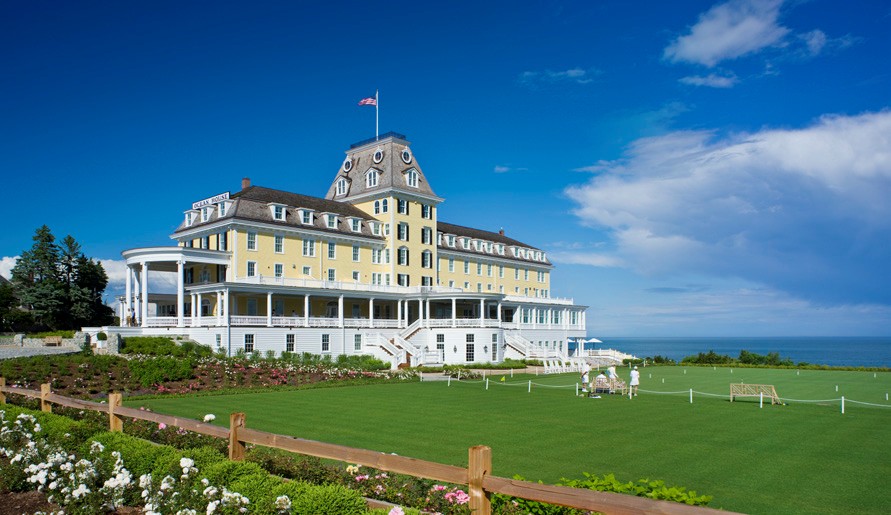 When it comes to the perfect summer destination, the quaint town of Watch Hill on Rhode Island's Little Narragansett Bay is second to none. Upon arrival by boat, you are met with a view of oceanfront stores and restaurants with the historic Ocean House in the background.
The Ocean House one of only eight Forbes Triple Five-Star Hotels in the world.   © oceanhouseri.com
Watch Hill sits at the most southwestern point of Rhode Island and benefits from the protection of Long Island. Compared to the glam and glitter of Newport, Watch Hill offers a welcoming, family-oriented community. If you are looking for a place to have a relaxing few days with your family, Watch Hill is the place; there is something for everyone. Whether you enjoy lounging on the beach, shopping, surfing, or entertaining your kids, Watch Hill is the place to do it. As you walk around town, there are dozens of stores and boutiques to shop in and several restaurants for casual or formal dining.
Boaters coming from the east should be aware of the dangerous reef that runs from Watch Hill Light to the east shore of Fishers Island. To arrive safely into Watch Hill, boaters should follow the channel closely. As you approach Watch Hill and see the lighthouse to starboard, you will find the Watch Hill Passage marked between "G 1" and "R 21." Once in the passage, there are tough tides as this is where Fishers Island Sound, Block Island Sound, and the Pawcatuck River all meet. Keep heading northwest to find a gong marked "G 7." After rounding that, follow the breakwater towards Sandy Point, an island in between Stonington, CT and the shores of Watch Hill. The passage through Sandy Point is narrow and can be crowded, so going slowly is key. After you get around the tip of Sandy Point, the channel is very obvious. Eventually, you will meet the mouth of the Pawcatuck River and turn to starboard to get into Watch Hill Harbor. From here, you can either choose to follow the channel into the harbor, or join the anchorage off of Napatree Point Beach. Staying anchored overnight in the anchorage is very safe and protected from weather, and the swells inside typically never get above a foot.
The Watch Hill Light has been guiding mariners since 1807.   © oceanchamber.org
When planning your trip by boat, there are numerous docking options to choose from. To come to Watch Hill, there is no requirement or pressure to be a member of a yacht club due to the several surrounding boatyards that all offer temporary dockage. Check out Dockwa's website for docking information! They range from the Watch Hill Docks located in town, Frank Hall Boat Yard, Watch Hill Boat Yard, or Stonington Harbor Yacht Club, a 5-minute trip across the Bay. Personally, I recommend the Watch Hill Docks. As a former dockmaster, I am biased but docking is all about location, location, location and the Watch Hill Docks win as they are located right in the center of town!
Watch Hill Boat Yard is a full service facility offering excellent access to Little Narragansett Bay and the ocean beyond.   © Clay Burkhalther/burkhalterphotos.com
Watch Hill does not fall short of amenities either. Whether you choose to stay on board your boat or in a hotel, there are a variety of accommodations around town. There is the world famous Ocean House, which was awarded the Triple Five-Star rating by Forbes for its hotel, spa, and restaurant. The "big yellow house on the beach" is the perfect resort to experience all Watch Hill has to offer. You can spend the day on the private beach looking out on Block Island Sound, and then wind down in its luxurious spa. The hotel has multiple dining options such as their Bistro, Bar, and Lounge. Either way, you cannot go wrong. In addition to the Ocean House, there is the Watch Hill Inn that sits in town with an uninterrupted view of the harbor and bay. The Watch Hill Inn is one of the original establishments in Watch Hill, having opened its doors in 1845. The Inn also offers private beach access for its guests and close proximity to shopping and dining.
As for activities around town, there are many options. You can enjoy a walk around town and out to the historic Watch Hill Lighthouse, take your children for a ride on the oldest operating wooden carousel, or charter the classic gaff-rigged catboat Trim Again with Captain Jack! Trim Again offers charters right out of the Watch Hill Docks for a private sail of two hours, half-day, or even a full day.
The Watch Hill Light was commissioned in 1806 by President Thomas Jefferson and was finished in 1807. The museum inside chronicles its abundant history and is open July and August on Tuesday, Wednesday and Thursday afternoons from 1 to 3 pm.
Providing endless fun for children for over 125 years, the Flying Horse Carousel is said to be the oldest continuously operating carousel in the United States.
The Flying Horse Carousel is believed to be the oldest continuously operating carousel in America.   © oceanchamber.org
Navigating the waters of Watch Hill is straightforward and allows you to go slowly so you can take in the sights of the breathtaking town. When planning your summer cruises, Watch Hill is definitely a sight to see. Known as the best kept secret of Rhode Island, Watch Hill deserves to be seen and appreciated.
Need a boat for this summer? Check out our website, latitudeyacht.com!
Grace M. Vincens attends Salve Regina University in Newport, RI and recently completed an internship at Latitude Yacht Brokerage.