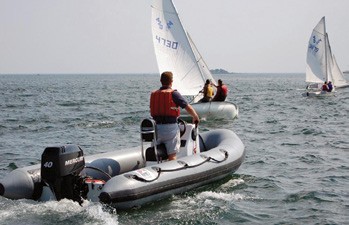 Pettipaug Sailing Academy in Essex, CT is offering two US Sailing Safe Powerboat Handling courses this season. "Our two-day Basic Safe Powerboat Handling course is for anyone who wants to learn more about boats, the 'how and why' about various boat types and motors, the basics of navigation and charts, on-water communication and of course, to become better at operating small powerboats," said John Kennedy, Pettipaug's Director of Powerboat Instructional Program.
© ribcraftusa.com
"This course is also for those who do not hold either a State of Connecticut Safe Boating Certificate or Certificate of Personal Watercraft Operation," Kennedy continued. "The first day will provide classroom instruction and testing on the Rules of the Road and other Connecticut and U.S. Coast Guard boating rules, navigation and lateral aids, basics of fire extinguishers, how and why various types of boats handle as they do, and more. On successful completion, the student will receive the CT Certificate of Personal Watercraft Operation and the US Sailing Safe Powerboating Certificate."
The second day focuses on hands-on, on the water experience with a variety of boats and engines. Instruction includes preparing the boat, starting and operating engines, basic maintenance, handling characteristics of various boat types, maneuvering in close quarters and at slow and planing speeds, stopping the boat, safe docking, securing the boat, anchoring, man overboard drills, and more.
"We are also now offering US Sailing's two-day Safety, Rescue & Race Support Boat Handling Course," Kennedy continued. "In this course, students will learn Safety and Rescue techniques such as righting capsized boats, assisting boaters in the water, various methods for rigging and towing boats, VHF radio communication, search techniques such including using the 'Williamson Turn,' steering an intercept course, use of bearings and GPS, weather fundamentals, reading and plotting using charts, tides and currents. In the second part of the course, students will learn basic race support skills that will help them to provide assistance for race committees."
For more information, contact Kennedy at 860-526-2232 or Kdesign@snet.net, or log onto Pettipaug.com.