A Sailing Surfer's Voyage of Awakening
By Captain Liz Clark
Published by Patagonia   336 pages   hardcover   $35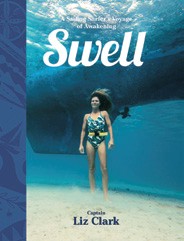 A seven-month family cruise along the Pacific Coast of Mexico left a powerful imprint on 9-year-old Liz Clark. Upon returning home, Liz knew she wanted to devote her life to protecting the ocean…and to be the captain of her own sailboat. Liz fell in love with surfing while earning her BA in Environmental Studies at UC Santa Barbara, and that's where she met the mentor who would help make her dream a reality.
Dr. Arent "Barry" Schulyer, an 80-year-old retired professor, gifted his 1966 Cal 40 to Liz and agreed to fund the preparation of the boat for offshore voyaging with the understanding that Liz would be on her own financially once the journey began. Casting off her docklines in 2006, she sailed Swell from Southern California to Central America and the Pacific Islands in search of surf, self, and discovery.
Liz has lived sustainably for over a decade, with electricity provided by the sun and wind and a soul cruisin' lifestyle supported with writing, blogging, photography, and representing conscious brands. She's garnered global acclaim as an environmental activist, sailor, and surf adventurer. Those abundant adventures include an invitation from Jimmy Buffett to sing backing vocals on "Cheeseburger in Paradise" at a secret concert in Bora Bora, and subsequently guiding him to a secret surf spot on the island's barrier reef.
"I've come to believe that pursuing our dreams is as important to our souls as it is to creating a better world," the author writes. "There's a journey out there that's uniquely ours to claim. It starts with going after our truest desires. Doing so plugs us into something greater than ourselves and allows us to break free of perceived limitations. A path is opened to a daring kind of spiritual freedom and connection that could transform the world."
World Oceans Day is Friday, June 8, and purchasing this beautifully illustrated, wonderfully inspiring book at patagonia.com/shop/books-by-patagonia would be a fine way to celebrate. Better still, get two and give one to your favorite young sailor or surfer!