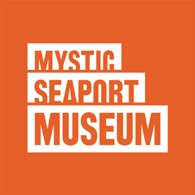 Mystic Seaport in Mystic, CT has announced the launch of its new brand identity, with the introduction of the addition of Museum to its name and a redesigned logo, website, and large-scale ad campaign. The launch is a key element of the Museum's strategic plan to expand the reach and relevance of the Museum by positioning itself as a more modern and relevant cultural center that strives to inspire an enduring connection to the American maritime experience.
"Today's audiences value the community that a museum creates," said Steve White, President of Mystic Seaport Museum. "By restoring the word 'Museum' to our name, we celebrate and showcase history while making a space for people to talk and think about issues that matter to them. Museums are contemporary centers of community and discourse and we are updating our identity to reflect that role."
Mystic Seaport Museum's new logo, in the color nautical orange, presents a sharp, bold visual identity in a shape that references the planks of a ship with the cascade of stacked vertical text representing waves approaching shore. The organization's new tagline, "Radical Craft. Get Into It." will anchor its new advertising campaign debuting this month. It is an action-oriented statement that shines the light on the Museum as a place that celebrates immersive experiences, craft and the evolution of seafaring innovation that was radical in its time. The ad campaign will feature outstanding imagery created by the Museum's photography staff.
Founded in 1929, Mystic Seaport Museum is the nation's leading maritime museum. In addition to providing a multitude of immersive experiences, the Museum also houses a collection of more than two million artifacts that include over 500 historic vessels and one of the largest collections of maritime photography. For more information, visit mysticseaport.org.
Dan McFadden, Mystic Seaport Museum's Director of Communications, contributed to this report.