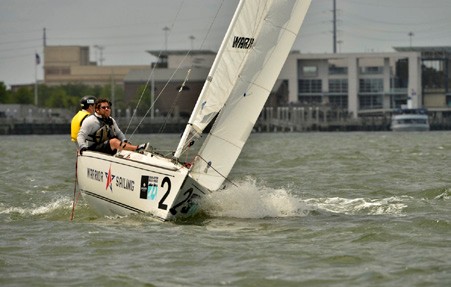 Organized by the Charleston Ocean Racing Association and sailed in the waters off North Charleston, SC, Sperry Charleston Race Week is the largest keelboat regatta in the Americas. With a whopping 246 boats in 16 classes for this year's 23rd edition (April 12 – 15, 2018), hundreds of enthusiastic sailors enjoyed the great racing and Dixie hospitality for which this event is famous.
Warrior Sailing, helmed by Josh Agripino with Scott Ford trimming the main and Sammy Lugo trimming headsails, finished third in the J/22 class. Agripino (U.S. Marine Corps) sustained severe injuries to his lower legs and feet and lost sight in one eye. Ford (U.S. Navy) is blind, and Lugo (U.S. Army) had his right leg amputated below the knee. Seven of the 11 J/22s were raced by teams from the Warrior Sailing Program!  © Allen Clark/PhotoBoat.com
Sharing the honors as the overall winners were Mike Beasley's GP 26 Rattle-n-Rum (Annapolis, MD; first in the 12-boat ORC C division) and Peter Duncan's J/70 Relative Obscurity (Rye, NY). Duncan, Victor Diaz de Leon (tactician & main trimmer), Willem Van Waay (headsail trimmer) and Jud Smith (headsail trimmer) won three races and finished fourth or better in three others to capture the J/70 class, largest of the regatta with 68 boats.
This was the first Sperry Charleston Race Week for Duncan, who received the Charleston Race Week Cup for best overall performance by a one-design. "You read about people winning trophies like this and you never think it could happen to you," the reigning J/70 World Champ modestly declared. "It's a very, very cool honor. It was terrific to sail in this venue for the first time. Charleston is very tricky with lots of shifts, lots of current. I just think it's a really well-run event and it was a pleasure to participate."
Other teams from the Northeast posted strong performances, including Heidi & Steve Benjamin's TP52 SPOOKIE (South Norwalk, CT), winner of the 4-boat ORC A division. Christopher Stone's Velocidad (Atlantic Highlands, NJ) was victorious in the 13-boat J/24 class. Vicki & Chris Field's Leda (Noank, CT) topped the 16-boat Melges 24 Corinthian subdivision. In the 8-boat J/88 class, Iris Vogel's Deviation (New Rochelle, NY) finished second and Mike Bruno's Wings (Armonk, NY) was fourth.
If there's been one constant about Sperry Charleston Race Week over the years, it's the family dynamic that's become a hallmark of the regatta. The event and venue, with all the onshore fun, attracts sailors to combine high-level racing with quality family time. As usual, there were plenty of family programs competing in Sperry Charleston Race Week 2018. In fact, a family from Stonington, CT comprised the entire crew of the J/70 Old School, with Brandon Flack sailing with his wife Cindy, 15-year-old daughter Lily and 13-year-old son Dylan. "It couldn't be better when you can mix sailing at a great regatta like this and being with your family," Flack said. "I was so psyched coming down here because I couldn't imagine a more fun thing to do."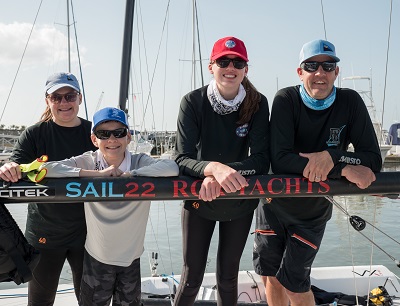 The Flacks regularly race in the Melges 24 fleet back home. They travel to major regattas to compete in the J/70 class, and borrow a friend's boat for Sperry Charleston Race Week. "We've been sailing the J/70 for almost five years as a family team, so we've kind of grown up with the boat," he said.
We're a happy family! Representing the Mystic River Mudheads and MudRatz (l – r), Lily Flack (helm), Dylan Flack (Rush Chairman), Cindy Flack (tactician) and Brandon Flack (Stunt Owner) sailed Old School in the J/70 Corinthian division.   ©Larry Monteith
Lily Flack, an accomplished Club 420 sailor who also races a Melges 24 with the MudRatz youth team, steers the boat upwind. Dylan Flack, described by his father as a retired Optimist racer, is a "gentleman" sailor who only likes to drive downwind. Brandon trims the headsails and keeps the middle sorted while Cindy works the bow. "We just piece it together and have a blast," said Flack. "Sometimes we have good races and sometimes we have bad ones. I'd rather have a bad race with these guys than with a bunch of rock stars."
While Brandon Flack was listed as skipper on the scratch sheet, he made it clear that his wife is really the one in charge. "Cindy makes all the big decisions," he explained. "She keeps us all on point." For instance, Cindy declared that Old School would skip the third race on Thursday when the wind gusted into the mid-teens. Nobody had a problem with that call as the family spent the rest of the afternoon relaxing by the pool. Nights were spent hanging out and hosting friends in the RV the family had parked just outside the Charleston Harbor Marina and Resort.
The success of Sperry Charleston Race Week is due in large part to its 220 on-water volunteers and another 100 shoreside. "A regatta this size requires a Herculean effort and we could not do it without such a large contingent of outstanding volunteers," said event director Randy Draftz. "There are regattas all over the world wondering how we do this. The easy answer is because we have lots of great volunteers."
The next Sperry Charleston Race Week is scheduled for April 11 – 14, 2019, "and we are working on adding the previous weekend to the event to allow inshore racing for the bigger boats," Draftz noted. For more information, log onto charlestonraceweek.com.
Special thanks to Sperry Charleston Race Week Press Officer Bill Wagner for his contributions to this report.