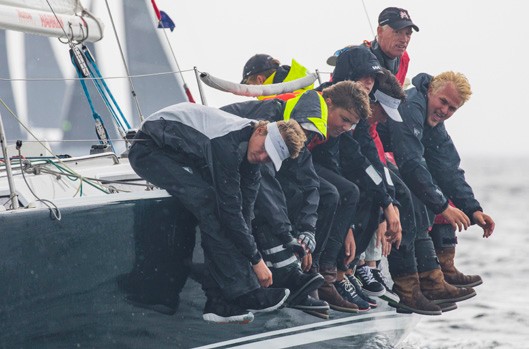 Hinckley Yacht Services in Portsmouth, RI will be the home base for Young American Sailing Academy (YASA) youth team, who are sailing the R/P 63 mini-maxi Gambler in the 51st Newport Bermuda Race.
Double Threat: The Young American Sailing Academy (pictured here aboard Young American in last year's Ida Lewis Distance Race) has two boats entered in the 51st Newport Bermuda Race.   © Stephen Cloutier/photogroup.us
Hinckley is providing logistical support during the lead-up to the race, which starts Friday, June 15, 2018 and will continue through the Transatlantic Race 2019 that begins in Newport, RI next June. In addition to the Gambler team, Hinckley will provide support to YASA's J/105 Young American out of their Hinckley Service Yard in Stamford, CT.
"Hinckley's support is a huge plus for YASA," said YASA co-founder Robert Alexander. "Gambler is a big boat with a deep draft. You need a yard with the right equipment and people, and that is why we are so excited to announce this sponsorship with Hinckley. Plus, having their Stamford yard available for our J/105 Young American program is terrific."
"This partnership with YASA is a perfect example of how Hinckley is uniquely positioned as a yacht management partner for even the highest caliber programs," said Pete Saladino, Chief Marketing Officer of The Hinckley Company. "Hinckley Yacht Services' Portsmouth location was awarded the American Boat Builders & Repairers Association's Boatyard of the Year Award for Excellence in 2017, and with our new location in Stamford we are now closer than ever to our New York-metro area customers."
YASA has assembled a world-class coaching staff of offshore sailors who'll be aboard to guide the young sailors to success. The coaches for Gambler USA 60010 are:
Guillermo Altadill (Barcelona, ESP) A veteran of 16 Transatlantic crossings and 10 circumnavigations including the Whitbread Round the World Race, the Volvo Ocean Race and the Barcelona World Race, Altadill is sailing his second race with YASA. In 2016, he coached the team in the Newport Bermuda Race when they sailed the Tripp 41 High Noon to a class win in the St. David's Lighthouse Division and became the first recipients of the new Stephens Brothers Youth Division Trophy. "Guillermo was an amazing coach because he opened my eyes to the intensity that professionals sail with, and demanded that we sail the same way," said Carina Becker, one of the 2016 High Noon crew.
Ralf Steitz (Treasure Island, FL) As President of the USMMA Sailing Foundation, Steitz relishes making opportunities like this Newport Bermuda Race available to young sailors. Bringing a wealth of experience and passion in supporting and coaching youth in offshore racing and seamanship, Steitz has mentored the likes of Charlie Enright and Mark Towill in their rise from local big boat sailing to two editions of the Volvo Ocean Race. He has sailed in multiple America's Cups and Transatlantic and Transpacific yacht races.
Sara Hastreiter (Casper, WY) A crew member of Team SCA in the Volvo Ocean Race 2014-15, the first all-female team to compete in that event in 12 years, Hastreiter has logged over 130,000 offshore miles including five Transatlantics, a true rounding of Cape Horn after racing in the Southern Ocean, and setting a world speed record in the Round Britain and Ireland Race. She's currently on a quest to become the first person to sail the seven seas and climb the seven highest mountains of the world's seven continents (sara.blue).
Robert Alexander (Rye, NY) One of the co-founders of the Young American Sailing Academy who was aboard High Noon for the 2016 Newport Bermuda Race, Alexander is an experienced offshore sailor and the one non-professional coach aboard Gambler.
The 15 youth sailors racing Gambler are eleven men and four women with an average age of 19.5, five of whom were aboard High Noon in the 2016 edition of the race. They are Collin Alexander (age 20; Rye, NY), Carina Becker (19; Rye, NY), Key Becker (20; Rye, NY), William Comerford (19; Annapolis, MD), Brooks Daley (19; Dorset, VT), Riley Freeman (21; Newport, RI), Julia Lines (21; Bermuda), Fraser Mackechnie (21; Newport, RI), William McKeige (20; Mamaroneck, NY), Madelyn Ploch (17; Pelham, NY), Graham Post (19; East Grand Rapids, MI), Brendan Read (20; Middletown RI), Franny Schulte (21; Birmingham, MI), Griffin Spinney (16; Newport, RI), and Sam Wright (21; Severna Park, MD).
In addition to Gambler, a slightly younger YASA team is sailing the Swan 45 Ticket to Ride (ex Lir) in the Newport Bermuda Race and will be coached by:
Joe Cooper (Middletown, RI) Arriving in the U.S. as a crewmember of the  Australian America's Cup challenge in 1980, Cooper liked it so much he stayed. An active shorthanded sailor/promoter who built his own Classe Mini 650 Coop, like the other YASA coaches, is passionate about teaching offshore sailing to youth. Coop has a knack for communication and for making "all things sailing" easier to understand. He was the inspirational thinking behind the Storm Trysail Foundation Safety at Sea advanced Level-200 curriculum.
Peter Becker (Rye, NY) A co-founder of the Young American Junior Big Boat Sailing Team in 2013 and YASA in 2017, Becker is dedicated to giving back to the sport with his knowledge and experience in offshore sailing. Mentored in his youth by such legendary sailors as Dooie Isdale, Lorna Whittelsley Hibberd, Herbie Hild and Allegra Mertz, he's passionate about creating a new generation of capable offshore sailors. In 2016, along with Guillermo Altadill and Rob Alexander, he coached the juniors to their victory in the Newport Bermuda Race aboard High Noon. That historic win, and the creation of the Stephens Brothers Youth Trophy and Stephens Brothers Society, has led to a record number of youth entries in the 2018 edition of the race. Becker received US Sailing's 2016 Volunteer Coach of the Year Award in recognition of that accomplishment.
Andy Giglia (Wilton, CT) The current Commodore of American Yacht Club and a frequent sailor aboard Ticket to Ride when she was Lir, Giglia has done multiple Newport Bermuda Races. He too was trained by and sailed with Isdale, Hibberd and Hild on the Fair American Syndicate boats.
Ticket to Ride USA 45454 will be sailed by eight youth sailors (six male and two female) with an average age of 16.5. They are Eric Dowd (16; Rye, NY), Nicholas Hein (16; Westport, CT), Aidan Naughton (18; North Kingstown, RI), Constantyn van der Voort (17; Rye, NY), Margaret Leary (16; Greenwich, CT), Caitlin Owles (17; Riverside, CT), Matthew Wallace (16; Rye, NY), and Elliot Taft (16; Rye, NY.)
The Young American Sailing Academy is a non-profit organization with a mission to develop a new generation of American offshore racers by working with high school and college-age sailors and giving them the tools required to compete at the highest level in the sport of ocean racing. Major sponsors of YASA are the USMMA Sailing Foundation and The Hinckley Companies. For more information, visit yasailing.org.