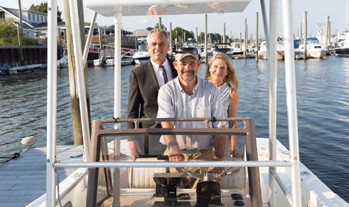 A re-envisioned Soundkeeper patrol season has officially begun. Save the Sound launched its patrol boat, the Terry Backer, on May 11 at Brewer Essex Island Marina in Essex, CT and patrolled to Captain's Cove Seaport in Bridgeport, the vessel's homeport. This represents Soundkeeper's 31st season since its beginning in 1987, although it's Long Island Soundkeeper Bill Lucey's first full season.
Soundkeeper Bill Lucey at the helm of his patrol boat last year with Waterkeeper Alliance President Robert F. Kennedy, Jr. and CFE/Save the Sound board member Kiki Kennedy, MD   ©savethesound.org
Long Island Sound had been without its iconic on-the-water watchdog since Soundkeeper Terry Backer passed away in late 2015. Last summer, Soundkeeper, Inc. and Save the Sound combined forces. Bill Lucey, a native of Wilton, CT, has taken on the role and his patrol boat, a Mako 21, was christened in honor of the Sound's longtime guardian.
From late spring to fall each year, Lucey will make patrol circuits around the Sound, working out of ports from Niantic, CT to Mamaroneck, NY. These patrols will include responding to citizen reports, documenting signs of pollution, and bringing attention to conditions on the Sound, from sewer overflows to whale sightings.
"Restoring Long Island Sound's health requires working from the forest to the sea, with the people on fishing boats and in the Capitol," said Lucey. "Summer patrols connect me to the reality of the Sound and the needs of its wildlife and the people who rely on it for their living, so I can bring that ground-truth back to lawmakers and help them understand what the Sound really needs."
Lucey is backed up by Save the Sound's water quality team, policy experts, communications staff, and environmental attorneys who enforce the Clean Water Act. "This body of water is in my blood," said Lucey. "I'm glad to be back on the Sound and patrolling its shores." To learn more, visit savethesound.org/soundkeeper.
Leanne Bloom at Save the Sound contributed to this report.