Francis Racioppi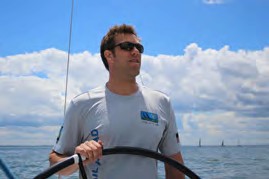 Proudly serving our country in the United States Army for 13 years, Captain Francis J Racioppi, Jr. was a Ranger-qualified Infantry Officer and a Green Beret in the Army Special Forces. Fran deployed to Iraq three times in support of Operation Iraqi Freedom and Operation New Dawn, first as an Infantry Platoon Leader and twice as a mountaineering Special Forces Detachment Commander.
© SailAhead.org
He coordinated Special Operations to combat Al-Shahab throughout East Africa in support of Operation Enduring Freedom, planned and coordinated the Special Forces response to Boko Haram in West Africa, and oversaw the operations of the Special Forces teams countering the Lord's Resistance Army in Central Africa and ISIS in North Africa. Another mission, however, as Race Director with SailAhead, might be Fran's most important yet.
"I grew up in Rhode Island and started sailing from birth," says Fran. "My father and grandfather were avid sailors. Shortly after I was born, my father bought a 37-foot Endeavor. My earliest memories of sailing were on that boat with a teak deck. My father was my sailing mentor, and he taught me how to sail. He imparted the importance of maintenance and taking care of your equipment, as without this discipline you will never leave the dock! I attended sailing classes every summer at East Greenwich Yacht Club in East Greenwich, Rhode Island, where my family were members. I raced Sunfish, 420s and JY15s in the youth circuit, and J/Boats on Wednesday nights."
Founded by brothers Kilian and Sean Duclay of Huntington Station, NY, SailAhead uses sailing and the ocean as a therapeutic platform to help heal U.S. Armed Forces veterans who are suffering from post-traumatic stress disorder and combat injuries (see page 16). SailAhead organizes and runs a growing number of annual events, all with a focus on getting veterans out on the water.
"I learned about SailAhead through the New York University Veterans Association while I was attending business school," says Fran an honors graduate of Boston University who earned a BA in Journalism and a Top Student Athlete award as a member of the Varsity Men's Crew. He received his MBA from NYU's Leonard N. Stern School of Business. "I was inspired to join the mission, as SailAhead provides an opportunity to give back to the veterans community while also pursuing my love of sailing."
"The SailAhead Race Team is a small group of veterans and SailAhead teammates who sail competitively in races around Long Island Sound and beyond," Fran explains. "The role of Race Director is to coordinate the administration and training of the team, as well as the participation in races. I also served as the primary skipper for our races."
"Our primary boat is Hoonigan, a J/105 graciously given to us by Mr. Hunt Lawrence. We participated in five major races last season, including Larchmont Yacht Club's Edlu Race, Storm Trysail Club's Block Island Race, Sea Cliff Yacht Club's Around Long Island Regatta, Ida Lewis Yacht Club's Ida Lewis Distance Race, and Stamford Yacht Club's Vineyard Race. Long Island Sound racing and competition is some of the best in the world. We are a growing team with various degrees of expertise and capability, and we are also getting to know our boat more and more each race. We measure success by getting veterans out on the water, and to that effect we have been wildly successful. In time, the trophies will come."
With an increasingly demanding career, Fran is presently on a leave of absence from SailAhead. The Director of Global Security at Snap Inc., he's also a keynote speaker, leadership development coach and the owner of a company called FRsix through which he shares lessons learned in the Special Forces about the importance of preparation in everything one sets out to do. He is nevertheless looking forward to leading the SailAhead Race Team in one of the world's greatest ocean races. "The Newport Bermuda Race is a crown jewel event for sailing teams," he says. "It is a goal three to five years down to the road for us."
"Kilian and Sean are two of the most charismatic, dedicated, and thoughtful young leaders I have ever met!" Fran enthuses. "Their vision to build a sustaining organization is key to the future of SailAhead. They are respected by veterans both young and old, as well as the entire veterans community. They have built a fantastic organization at such a young age, and it will be years before they truly understand the impact they have had on the community."
"One of the biggest unknown challenges a veteran faces when departing service is a sense of team. In the military, everything a service member does is team-based. Upon transition, few veterans have that level of camaraderie in their life. Additionally, the military imparts a sense of competitive spirit and working towards a goal; something that is also lost on many transitioned veterans. The SailAhead Race Team provides an opportunity to become part of a team, train for a goal, and instill once again competition. The most gratifying part of working with SailAhead is building a team of individuals dedicated to a success greater than themselves."
SailAhead is a non-profit organization that needs help to  continue its mission. "SailAhead survives on the dedication and generosity of donors," says Fran. "Any support is graciously accepted and welcomed."
"The best thing about sailing is conquering the elements and your opponents," says Fran. "It takes skill, drive, dedication and tenacity to be successful on the water, and sailing is one of the few events in life in which all your worries and fears are left on shore, allowing you to focus on sailing fast!"