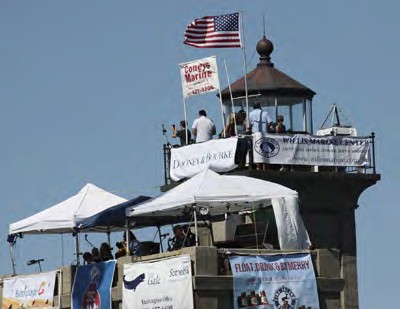 The Huntington Lighthouse Preservation Society has announced that Lighthouse Music Festival will be held in Huntington Bay, NY on Saturday, September 1, 2018. This unique fundraising event, the only music festival in the world held on top of a working lighthouse in the middle of the water, supports the non-profit organization's mission to restore and preserve the historic lighthouse.
© Dan Woulfin
The festival is held annually on Labor Day weekend, and attendance has grown to over 1,000 boats with more than 10,000 attendees from New York, Connecticut, Rhode Island and New Jersey arriving in watercraft of all kinds. Bands will perform on the roof of the lighthouse from 11 am until dusk.
The Huntington Lighthouse Preservation Society, Inc. was formed in 1985 by concerned citizens to prevent the demolition of the Lloyd Harbor Light Station and its replacement with an automated light tower by the U.S. Coast Guard. The objectives of the organization are to restore, preserve and maintain the historic lighthouse, listed on the National Historic Register as the Huntington Harbor Lighthouse. The organization is dedicated to ongoing preservation of the interior and exterior, and preserving it for public use as an educational and historic resource while maintaining its use as an active Aid to Navigation.
"This year, more than ever, we need sponsors," said Pamela Setchell, President of the Huntington Lighthouse Preservation Society. For sponsorship opportunities, contact Setchell at pam@huntinglighthouse.org.
The rain date is Sunday, September 2. For more information including a list of band performing this year, log onto huntingtonlighthouse.org.