By Rob Roden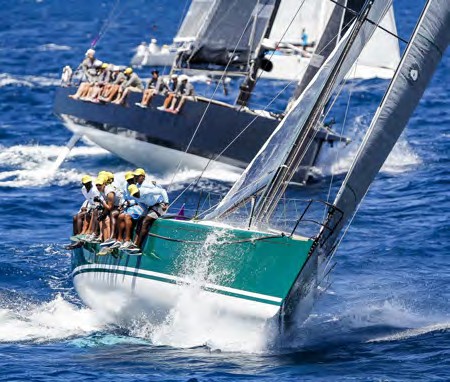 The largest amateur sailing prize on the East Coast is up for grabs at the 2018 Antigua & Barbuda Hamptons Challenge, organized by the Peconic Bay Sailing Association (PBSA) and scheduled for Saturday, August 18, 2018. The winning skipper and crew will receive an all-expenses paid trip to compete in Antigua Sailing Week 2019.
The crew of the winning boat in the Antigua & Barbuda Hamptons Challenge will receive an all-expenses paid trip to compete in Antigua Sailing Week 2019!   © sailingweek.com
The prize includes round-trip airfare, lodging, a charter boat, and registration fees for a captain and crew of five to participate in the greatest celebration of sailing in the Caribbean. Antigua Sailing Week attracts well over 100 yachts from around the world and puts Antiguan culture on display at the parties and events that don't stop until all prizes have been given out and the flag is lowered in historic Nelson's Dockyard. Antigua Sailing Week 2019 will be held April 27 – May 3, 2019 out of English Harbor. For more details, log onto sailingweek.com.
Antigua is the biggest and sunniest of the Leeward Islands that separate the Atlantic Ocean and Caribbean Sea, a place of consistent climate and deep multicultural history. It's also a place of world-class shopping, natural beauty, and a Sunday afternoon party that has been hopping consistently for three decades. And, as the yachting capital of the Caribbean, Antigua has a vibrant and exciting marine and yachting event calendar that includes the biggest charter yacht show in the world, sport fishing tournaments, dinghy racing and world famous yacht regattas.
The Antigua & Barbuda Hamptons Challenge will take place in and around Noyack Bay off historic Sag Harbor, NY, with shoreside festivities, including an all-out Antiguan-style Awards Party, under a tent at Haven's Beach. An Antiguan steel drum band will even bring the sounds of the Caribbean to the Hamptons for this growing summer tradition.
The PBSA is a sailing club located in Cutchogue on the North Fork of Long Island. Under current Commodore Greg Cukor and Race Committee Chair Peter Carroll, nearly 200 PBSA members spend their season running the association's "Summer Series" weekend races in Cutchogue Harbor. On September 29, the club is hosting the 25th annual Whitebread Race, a challenging circumnavigation of Shelter Island. To learn more, visit pbsa.us.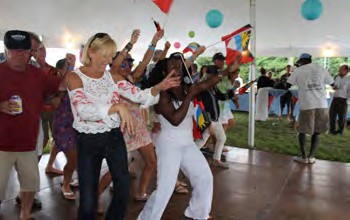 The Antigua & Barbuda Hamptons Challenge is sponsored by the Antigua Barbuda Ministry of Tourism, American University of Antigua Medical School, and the St. James Club. At the Awards Party, wine is provided by Lenz Winery in Peconic, NY, and beer by Montauk Brewing Company in Montauk, NY.
The Caribbean Cocktail Awards Party at Haven's Beach will feature live music by an Antiguan steel drum band. ©antiguabarbudahamptonschallenge.com
The Antigua & Barbuda Hamptons Challenge is a handicapped race using ratings provided by Performance Handicap Racing Fleet (PHRF) of Eastern Long Island. The Captains Guide, as agent for the Antigua & Barbuda Tourism Board, will provide the awards, including a perpetual cup to be engraved with the winning boat's name, etched glass trophies for each division, and more.
Prizes will be awarded at the Caribbean Cocktail Awards Party at Haven's Beach, which will also be open to the public. Tickets are $50 in advance ($55 at the door), and $40 for crewmembers. There will be an auction with amazing Chines prizes, and all proceeds will benefit i-tri (itrigirls.org), an East Hampton, NY-based non-profit organization that empowers adolescent girls through the sport of triathlon. Race registration and tickets for the party are available at antiguabarbudahamptonschallenge.com.
Rob Roden is the Publisher of The Captain's Guide (captainsguidemagazines.com), a "What to do, where to do it-guide for boaters."