By Julianna Barbieri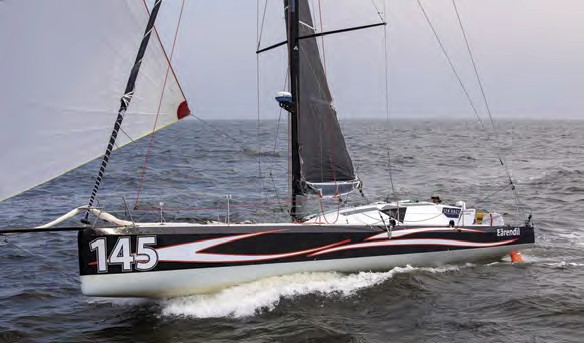 The French/Italian team #145 Eärendil (La Trinité-sur-Mer, Brittany), co-skippered by Catherine Pourre and Pietro Luciani, captured the 2018 Atlantic Cup, the United States' premier and only dedicated Class40 sailing race.
Catherine Pourre and Pietro Luciani sailed Eärendil to victory in the 2018 Atlantic Cup.   © Billy Black
Eärendil dominated the two offshore legs and held on to a narrow advantage as #128 Toothface II (Boston, MA), co-skippered by Mike Dreese and Tristan Mouligné, closed the gap with exceptional racing in the Inshore Series. The Portland, ME-based #127 Amhas, co-skippered by Micah Davis and Rob Windsor, placed third after a consistent performance throughout the two-week event.
Pourre, the first female skipper to win The Atlantic Cup, and co-skipper Pietro Luciani of Venice, Italy, used the impressive lead they built by besting the field during the first doublehanded offshore leg (648 nautical miles from Charleston, SC to Jersey City, NJ) and the second doublehanded leg (360 nm from Jersey City to Portland, ME).
During the fully crewed Inshore Series in Portland, Toothface II put the pressure on Eärendil by winning two out of the five races and placing second twice. Eärendil hung on by just one point, beating Toothface II 77 to 76 on total points.
"We could have been better on the Inshore Series," admitted Pourre, "but Toothface was really great on the inshore series, and also Dragon [Mystic, CT; co-skippered by Mike Hennessy, Merf Owen and Ashley Perrin] and Amhas and the others, so we have been facing people we love. We like them because we got to know them in the previous edition and it has been great sailing all the two weeks, so it's really nice. I am happy to be the winner of course."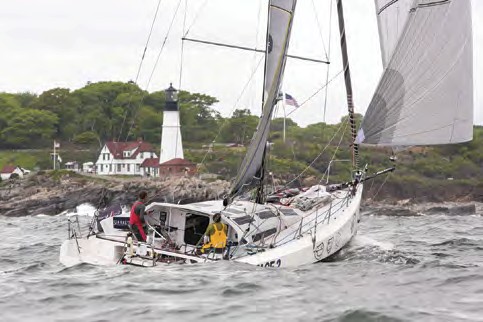 Luciani added, "We did what we had to do in the offshore, but we were facing a super-strong boat – actually a lot of strong boats – but especially Toothface, and we were able to keep our lead, just because of our crew. So thank you to them. I want to thank everyone, this is competitive and friendly and that's the best combination."
Toothface 2 co-skippers Mike Dreese and Tristan Mouligné finished a single point behind the winners.   © Billy Black
Toothface II made a late charge during the Inshore Series to secure second place and just nearly missed out on an extraordinary comeback victory. "We had a great, great inshore crew, and really picked up the pace," said Mike Dreese. "The challenge of the race, where every boat was challenged, the inshore was challenging from every angle. Eärendil gets huge props for a comeback when they were OCS, we are so proud to be among the podium winners. The organization of this event and the level of competition, having the boats come from so far away to compete…this without a doubt, is the greatest race I've ever participated in. Props to everyone involved and all the competitors!"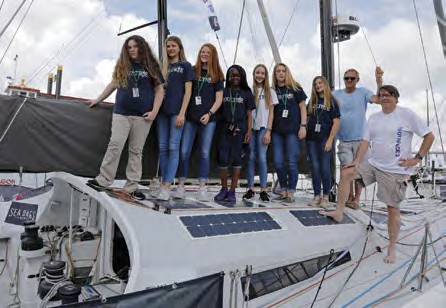 "It was a great event," Mouligné added. "We had a goal of being on the podium and of winning the Inshore Series. We accomplished those two and couldn't be happier. It was a great team that was on the podium with Amhas and Eärendil and [I'm] just super proud and excited."
These young ladies got a tour of Toothface 2 during The Atlantic Cup Charleston Kids Day.   © Billy Black
The Atlantic Cup, the longest offshore sailing race in the Western Atlantic and the most environmentally sustainable sailing race in the U.S., featured an international field of eleven teams representing nine different countries: the USA, Angola, Brazil, France, UK, Sweden, Italy, South Africa and Canada. Sponsors of the 2018 edition include 11th Hour Racing, Angola Cables, Bainbridge International, United Airlines MileagePlus Exclusives, North Sails, and Sea Bags. For more information, visit AtlanticCup.org.
Final Results
Eärendil France     77 points
Toothface 2 USA     76
Amhas II USA     72
Dragon USA      62
Angola Cables Angola     57
Oakcliff Racing USA     43
Privateer USA     40
Talanta Sweden     37
Power of One South Africa     33
Esprit Scout France      23
First Light USA     16
Julianna Barbieri is the Co-Founder of Manuka Sports Event Management in Newport, RI, the creators and organizers of The Atlantic Cup.