By Ron Weiss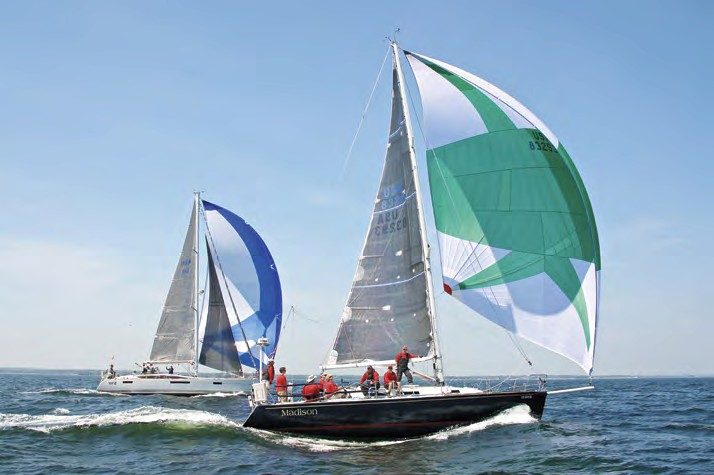 Eighty boats crossed the starting line in big breeze to begin the 73rd edition of the 186 nautical mile Storm Trysail Club Block Island Race. The good times lasted until most of the boats had rounded Block, but on the return leg conditions became increasingly variable.
PHRF Class 5 competitors Brian Spears' J/120 Madison (Fairfield, CT) and Justin Bonar's Jeanneau 53 YYZ (Stamford, CT) on the way out to Block   Photo courtesy of Rick Bannerot, copyright 2018
Massive holes appeared at seemingly random times and places; a veritable mine field that the fleet had to pick their way through carefully. The winners attributed their victories to skill, and the non-winners cursed their bad luck. Such is human nature.
With wind conditions ranging from 30+ knots to zilch (a technical term), the gods favored those who picked the right path, and those who paid the most attention to making adjustments that the constantly evolving conditions required. Highlighting this variability is the number of boats that retired from the race; some with damage from the high winds, others with their patience exhausted after seemingly endless hours of drifting in circles. After 186 miles, even the last mile presented challenges: Leads in several classes changed hands on the final approach to the finish as fickle winds and a strong ebbing tide frustrated many a crew.
The 90-mile leg from Stamford to "1BI" at the north end of Block Island was epic. The wind was a steady 20 knots or so, resulting in many boats flying down the Sound, setting "personal" speed records as the waves built, and providing the surfing/planing conditions that are the most exciting (at least in a good way!) conditions in the sport.
The easterly side of Block Island saw the most rugged conditions, with high winds complemented by impressive seas as the open ocean came up into the shallow waters around the island. Steve Benjamin, owner/skipper of the TP 52 SPOOKIE (Miami, FL; winner of the IRC Class 7) and veteran of countless Block Island Races, described the conditions: "We saw gusts close to 30, oh boy! BIG wind on the backside of Block, with warm gusts coming off the land. On the first leg, we were seeing boat speeds of over 20 knots."
Larry Fox, navigator of Linda & Andrew Weiss' Ker 43 Christopher Dragon (Mamaroneck, NY; winner of IRC Class 5 and perennial race entrant), pointed out the wide variety of conditions: "It was the fastest BI race I've ever done, and I've done around 30. It was a great ride overall. We even beat our most optimistic computer projections. As we were approaching the Race exiting the Sound, we were doing 14 knots and we didn't have to worry about the foul current. We were seeing mid-20 knot gusts. But then, back in the Sound off of Norwalk, we had the exact opposite. We even had the anchor ready and almost put it down in no breeze and foul current. It was pull-your-hair-out stuff…with holes here and there, and breezes filling in front of us, and then behind us."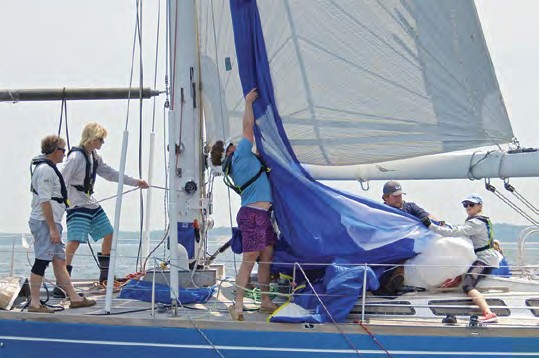 Experience definitely helped some of the winners, but many faces on the podium were fresh, and several winners were first-time entrants. The "freshest face" might be Lindsay Gimple, a watch captain on the Swan 48 Dreamcatcher (Stonington, CT; second in IRC Class 2). Dreamcatcher was recently donated by Steve Kylander (who won his class on this boat in the race last year) to MudRatz, a non-profit youth sailing team focused on providing unique racing experiences.
The MudRatz Offshore Team, who were competing in the Newport Bermuda Race is this issue went to press, sailed Dreamcatcher to second place in IRC Class 2.   Photo courtesy of Rick Bannerot, copyright 2018
Lindsay is a recent graduate of Cornell. Although she was on the dinghy team, this was not only her first Block Island Race, it was her first big boat race. "I had an overwhelmingly positive experience," she said. "We had a lot of different conditions out there. It tested our knowledge of the boat and the ability of the crew to make adjustments. I was a dinghy sailor, and was always crew in junior sailing. A lot of that is body placement, but that's not nearly as important on a boat like ours. You have to have your head out of the boat, looking at the sky, the water, and the competition, talking to the helmsman, trying to keep the boat going fast." Asked how distance racing applies to her budding professional career as a mechanical engineer at Electric Boat, Gimple replied, "Learning about situational stress and handling people in those situations. Like work, you have deadlines, you have to navigate relationships and different perspectives and backgrounds and mesh all that together."
Another Block Island Race "newbie" is Rory Cumming of Norwalk, CT. An experienced inshore racer, Cumming bought a Dehler 38 last year – which he named Rascal – as a performance cruiser. But the fact that it was the competition model drove him to try his hand at a different facet of the sport. "I learned a lot about organizing and managing a distance racing crew," said Cumming. "We also pushed the boat hard and there were a few surprises. We stopped counting our wipeouts at 20! We realized that the rudder was just a suggestion, and the sails are what keep it on course. Distance racing gives you a lot of time to tweak and learn what makes your boat go fast." Would he do it again? "I will absolutely do it again, but if you had asked me that at 3 o'clock Saturday morning when we were drifting around, I might've given you a different answer!" Rascal finished second in PHRF Class 3, a great start for a first-timer.
Another winning skipper, Chris Lewis of the J/44 Kenai (Seabrook, TX; winner of IRC Class 3), has competed in the race twice before. After campaigning the boat on the Gulf Coast for almost 20 years, he decided that the waters of Long Island Sound offered new challenges. "The Gulf Coast is nice sailing but not really challenging for distance races," he said. "They are mostly straight-line, with much less current and more predicable weather. The added complexity of the Block Island course and the wind ­– not to mention the rocks! – makes it more exciting. We're still getting to know the Sound, so we need to go with our guts because we don't have the experience and don't know all of the 'conventional wisdom,' but we've learned when to put up which sail in different conditions. We were neck-and-neck with Vamp (another J/44 owned by Storm Trysail Commodore Lenny Sitar of Holmdel, NJ) for a long time, and just one sail selection choice gave us a mile lead. That made the difference."
To paraphrase Charles Dickens, "It was the best of winds. It was the worst of winds…it was the gusts of adrenaline, and the holes of despair." Had he been a modern sailor, Mr. Dickens would have found himself in very familiar waters in this year's Block Island Race. The 73rd Block Island Race was sponsored by Landfall. Complete results can be found at YachtScoring.com.
Ron Weiss is Chairman of the Storm Trysail Club's Communications and Sponsorship Committee.