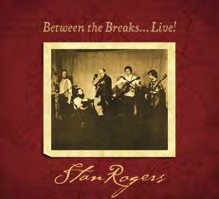 Longtime WindCheck readers may recall this reviewer's admiration for the music of the late, great Stan Rogers (1949-1983). Stan, who lost his life in a fire aboard Air Canada Flight 797 while returning home from the Kerrville Folk Festival, left a body of work that's been called "one of the touchstones of modern Canadian history." We'll not see his like again.
Recorded in 1979 at a folk club in Toronto called The Groaning Board and lovingly remastered by the folks at Borealis Records, Between the Breaks…Live! captures the formidable power of Stan's concerts. A gifted songwriter with a rich baritone as big and brawling as his beloved homeland, Stan's joined here by brother Garnet Rogers (violin, flute & vocals), David Alan Eadie (bass, pennywhistle & vocals), Grit Laskin (mandolin, concertina, Northumbrian smallpipes & vocals), and Curly Boy Stubbs (guitar & vocals). Highlights include rousing maritime favorites "Barrett's Privateers," "The Mary Ellen Carter," "The Flowers of Bermuda" and the trad chantey "Rolling Down to Old Maui," a cover of Scottish folksinger Archie Fisher's mystical "The Witch of the Westmorland," and the darkly haunting "Harris and the Mare."
It's immensely gratifying that young listeners and performers continue to be inspired by Stan's incomparable music, thanks to folks like Paula Daddio, a Science teacher at the Sound School in New Haven, CT who skippers the S.S. Chanteens, a sea chantey ensemble at that vocational aquaculture high school. (The Chanteens' a cappella rendition of "Flowers of Bermuda" at the International Sea Music Festival shook the rafters in Mystic Seaport Museum's Boat Shed!)
It's my sincere hope, dear reader, that you'll share Stan Rogers with your favorite young sailor, and Between the Breaks is a fine place to start. If you're blessed with a good record store nearby (i.e. Vinyl Street Café in Fairfield, CT, Johnny's Records in Darien, CT or The Telegraph in New London, CT), ask them to order a copy. If not, log onto BorealisRecords.com, where hardcore Stan fans will find The Collection, a beautifully packaged box set comprising five remastered albums (Fogarty's Cove, Turnaround, Between the Breaks, Northwest Passage and From Fresh Water), a five-song EP of previously unreleased live material, and an enhanced DVD edition of the Stan Rogers documentary One Warm Line.