By Sean Duclay
Editor's note: Co-founded by brothers Kilian and Sean Duclay of Huntington Station, NY, SailAhead is a non-profit organization that uses sailing and the ocean as a therapeutic platform to help heal U.S. Armed Forces veterans suffering from PTSD. Kilian and Sean were in high school when they launched SailAhead in 2013, and WindCheck is proud to chronicle the amazing work this growing organization is doing. You'll find archived articles by typing "SailAhead" in the search bar at windcheckmagazine.com.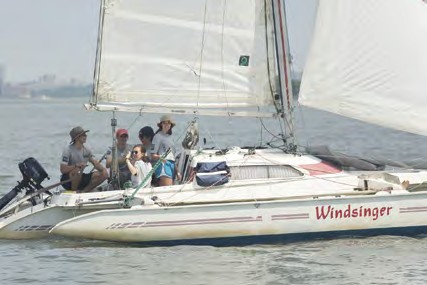 SailAhead kicked off our 2018 sailing season with the Fifth Annual Gotham Multihull Series in New York City on June 2 & 3, 2018. This regatta is open to all multihulls with a New England Multihull Association rating, and Laurent Apollon, co-founder of the event and a member of the SailAhead Race Team, generously offered his Dragonfly 800 SW Windsinger (renamed SailAhead Tri for the race) to us!
SailAhead raced a Dragonfly 800 in the Firth Annual Gotham Multihull Series.   © Laurent Apollon Images
The team (my older brother Kilian Duclay, sisters Jennifer and Maya Duclay, our friend Nicole Grennan and I) and our "Mates" (see below) trekked into New York Harbor bright and early Saturday morning. The sun was shining, the wind was blowing (in most places), and everyone was smiling. After a little practice in the hectic harbor, the horn blew and we were off. We were solidly in second place for the first stretch. Then, after a patch of poor wind, we teetered off into third. As we approached the long anticipated first mark, an ominous storm rolled in, with gusty winds, and we were forced to miss the leeward mark. With adrenaline running high from our attempt to fetch the first mark, we were filled with vigor and life! We sailed back in the direction from which we came, heads still high, sandwiches gone by this point, and almost made it to the Verrazano Bridge when the wind abruptly– you can guess this one – died! That was the end of the race for us, but we nonetheless had a great time.
Earlier this year, SailAhead was invited by the United War Veterans Council (UWVC) to the New York Stock Exchange. UWVC is a confederation of veteran service organizations comprising groups and entities with a wide range of duties and impacts throughout the Tri-State area. The meeting was held with the purpose of identifying sympathetic organizations with a common goal, to help the veterans community, and determine ways in which partnerships could be formed that would lead to creating maximum positive impacts for veterans. SailAhead joined the council officially, and Kilian was appointed as an advisor to the council. The Yaphank Homeless Shelter is one of several other organizations in the council that SailAhead is proud to have as a Partner.
The inaugural SailAhead Army Week event, hosted by Sagamore Yacht Club in Oyster Bay, NY last month, was a rousing success.   © David Windmiller
With a new partnership on the West Coast, SailAhead hosted its very first "Let's Take a Veteran Sailing in Tacoma!" event at Tacoma Yacht Club in Tacoma, WA last July. That event honored the memory of SPC Ryan James Day, a U.S. Army soldier with the 75th Ranger Regiment, 2nd Battalion. After serving two tours of duty in Afghanistan, Ryan took his own life at age 21. The Co-Directors of that event are Nancy Williams, who is originally from Nebraska, and Bill Foulk, a Former 10th Special Forces Group (A), 6th Air Calvary, USAREC, 2/75th Ranger BN who hails from Rhode Island. Thanks to the efforts of Nancy and Bill, legions of volunteers at Tacoma YC and the overwhelming support of local skippers, Let's Take a Veteran Sailing in Tacoma was a success and is now an annual event. We are currently working on launching a SailAhead Sailing Team in Tacoma to compete in local races all year long, with veterans sailing on the temperate Puget Sound and flying our iconic "219" flag.
SailAhead's "Mates" are the nametags of 219 veterans and active duty members who have taken their own lives, mostly because of PTSD or depression. Two months ago, the "Mates" sailed on Angela & John DiMatteo's Farr 50 Pilothouse Madrigal from the Galapagos Islands to the Marquesas, a journey of over 5,000 kilometers!
The crew of Madrigal, (l – r) John DiMatteo, Angela DiMatteo, Tim Ebert and Katherine Crean, display SailAhead's "219" flag in Panama.   © SailAhead.org
Angela & John agreed to take SailAhead's Mates on board for their Pacific crossing to spread awareness and honor our Mates among the famed tortoises of the Galapagos. Angela & John are members of Centerport Yacht Club, the host of SailAhead's largest yearly event, Let's Take a Veteran Sailing! The fourth annual event is scheduled for Sunday, July 29, 2018 and we're expecting 50 boats, with their skippers bringing over 100 veterans and family members out on Long Island Sound.
Preceding that event is the first Annual SailAhead Let's Take a Veteran Sailing! event at Babylon Yacht Club in Babylon, NY on Sunday, July 22, 2018. Participants include boat owners from several different states, yacht clubs, marinas, the Yaphank Homeless Shelter, the VA, the Greenlawn American Legion Post 1244, and many more. Thanks to the generosity of our friend and Partner David Windmiller, his helicopter flies low enough to our fleet to capture great sailing moments.
Sunday, August 19, 2018 is the date of the Third Annual SailAhead Great South Bay Exploration Day, an event organized in partnership with the South Bay Cruising Club and hosted by The Snapper Inn in Oakdale, NY. SailAhead is honoring our Mates as we did last year, and we're fundraising to cover travel expenses of their surviving family members. It's a reminder that their loved ones are not forgotten, nor will they be unrepresented.
SailAhead is sailing at least once a week aboard Stargazer, a Hunter 38 donated by the USMMA Sailing Foundation in Kings Point, NY through the generosity of foundation President and SailAhead Advisor Ralf Steitz. There is something about the fundamental energy of a sail, particularly in unfavorable weather, which necessitates that everyone on board get involved in some way. This is what's so remarkable about sailing, and what makes it such a formative and healing platform. Sailing has the capacity to be fun for all in almost all circumstances, as long as you can muster a smile.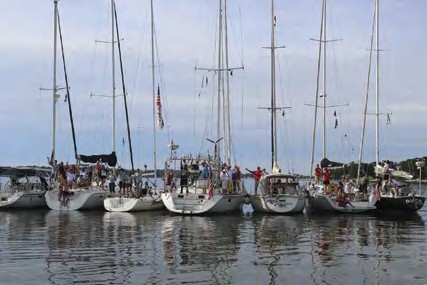 These weekly outings are set up in order to continue the experience of sailing beyond the big events. It's what turns "a great day on the water" into an ongoing therapeutic experience. While the big events are important in spreading the word of SailAhead, PTSD, depression and veteran suicide awareness, they do not properly address the therapy part of the sail. One outing is not likely to have a significant therapeutic impact, whereas weekly outings provide continual treatment that really makes a difference.
Everyone enjoyed the Army Week raft-up!   © SailAhead.org
SailAhead is able to fulfill its mission through the support of our dedicated Partners, tireless volunteers, and generous donors. We are a tax-exempt non-profit organization, and we're always in need of funds to maintain our fleet and equipment. Also on our wish list are Defibtech Lifeline AED defibrillators (ideally, we need two). Spreading the word is an equally valuable contribution to SailAhead, as it further advances our impact among veterans' communities.
To learn more about how you can get involved, please visit SailAhead.org and facebook.com/SailAhead.