By William Adler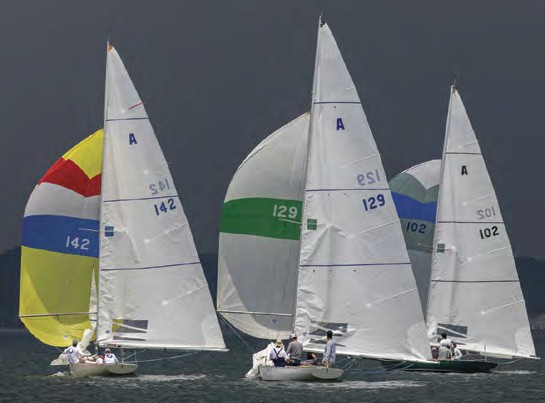 Cedar Point Yacht Club in Westport, CT hosted its largest-ever OneDesign Regatta the weekend of June 1 – 3, 2018 with a record 106 boats and 560 sailors competing in eight classes, including four that raced for national or regional championships.
From left to right are the Atlantics of Scott Reichhelm (second place finisher), Rodrigo Meireles (first) and Jim Doyle (third).  © Stephen Cloutier/photogroup.us
Fickle breezes and constantly changing seas created challenges on Saturday, as sailors worked through periods of dead calm followed by a thunderstorm that roared across Long Island Sound from the north. On Sunday, brisk winds across the circle courses southeast of Compo Beach made for more favorable conditions, and more races were completed.
Nine boats contested the J/30 North American Championship, with Russ Atkinson's Wildcat (Rockwood, MI) winning three of among eight races to claim the title. David Rosow's Loki (Southport, CT) crushed the competition in the 18-boat J/109 class, winning all six races and winning the East Coast Championship for a second consecutive year. In the hotly contested, 18-boat J/70 class, Brian Keane's Savasana (Weston, MA) won a tiebreaker over Joel Ronning's Catapult (Excelsior, MN) to claim the Long Island Sound Championship title.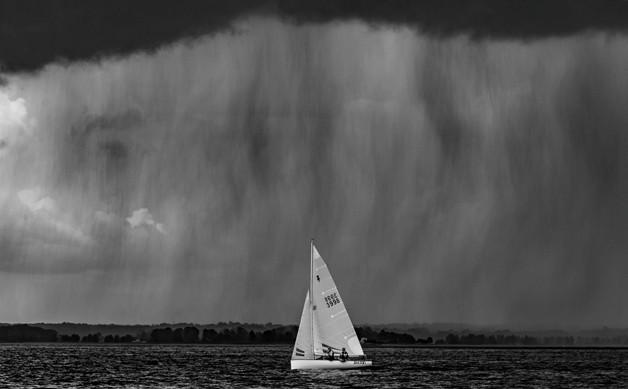 Competitors were treated to a classic late spring Long Island Sound thunderstorm. © Stephen Cloutier/photogroup.us
Pepper, skippered by David Dellenbaugh of Easton, CT with daughters Becca Dellenbaugh and Emily Dellenbaugh handling bow and floater duties, respectively, won the single race completed by the 34-boat Thistle class (largest in the regatta) to win the Long Island Sound/New Jersey Championship Series.
CPYC is hosting the Thistle National Championships July 28 – August 3, 2018. The Thistle Class last held its National Championship at CPYC in 2009, when Dellenbaugh was crowned National Champion for the seventh time.
Joseph Scarpulla's Trifecta (Huntington, NY) posted a 2-1-2-1-2 scoreline to win in the 8-boat J/105 class, while Mike Bruno's Wings (Armonk, NY) notched three bullets on her way to victory in the 5-boat J/88 class. Peter Hurley's Blazn' Star (West Harrison, NY) also won three races on her way to victory in the 6-boat Beneteau First 36.7 class.
CPYC has had a powerhouse fleet of Atlantics since the 1950s, and the venerable class provides some of the tightest racing in the OneDesign Regatta. This year, Rodrigo Meireles' Élan (Norwalk, CT) defeated perennial CPYC Atlantic favorite Scott Reichhelm's Shucks (Westport, CT) by a single point. Jim Doyle's Rival (Easton, CT) finished third.
CPYC encourages amateur sailors and gives a special Corinthian Team honor to those who race non-professionally. Six of the J/70 teams qualified as Corinthian, and the winners were Melissa & Andrew Fisher of Greenwich, whose Button Fly finished fourth overall in class. Brian Elliott's b squared (Bayport, NY) took second in the Corinthian division (7th overall), with
CPYC member Trevor Roach's Semi Charmed (Darien, CT) finishing third in Corinthian and 10th overall. Complete results are posted at YachtScoring.com.
"We were delighted to host so many sailors from all over the United States for this weekend of friendly yet fierce competition," said John Cooke, CPYC OneDesign Regatta Chairman. "Our 100 club volunteers worked tirelessly to prepare for this event, and it was gratifying to see it all come together, and with four championships awarded."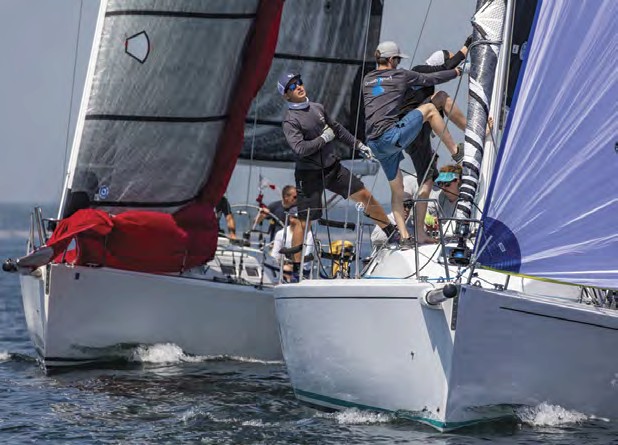 Five hundred and sixty sailors on a record 106 boats contested the 2018 CPYC OneDesign Regatta.   ©Stephen Cloutier/photogroup.us
The CPYC OneDesign Regatta is the largest event of its kind on Long Island Sound. The 2018 edition was presented by title sponsor North Sails with additional sponsorship from Fairfield County Bank, Stew Leonard's, Coral Reef Sailing Apparel, BRYAC Restaurant & Raw Bar, Rex Marine, Sailors for the Sea, Save the Sound, David Adam Realty, BMW of Bridgeport, and Savannah Bee Company. Cedar Point Yacht Club was organized in 1887 by Fairfield County sportsmen. To learn more about this friendly, racing-oriented club, visit cedarpointyc.org.