By Joe Cooper & Colin Shearley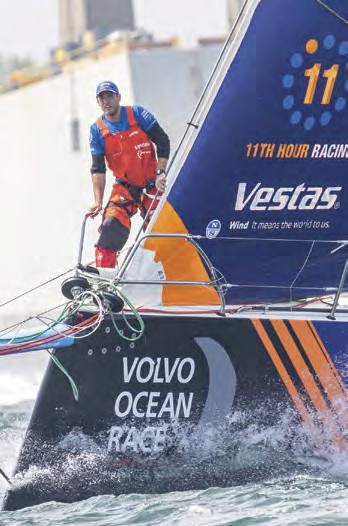 There are a number of disconnected and independent Kapers afoot around the waterfront, all aimed at getting young people, teenagers and college kids interested in, and more time on, 'big boats.' On Long Island Sound, MudRatz and the Young American Sailing Academy are the two most obvious. On Narragansett Bay, Newport, Conanicut and Ida Lewis Yacht Clubs have programs of various densities aimed at getting this cohort sailing time without the stress of dinghy sailing, and Sail Newport is developing a similar program. The Storm Trysail Foundation and their Junior Safety-at-Sea Seminars spread the word up and down the East Coast, and efforts are underway in the Great Lakes and West Coast to grow this program. In a number of clubs, there are individual members who will take young sailors out in ones and twos on an infrequent basis with no really planned and executed instruction nor really any captured, measurable results. Outside these efforts, all is desert.
While he's keen to race big boats and perhaps one day have a job like Vestas 11th Hour Racing bowman Nick Dana (pictured here at the start of Leg 9 of the Volvo Ocean Race 2017-18), 11-year-old Colin Shearley hopes the sport takes steps to improve safety.   © Stephen Cloutier/photogroup.us
Proposals presented to yacht clubs (incorporating boats available for no cost, just the care and feeding) and sent to US Sailing and talking the idea up yields not much progress. A while ago, I decided that if inspiring young sailors to look at big boat sailing was going to happen, it looked to be more or less one kid at a time. NOT the most effective way at all, but on the other hand, maybe quality is better than quantity. In the realm of quality, by far and away the most exciting AND excited young man I have come across, possibly ever, is the author of the second half of this month's Corner.
Colin Shearley of Centerville, MA is the young man who (at 10 years of age) completed the one-day Junior Safety-at-Sea Seminar in Newport last year, including coming up with some of the most thoughtful answers to questions that led directly back to issues of physics. Who was perfectly able to steer and had the mechanics of winch use down, lacking only the grunt to get too far with it. He was at the time maybe 80 pounds.
He was, to my eye, a prime candidate to fertilize, water and otherwise nurture. He was also one of the two young fellas I organized to sail on the VOR 70 Warrior (ex-Camper) a week or so later to watch the J-Class regatta. As is a part of my MO with such extraordinary opportunities for young sailors, I require participants to write an essay on their experiences, which Colin and Connor Macken, the other chap, did and which were published in WindCheck October 2017.
Sometime this spring, I was at Newport Yacht Club presenting a seminar on something and so I distributed the Coop Bat Signal email to the usual suspects. Colin's Dad, Richard, and I have become friendly since Colin's adventures last year and Richard responded asking if he could bring Colin and if he could ask questions. "You better bring him, and ask him to think of three questions in advance," I responded, so he had them ready to go. Done and Done.
Richard and I have corresponded since, on issues to do with young kids and sailing, which of course gets us to the Volvo Ocean Race stopover in Newport in May and the subject of Colin's essay, below. We had discussion on how to get Colin over to the Race Village at the same time as I could be there, and I could see about getting him a tour of one of the boats. I had a regatta to run that weekend and so could not be in Newport, and he, suffering under the injustices of having to be at school, could not come during the week, so I/we could not do the tour, but as you will read, Colin managed to do just fine without me…a condition I think is pretty common with him.
One of the big, underlying fundamental issues behind why it's getting so hard to find young sailors is that, by and large, today's young sailors do not come from sailing families. Over the past nine years of coaching at Prout, I think perhaps half a dozen sailors – no more than ten – have come from sailing families. This, maybe four or five percent, from a pool of 200 to 220 young men and women over nearly a decade, does not really bode well. The good news is, by converting one sailor at a time, a number, maybe the same size, six to ten, have come in with no sailing background and gone out after four years with me, super in love with sailing and adding 'Sailing Team' to the list of requirements in the colleges they are looking at.
It is awfully slow, but very rewarding work.
Let's Make Sailing Safer!
By Colin Shearley, age 11
After an incredible experience getting to sail on a Volvo Open 70 last year after meeting some amazing people during the Junior Safety-at-Sea Seminar, when I heard from my dad that the VOR was coming to Newport in May I got really excited and wanted  to go. 
So, on that Saturday I went with my dad down to Newport to watch the In Port racing and I LOVED IT! I got so many autographs from the skippers and on board reporters. It was a very long day because we were there two hours early since I didn't want to miss a thing. The Race Village was very big. The buildings all seemed to fold into shipping containers. The boats looked smaller than the 70s even though it's only a five-foot difference, but they were pretty nifty!! 
The focus of this VOR is "Turn the Tide on Plastic." All the bags at the race were reusable, and there was no plastic except for some old bottles I saw floating around in the water!! Plastic is ruining the planet and it was good to see all the educational exhibits at the Race Village. 
The race was pretty exciting and there was a lot of wind and rain! Team Brunel won by a lot, and I noticed that all the tacking seemed to slow down Vestas and Akzo Nobel. Scallywag and Turn the Tide tried to be sneaky and cut through the spectator fleet on the far side of the course but it FAILED! I was pretty sure that Turn the Tide was going to crash, but Dee Caffari and crew did an amazing job! I was sad to see them finish last, but Vestas came third which was not too shabby!! 
I was thrilled to get to talk really quickly with Dee Caffari, Charlie Enright, Xabi Fernandez, Nipper [Ben Piggott], Brian Carlin, and also David Witt. I met another crew member of Scallywag who had his family with him, and it made me really sad knowing they had lost John "Fish" Fisher. It was very difficult to know what to say with his family next to him without getting them upset as well. It made me think about safety, and how some of the things I had learned at the Safety-at-Sea Seminar didn't seem to show up in a lot of the racing I had seen. 
Safety is by far one of the most important things to remember while racing offshore. Scallywag lost Fish in this race, and they were not able to retrieve him or even find him. Earlier in the race, Alex Gough fell off and was rescued about 15 minutes later, even though he was only wearing shorts. 
Some sailors think that offshore racing is just the same as dinghy racing, and there aren't many places where kids get to learn to race on larger boats. If you fall off in the ocean and you're going about 15 knots (which is 25 feet a second or 1,500 feet a minute) and it takes them three minutes to get stopped and turned around, you would be almost 3⁄4 mile away. If the water temperature is 50°F, you only have about 10 minutes before you get too cold to move well. If you don't have a life jacket on, it's terrifying to think about. 
So on any boat safety is very important, especially on a fast moving Volvo Ocean Racer. You should have a life jacket on at all times on deck so you will stay afloat if you fall off in cold water or you are unconscious in the water. There should be strict rules on wearing harnesses as well.
I've watched a few videos of young adults on large boats who aren't wearing life jackets, and even though the air may be scorching the water could be freezing and it doesn't take long to get into trouble. Imagine if you tripped and hit your head and then fell off? 
My dad says that the number one rule about falling off a boat is to not fall off, but if you do you better have a life jacket on. Because I'm interested in racing on big boats sooner or later, it's going to be hard to get permission from my parents if safety doesn't improve. You can take all the classes in the world, but if you don't use the things you learned then all those classes…are useless. ■
Australian born, Joe 'Coop' Cooper stayed in the U.S. after the 1980 America's Cup where he was the boat captain and sailed as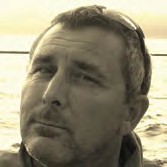 Grinder/ Sewer-man on Australia. His whole career has focused on sailing, especially the short-handed aspects of it. He lives in Middletown, RI where he coaches, consults and writes on his blog, joecoopersailing.com, when not paying attention to his wife, college senior son, dog and several, mainly small, boats. The cats have, sadly, crossed The Bar.