By Captain Joy Sherman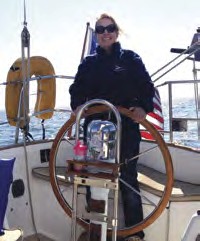 Who knew back in 1981 when two single women decided to start the Shoreline Sailing Club (SSC), that it would continue to flourish and be responsible for many marriages, lifelong friendships and a social life that's unstoppable, 37 years later?
"One of the greatest perks of the Shoreline Sailing Club is the bond that is formed between our members," says Commodore Betty Kovel, pictured here enjoying a day on Long Island Sound.   © ShorelineSailingClub.com
With more than 40 terrific skippers with sail- and powerboats from 25 to 42 feet, the club is gearing up with our summer sailing and boating calendar. Sails to many locations around Long Island Sound, Block Island, Sag Harbor, a weeklong cruise, and many other activities are planned. In addition to a full sailing calendar, there are land-based parties for the 170-plus members called "Docksides" where a member hosts a party at their home or other venue.  During the winter there are movie nights, music and stage performances, Halloween and holiday events that keep members busy all winter long.
Consistent thoughts about the club include, "My life started after joining SSC"…"The club has changed my life. I have met wonderful people and made dear friends."…"The club was there for me in my time of need, and I have made lifelong friends."…"It's my new family, and they love the water!"
With the limited sailing season in Connecticut, some SSC members frequently sail the Caribbean, Europe and Cuba during the winter months. There's a camaraderie that happens when you're sailing together, that members continue to make plans all winter long to explore the world whether by boat or land.
If you're a boat owner who needs crew during the summer, SSC is a fantastic way to meet experienced crew who (by the way) are eager to help get your vessel ready for the season! If you're without a boat but love to sail or have always wanted to learn, there are many opportunities to meet the skippers and get out on the water.
The club bylaws still mandate that one be at least 35, and single, when they join the club, however if you meet someone and marry while in the club, you are welcome to stay on as auxiliary members. The club meets every first and third Thursday at the Westbrook Elks Club in Westbrook, CT at 7:30pm. For more information, log onto ShorelineSailingClub.com.
 Captain Joy Sherman is an enthusiastic member of the Shoreline Sailing Club.