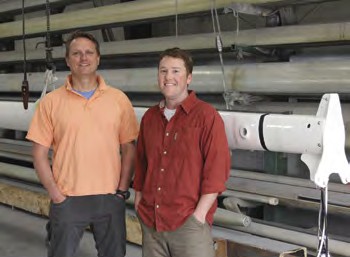 In its first full year under new ownership, GMT Composites, Inc. in Bristol, RI has seen continued success in both marine and industrial segments. Jonathan Craig, who started at GMT as Director of Sales and Marketing in 2011 after more than a decade with Fiberspar, took over as President and owner 18 months ago. The company enjoyed strong sales through the year, and has made its first full time hire with Nate Williams as the new Director of Sales and Marketing.
GMT Composites President and owner Jonathan Craig (left) and Nate Williams, Director of Sales and Marketing   © gmtcomposites.com
Williams, of Bristol, RI, has a strong background in the marine trade. He's been a US Sailing Level 3 Coach, Program Director for the East Bay Sailing Foundation, Production Manager for Kinder Industries, and most recently managed sales and marketing for Zim Sailing. Williams is also very active in big boat racing, and enjoys skiing where he earned the Rocky Mountain PSIA Alpine Level 2 certification status.
Former GMT President/owner David Schwartz, while stepping back from the day-to-day operations to enjoy more sailing time, remains with the company through the transition, providing ongoing design and engineering services as he had done while at the helm of GMT since 1990. "We are thrilled to add Nate to the team," said Craig. "He shares our very customer-centric view in providing high levels of service and value, while seeking sustainable growth in both our marine and non-marine segments. We are also very fortunate in being able to draw on David's wealth of experience in composites engineering as we navigate forward in both existing and new markets."
GMT Composites has designed and built custom carbon composites since 1984. Originally focusing on the marine industry, GMT developed a name for themselves building the highest quality masts, boom, rudders, boarding systems, and more. Today, GMT continues to build marine products while expanding into industrial applications including robotics, defense, medical components, aerospace, and more. For more information, visit gmtcomposites.com.