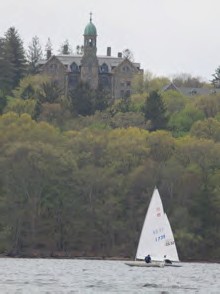 Essex Corinthian Yacht Club in Essex, CT, in cooperation with Pettipaug Yacht Club (also in Essex), is hosting the 2018 Connecticut River One-Design Leukemia Cup Regatta on Saturday, August 11, 2018.
"Following in the footsteps of past Leukemia Cup events on Long Island Sound, the new Connecticut River One-Design Leukemia Cup Regatta is bringing together sailors and their friends from all over the lower Connecticut River and Eastern Connecticut shoreline," said Event Chair and ECYC Commodore Ruth Emblin. "This re-designed charity event was created to advance the Leukemia & Lymphoma Society's mission to cure leukemia, Hodgkins and non-Hodgkins lymphoma and myeloma, and improve the quality of life of patients and their families."
© Jane Reilly
The regatta is open to any one-design fleet that has five or more registered boats, including Ideal 18s, Etchells, MC Scows, Lasers, JY15s, Club 420s, Sunfish and Force 5s. Boats that do not form a one-design class will race as a handicap class. The event is open to adult and junior sailors, and written permission from parents or guardians is required for skippers less than 18 years of age and must be received before the start of racing.
"The event will conclude with a post-race party at Essex Corinthian Yacht Club with awards, prizes, food, drinks and music, starting at 5:00 pm," Emblin continued. "The post-race party is open to the public, and sailors, powerboaters and non-boaters are all welcome to attend! Ticket purchase is required."
Since its inception, the Leukemia Cup Regatta series has raised over $62 million for life-saving research and patient services, bringing help and hope to patients and their families. For more details, contact Emblin at leukemiacup2018@essexcorinthian.org or ECYC Race Committee Chair Bill Robinson at racechair@essexcorinthian.org.
For more information on how to participate in the regatta, support it by raising funds or becoming a sponsor, or to purchase party tickets, visit essexcorinthian.org/2018ctriverleukemiacup.html.