By Gregor Tarjan
Published by McGraw-Hill   278 pages   hardcover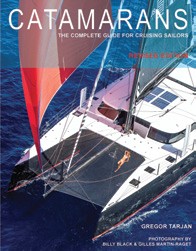 We've never met anyone with more enthusiasm for cruising catamarans (or more knowledge of them) than Gregor Tarjan, the founder and president of Aeroyacht Ltd. in Setauket Harbor, NY. You'll find those attributes in abundance in the revised edition of Catamarans, originally published in 2006 by Aeroyacht Ltd. and Chiodi Publishing Inc., the latter owned by Tarjan's longtime friend and Publisher of MULTIHULLS Magazine, the late Charles K. Chiodi.
Chapters cover such topics as the advantages of multihulls, essential things to look for when shopping for a cruising cat, design, dynamics, and construction, hulls, appendages and rigs (with diagrams by the author), along with checklists for long range cruising and routine maintenance. Also included in this revised edition are reviews of 32 new cruising catamarans. More than just a practical how-to manual and informative buyer's guide, this lavishly illustrated book is a gateway to a wonderful lifestyle, featuring gorgeous photography by two of the finest shooters on the water, Billy Black and Gilles Martin-Raget.
One the world's foremost catamaran experts, Gregor Tarjan has logged more than 80,000 miles in 30 years of sailing on multihulls and monohulls alike, and crewed for such sailing luminaries as Dennis Conner and Yves 'ET' Parlier. A merchant marine officer, USCG licensed captain and member of the Society of Naval Architects and Marine Engineers, he's also the author of Catamarans: Tomorrow's Superyachts. His technical and seamanship articles have been published in numerous magazines…including WindCheck! He lives on Long Island with his wife Flo and sons Philippe and Victor.
Available from Amazon.com and Kindle, Catamarans: The Complete Guide for Cruising Sailors is the definitive work on this increasingly popular subject. If you're a cruising sailor (or cruising couple) contemplating a switch from one hull to two (as well you should!), make it the first item on your shopping list.