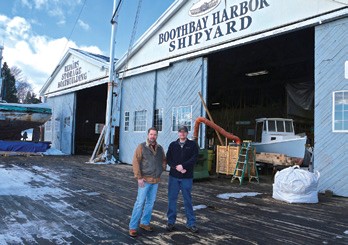 Andy Tyska, President of Rhode Island-based Bristol Marine, has acquired Boothbay Harbor Shipyard in Boothbay Harbor, ME. Located at the head of Boothbay Harbor, the yard joins Bristol Marine's two other locations of working waterfront, including facilities in Bristol, RI and Somerset, MA.
Andy Tyska (left) and Eric Graves at Boothbay Harbor Shipyard  © Robert Mitchell
A vital part of Maine's shipbuilding tradition, Boothbay Harbor Shipyard has accommodated a wide range of vessels since the late 1800s, including tall ships and superyachts, tugboats and Navy vessels, sailing yachts and workboats. Shipyard operations will continue under the leadership of Eric Graves, and facility improvements will be devised to make the yard's expertise and craftsmanship more accessible to yachts visiting the region.
"The acquisition of Boothbay Harbor Shipyard will further increase our capacity and diversify the level of service we can offer along the East Coast through Bristol Marine," said Tyska. "Under Eric's leadership, the shipyard has undertaken some of the greatest repair and restoration projects in New England, and I know that Eric, together with the yard's talented shipwrights and skilled workers, will build on that past success and effect improvements that will make their skills and services more available to today's boaters."
Boothbay Harbor Shipyard offers a complete range of marine-related repairs and services. The yard's 700-ton marine railway has braced tall ships, superyachts, tugboats, fishing trawlers, passenger boats, ferries, and Navy and Coast Guard vessels; the 150-ton railway has accommodated sailing yachts, workboats, schooners, and motor vessels. Ongoing projects at the yard include the restoration of the 156-foot schooner Ernestina Morrissey, the official vessel of the Commonwealth of Massachusetts and a National Historic Landmark, and the 171-foot, three-masted tall ship Friendship of Salem, owned by the U.S. National Park Service.
Tyska founded Bristol Marine in 1998. In addition to providing a customized level of service on boats of all types, the company has also been a preserver of working waterfront and marine-trades jobs, employing nearly 50 skilled tradesmen and tradeswomen. The company has also acquired and improved commercial real estate in the Bristol area, much of which has become home to over 30 marine-related businesses that employ over 300 individuals. For more information, contact Tyska at 401-641-2872 or andy@bristolmarine.com.
Cynthia Goss contributed to this report.