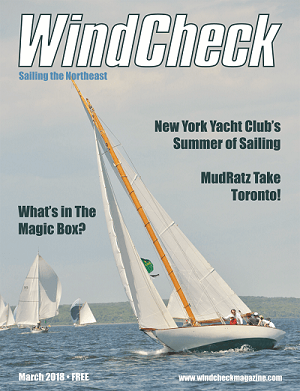 I've had a difficult time putting this month's Editor's Log together. Ironically, I am often forced to leave this space blank until the myriad other items on my monthly list have been checked off. Yet I've not been struggling with time management, but instead how best to explain all of the emotions that are going through my head at this time.
I am excited to share the news with you that Anne and I are passing the helm of WindCheck to a really great guy who is going to take the magazine forward and build upon what we started. My struggle has been how best to describe my feelings now that the transition has begun. This makes me both happy and anxious, like a parent seeing their child off to college for the first time, hoping all the love they've given and each lesson they've imparted through the years has taken hold. And like a parent letting go, I feel a bit sad, but I'm also elated as I think of the wonderful possibilities that the future holds. Anne and I have owned and run WindCheck for sixteen years. We've come a long way during that time, fostered numerous great relationships, experienced trying, but mostly splendid times and met many of the finest people we know through sailing.
One of the wonderful persons we've met through our ownership of WindCheck is the subject of this month's On Watch article, and the new Publisher, Ben Cesare. Coming from a strong sailing background, Ben has the knowledge, passion and vision to bring the magazine to the next level while maintaining the foundation upon which the magazine was built. We couldn't be happier with this transition and we know you will be, too! Check out page 66. I'm sure you'll agree Ben has the chops.
But you're not rid of Anne and me. We will remain part of the WindCheck family, working with Ben and crew to ensure a smooth transition and assisting Ben in navigating through his first year.
Anne and I are lucky to have had the opportunity to create and build something wonderful like WindCheck; to have played a part in bringing the sailing community in the Northeast closer together; to have been able to get to know so many luminous, lifelong friends along the way; and especially, to know that everything that we've worked toward will persist and prosper.
We are continually awestruck by our wonderfully engaged, faithful readers and contributors. Chronicling your accomplishments and adventures has been a great joy. We also hope we've served our outstanding, loyal advertisers well and that we have played a part in helping their businesses achieve the goal of reaching their customers in the most relevant way possible. We're also fortunate to have been able to produce WindCheck with an exceptionally hard-working and talented staff. Without all of you, this magazine would simply not exist.
I think the best word to describe how I feel is thankful. I know Anne feels the same.
Thank you. And, as always, see you on the water.
Chris Gill