Les Iles Sous le Vent
By Nancy G. Kaull & Dr. Paul F. Jacobs
Editor's note: This article is an abridged excerpt from the authors' excellent book, Voyages: Stories of ten Sunsail owner cruises.
Authors' note: The following is based on Nancy's detailed log entries and photographs. Where these are used directly they are shown in italics. General comments and discussions written by Paul are shown in regular font. The reader can thus directly discern our slightly different perspectives.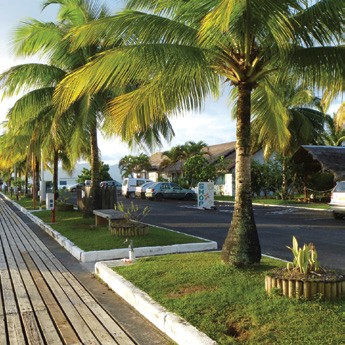 When Nancy and I were initially contemplating becoming members of the Sunsail ownership program back in 2009, we carefully scanned the long list of bases scattered around the world. Both of us quickly spied "French Polynesia" on the list and exclaimed, "Wouldn't that be incredibly special?" Well, it was now late in 2012, and Nancy had carefully hoarded all available PPL time at her job with the American Mathematical Society in Providence. Thus, it was now possible for us to sail "Les Iles Sous le Vent" (the islands under the wind), not for two weeks, but three!
The very lovely Sunsail base, located on the northwest corner of Raiatea   © Nancy G. Kaull
It seemed to us that the time and expense of air travel from Saunderstown, RI all the way to Raiatea in French Polynesia was best amortized by spending more time there. This voyage represented a quadruple bonus: (1) the lure of the exotic; (2) a completely different culture; (3) a chance for me to sail again in the Pacific for the first time in 17 years; and (4) the chance for Nancy to sail in the Pacific for her first time…ever! I called John Keyes at Sunsail, reserved a Jeanneau 36i, spent an hour on Expedia, and then secured travel reservations.
We flew to Papeete, Tahiti on Air Tahiti Nui, and while a long trip at about 8.5 hours, it was surprisingly comfortable. The seats were wider and also had a bit more legroom than those on many other airlines, and the food was very good, including an array of fresh pineapple, coconut and papaya. Wednesday, 10 April  occurred over the Pacific Ocean, and we finally landed at Papeete airport early that morning. Unfortunately, we had a long layover consumed primarily with reading, but also some inevitable people watching, as many of the local natives had incredibly long black hair and beautiful dark eyes. Our smaller inter-island aircraft departed for the short flight to the island of Raiatea, where we arrived around noon. As usual, a Sunsail shuttle kindly met us at the airport and transported us about three miles to the base.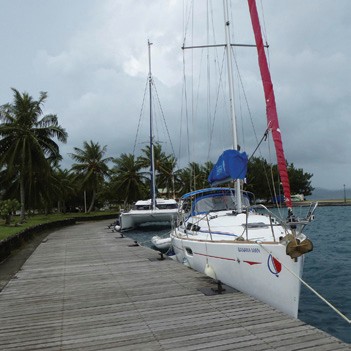 Our home for the next three weeks was 5-year old Banana Man. We were told this was to be her last charter!  We both felt this would be an excellent opportunity to learn what condition a sailboat might be in upon leaving five years of charter service. Initially concerned that her aesthetics might look a bit worn, we were pleasantly surprised when we first saw her, and she looked terrific in the tropical sun.  Nancy and I then went below and found her to be in excellent condition, with just a few scratches evident after five years of substantial sailing. I was very impressed.
Banana Man tied to the dock in Utaroa   © Nancy G. Kaull
Sophie, the assistant manager of the Sunsail base in Raiatea, gave us a very detailed and excellent chart briefing. As usual, Paul the navigator had previously done his homework.  Sunsail provided a nice guidebook for us, as well as a new set of paper charts. Sophie also told us that as experienced sailors we were free to sail to Maupiti, but that due to the potential for dangerously high breakers very near the narrow entrance to the pass through the encircling reef, she very strongly advised that we call Sunsail from Bora Bora before departing for Maupiti.
Getting off the dock against an 18-knot beam wind was tricky. It took full throttle to pull away and then make the turn before we got blown into the inner harbor where sailboats are prohibited. We then powered to the turn between the coral shoals, and headed off to nearby Tahaa. Evidently, in the Tahitian language every vowel is always sounded, hence Tahaa is pronounced "Ta-ha-ah" not "Ta-ha." Once clear of intervening reefs between Raiatea and Tahaa, we raised the mainsail, unfurled the genoa and were now sailing on a little patch of the blue Pacific.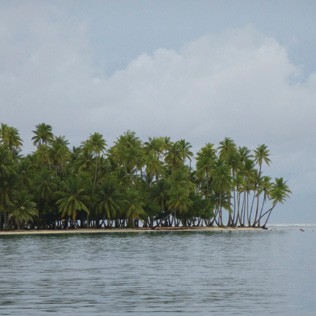 A "motu" or reef island in the Tahaa lagoon   © Nancy G. Kaull
It was an overcast day with gusts to 18 knots and many storm clouds. As a precaution, Paul put in a reef. We soon got to our destination just north of Passe Toahotu on the east side of Tahaa. There was only one other boat and they left soon after we arrived.  We were completely alone, and soon skinny dipped since there was absolutely nobody in sight, and the feeling of swimming without clinging cloth is wonderful. We then showered, shampooed, and shaved afterwards on the transom, feeling squeaky clean. Even when overcast, the waters were very beautiful, sparkling clear, and comfortably warm. After cleaning up we went to bed like farmers at 7 pm, still suffering some jet lag. 
It was soon the proverbial dark and stormy night, raining heavily on and off for many hours.   We estimated from its sound that the wind was mostly 25 – 30 knots with some gusts that probably hit 35 knots.  Banana Boat slewed like crazy on her anchor and I was very glad I had let out most of the chain. Rain, thunder, lightning, and much wind, ahh, Tahaa!  On the brighter side, I was now officially known as the "Tahiti Sweetie." 
It was time to weigh anchor, which was then followed by a really tranquil sail down the relatively narrow channel between the western barrier reef and Huahine under mainsail only.  Broad reaching at about four knots, this was more than sufficient as the distance was not great, but the sights to see were many. We sailed down to, and then into Port Bourayne, which is well indented into the SW side of Huahine and is surrounded on three sides by tropical mountains. It is incredibly beautiful with a pearl farm in the NW corner identifiable by lots of clustered floats. We got perhaps just a bit too close to the floats (about 100 feet), and I suspect the owner got nervous and hence we were politely requested to stay away.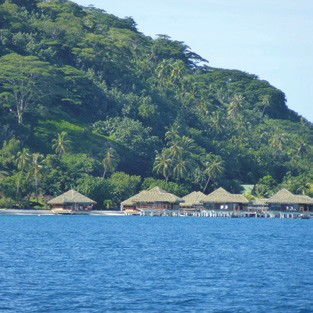 As we sailed further south along the southwestern side of Huahine, we found the perfect place for our bucket list when bareboating eventually gets to be too much for us. The lovely Te Tiare Beach Resort has about 20 thatched cottages over the water, each with individual steps leading down thereto. What a great place to hang out for a few weeks, read, eat at their restaurant, swim, and tour the island.
The Te Tiare Beach Resort, Huahine   © Nancy G. Kaull
Baie de Avea is as far as one can sail.  It is another beautiful and very isolated place.  There are a few small homes on the beach and what may be a resort at the tip of the distant point.  There are also two other boats on anchor pretty far from us.  Our anchor dug in the sand beautifully and the only close coral was 50 yards aft of our stern and to starboard.  The water was beautifully clear and the characteristic color of turquoise to lime green over white sand. Back in the USA people would spend a small fortune to own property on this beach.  Here, it was almost deserted!
We intended to anchor a bit NW of Passe Papai, Tahaa. A drenching rain prevented us from anchoring immediately and since we had arrived around 4:30 we had to figure this out relatively quickly. It was an extremely difficult anchorage, as water depth transitioned from 100 feet to 6 feet exceedingly abruptly. Our first attempt dropped us back too close to the shallows. Paul swam about to find the only spot where we could safely anchor. He was in the water for at least an hour. His eventual success in the diming light made him my hero once again!
We were up and moving early. After consulting the chart, we exited the reef surrounding Tahaa via the Passe Papai. It was a bit tricky. You definitely had to accurately line up the range markers.  This passage had reefs that curled in on both ends and it was difficult to actually see the opening until you were well into it. Breakers on the left and breakers on the right will most assuredly inspire you to stay down the middle.
Paul thought we might go directly to Maupiti given the easterly wind direction. He called, and the base said it was a very bad time to do that. The ideal time would be to depart Bora Bora this Friday and to return no later than Monday. A resident on Maupiti indicated that the swells were huge today, will die down for a few days, and resume next Tuesday. It is amazing how they know the weather patterns so well. So, we sailed to Bora Bora on a wonderful broad reach, and arrived at 1:30pm. Passe Teavanui, on the west side, is the only one in/out of Bora Bora. You must give a wide berth to the SW corner, as the reef sticks way out, and the currents pull you in.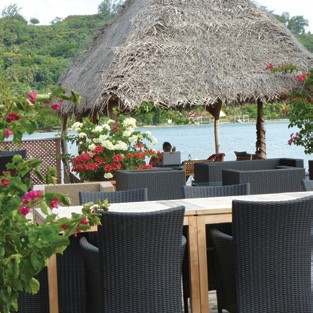 We decided to explore a bit and went to the famous Bora Bora Yacht Club (BBYC). We muddled about trying to find a clean mooring ball. Evidently, only in the U.S. do people utilize pick-up wands. The wind was light so we could easily pick it up with the boat hook. Sadly, it had been in the water a long time and hence was very scuzzy. Rather than setting the loop over our bow cleat, we ran a dock line through the loop, so this kept the barnacled float off our deck.
The outer deck of the Bora Bora Yacht Club   © Nancy G. Kaull
Our dinner at the yacht club was delightful. Nancy wore her new blue pareo and I loved how it looked on her. Her hair was so soft from the rainwater wash and wavy from the humidity. She looked lovely.  She forgot her glasses, so I read the menu to her softly.  I can't remember the word for how the fish were cooked – seared on the outside, cold in the middle.  She had red tuna again, and I had beef. I also conversed with our waiter for a while, mostly in French, which was great practice.
On Friday, April 19 we headed to "teeny weeny" Maupiti. We slipped the mooring at 7:20 am and were through the pass by 7:40.  This was a very easy wide pass. Huge cruise ships go in and out every day.  I just wouldn't want to be sharing the pass with them.  We sailed on a course of 260° M, with 8-12 knot north winds.  North is NOT the usual trade wind! Our average boat speed was 5.4 knots.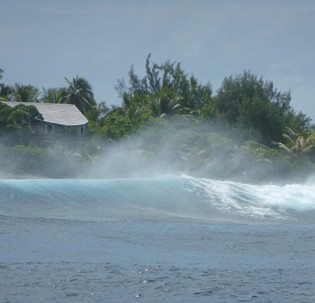 The Maupiti pass is on the south side of the island and we approached it with extreme caution. Suddenly, we were in the passage with waves breaking on both sides and swells pushing us rapidly in. We anchored close to the town, but noted we were just inside the channel, so we moved south and west and anchored again on a sandy bottom. We did not see any boats coming or going to Maupiti.There were two catamarans way up in the shallows near the town. The entire passage from Bora Bora took 6 hours, and was excellent sailing on the very blue Pacific.
Nancy shot this remarkable photograph of the breakers adjacent to the pass through the reef at Maupiti while Paul was otherwise occupied.   © Nancy G. Kaull
Maupiti is without a doubt the most exotic, most remote, and most unique place to which we have ever sailed. Everywhere one hears the endless faint roar of the waves on the reefs. 
The whole shoreline had a pretty stone wall with numerous small private homes, many private boat docks, and a number of fences.  However, when we finally got up close the shoreline was not especially welcoming, so we circled back to the ferry dock in the dinghy.  It was interesting that we had not seen one other boat coming or going to the dock either yesterday or today.  We finally tied up near the ferry dock and had a chat with a nice young man, all of us speaking in broken French.  He agreed the passage would be best on Monday, but no later.
The pass through the reef was very easy to navigate heading out.  We power sailed on a close reach in light air. It took us about five hours to reach the reef entrance to Bora Bora. This time we sailed to the north end of the lagoon. There, a narrow channel led to the East side of the lagoon, which then opened up to the SE. We anchored on a beautiful sandy bottom in 11 feet of water, well clear of any coral which was easy to see as the water looked like it was almost transparent. This spot was so sublimely beautiful we decided to stay two days. It was like anchoring in a gorgeous, aqua colored swimming pool near tall mountains!
Sophie had told us there was great snorkeling behind two nearby motus (small reef islands). On the way over in our dinghy, we talked with a kayaking couple who pointed us to the exact spot which was behind the second motu, where we soon found the best snorkeling we had seen in French Polynesia.
Two small hotel-based powerboats were already there. Hotel guides will obviously try to take guests to the very best spots, so that provides a big hint if you are in the right place. Our snorkel adventure was very successful, with many colorful fish completely unbothered by us. I was particularly interested in the colorful items that were shaped like wrinkly mouths in shades of aqua, jade, and royal blue. They would slowly open, and then quickly close. Over 100 very white fish were 'napping' on the bottom, lined up like cord wood, forming a rather odd image.
That night I slept in the cockpit, with a gentle breeze, under a nearly full moon shining on Mt. Otemanu, with a cloud perched just above the peak like a silver chapeau. Far away was the distant sound of breakers on the reef. Otherwise, except for the soft sound of the wind in the rigging and the gurgle of wavelets on the hull, all was wonderfully silent. This was a beautiful experience that will likely remain frozen in the memory bank of my mind all the rest of my days.
Cruising French Polynesia, Part II as published in March 2018's WindCheck Magazine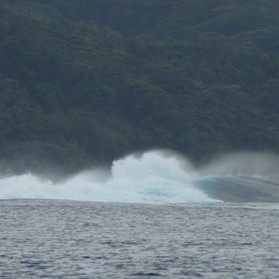 This day's adventure was to go to the "Coral Gardens." It was easy to find, as there were several hotel expedition boats in the area tied to moorings. We anchored the dinghy nearby. Here you really do swim with the sharks and the rays! Why do they cluster closely in this one spot when they have miles of lagoon to swim in? Because the tour boats toss chum into the water! Rather manipulative of nature, but it is surely effective for the tourists. It was amazing to swim among 20 to 25 black-tipped reef sharks as well as a dozen manta rays with no fear. The largest shark was about five feet long. The rays swim with one flap, then the other, in a very graceful, undulating motion, occasionally showing their extremely white bellies.
Passe Papai at the western entrance to Tahaa, with substantial breakers and spray coming over the adjacent reef.   © Nancy G. Kaull
Before going anywhere else in the dinghy, we needed to find out how much fuel we had. Using a wooden stick we found on a motu as a dipstick, we determined that we had only ¼ tank of gasoline remaining! After several long dinghy rides of approximately 1.5 miles each way, we needed to find a source of gasoline fairly soon, as we planned to do several more such excursions.
We decided to stay in this beautiful spot for yet another day. By sunset we had a new cluster of sailing neighbors. Five catamarans came in at the end of the day. Four of them were from Sunsail, and of course we made five. Everyone was at least 200 feet apart, so all was well.
It was now time to plan the rest of our trip. We needed to go to the grocery in Viatape. We also wanted to see the "Lagoonarium" and on the way get some gasoline for the outboard. The tourist pamphlet indicated fuel was available on the mainland. The fuel didn't work out because there was absolutely no place to anchor. The bottom was completely rocky. We nearly touched the bottom of the keel getting out of there. We then motored up the lagoon, crossed carefully through the unmarked pass, and then anchored in the NE corner of the lagoon, near the especially elegant Le Meridièn Hotel.
We took the dinghy into the Lagoonarium only to be told, "This is private." We moved the dinghy out of the way of the tourist outriggers coming in and walked to see if we wanted to do this. We were stopped short by a little old fellow telling us we couldn't take a look. We could see it was simply a fenced in "pool" with many people snorkeling about and it was apparently loaded with fish. The cost to enter was $25 each.  We decided this was the ultimate tourist trap, when we could swim with tropical fish in the open ocean absolutely free.
We then asked an outrigger driver where we could get gasoline for our dinghy. He said only in the town of Vaitape. Realizing it was a considerable distance (perhaps 5-6 miles) around the north end of the lagoon to the nearest fueling station, he very kindly offered to bring us fuel at 1:30 pm, which was extraordinarily generous! At almost precisely 1:30, his boat came back with my favorite Polynesian dressed in his loincloth (obviously for the benefit of tourists, I am sure). He was very friendly, with a great smile. He efficiently got his tank and our tank together, poured in 1½ gallons, and then poured in some random (to us) amount of oil for our two-stroke Tohatsu outboard motor. For 1,000 FPF (about US$10), and a tip that he was surprisingly reluctant to take, we were now good to go.
Paul was curious to stop at the Le Meridièn just to see what it was like, and also to learn their price for a bungalow on the water. I was reluctant to go, as we definitely did not look like guests. Security did make sure we behaved, and watched our every step to the reception area.  Every aspect of the exterior of the hotel was very posh. We learned the price was $1,300 a day, not including food, and almost $2,000 a day if you actually want to eat!  They were completely booked so they could not show us a room.  We went back to our wonderful Jeanneau 36i for which, by comparison, we pay $17 a day ($360 turnover & fuel fees for 21 days), plus food. We ate sautéed chicken with mushrooms, grilled potatoes, and sweet peas in butter for dinner, with a chilled Sauvignon Blanc, and in 10 minutes showered in rainwater. Life was wonderful…and we get a different view each day!
Back at the Bora Bora Yacht Club, we had a new and exceedingly showy neighbor – a Swan 66 named Lot 66 (a rather curious name?). We took the dinghy in to the yacht club to make a dinner reservation for 7:30 pm, and also had an interesting chat with the working crew from the Swan. They were a nice young couple who had sailed her in the Mediterranean, Caribbean, Panama Canal and Bora Bora, and were headed on to Auckland, New Zealand within the next month.
Dressed in my new and rather elegant blue pareo, we soon had a dinner extraordinaire of Canard Montmorency (duck in black cherry sauce) for Paul, and grilled Mahi Mahi with morel sauce for me, although as we often do, Paul had a sample taste of mine, and vice-versa.  Both meals were cooked perfectly and tasted absolutely scrumptious!  They were far and away the gastronomic treat of our time in French Polynesia.  I ate everything, which is somewhat rare for me. The setting was unique, the service excellent, the trade winds were blowing, Paul continued to speak French to the waiter, who actually remembered us from the previous week, and we both departed in the dinghy with superb aftertastes and very happy tummies.
The next day we were up and moving by 7:30, slipped the mooring line, and were through Passe Teavanui at 8:30 am, at the SW corner of the enormous reef at 9:30 am, and with 12-15 knot winds, with gusts to 20 knots, we were again sailing across the blue Pacific, back to Tahaa. Banana Man does not sail to weather particularly well with five year old sails that have been in continuous charter service. At times we had 12 knots of wind from the East, and while beating, we were going only 3 knots over the ground. Consequently, although both Nancy and I are avid sailors, and try to refrain from using the engine unless it is necessary – in this case it was necessary!  So, we motorsailed toward Tahaa.
Once into the lagoon we motored up nearby Bai Hurepiti, to a mooring for the Vanilla Tour. It is so quiet in this bay, with birds chirping and flowers floating by on the water, it seems almost prehistoric. Paul contacted the Vanilla Tour people on VHF 9 and learned they need a minimum of four for a tour. We took the dinghy in to meet Alain and Christina. Their very friendly dog greeted us at the dock, giving me kisses as I climbed out of the dinghy. Paul talked to Alain who agreed to do the tour for us (two at the price of four) tomorrow. It was a peaceful evening with flower blossoms floating by as we swam. However, we unintentionally committed "un grand faux pas," as we learned the next day, by charging the boat batteries too late in the evening, and perhaps keeping some people awake. Caution: Charterers should NOT run their engines in this bay after sunset, because neighbors have complained to the mayor and threatened to shut down Alain's business.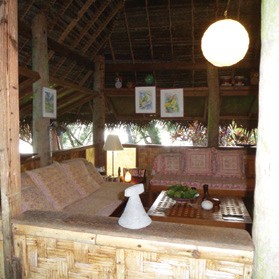 We met Alain for the vanilla tour at 7:30 sharp. The tour started on their property where they have lived for 30 years. They were finally connected to electricity only six years ago!  Alain initially explained about thatched roofs, how they are made from special woven palm leaves with two leaves per layer. The roof must be steep to be waterproof, yet amazingly will still let in air. A thatched roof will last for only five years, thus the more common modern use of sheet metal roofs that last for as long as 30 years. However, sheet metal roofs are very noisy in the rain and much hotter in the tropical sun.
Christina & Alain Plantier's family building    © Nancy G. Kaull
The Vanilla Tour itself took place in Alain's open 4-wheel drive vehicle. The first of many stops was at the edge of a vanilla plantation. Vanilla is actually a vine that grows best supported by a small tree. It likes slopes where the water drains well. Each blossom must be pollenated by hand or by a special kind of bee that unfortunately does not live on Tahaa.
Amazingly, a good pollinator can do 3,000 vanilla blossoms each day. Vanilla beans must be dried for four months before they can be used.  Believe it or not, they also must be massaged at various intervals to achieve their best taste.
Next, we took a very rocky dirt road up to the highest peak on Tahaa, where we had a great view of three bays, Huahine, and Bora Bora. Alain told us that these islands were originally formed by massive volcanic eruptions about six million years ago.  At their highest, they were over 10,000 feet tall. However, nearly daily tropical rains, and the resulting erosion have worn them down to "only" a few thousand feet. In another two million years they will be worn away, and the islands will become just atolls, or a reef surrounding a central lagoon, with nothing left in the center. He also explained that the reason reefs have openings is that rainwater runs down the mountain ravines, makes the water in that part of the lagoon brackish, but the coral reef polyps can only grow in seawater! How fortuitous, or the water in the central lagoon would stagnate!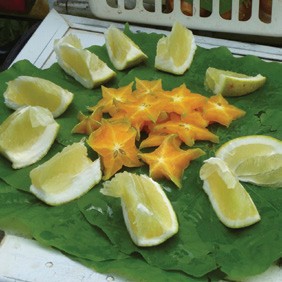 Using his machete, Alain then provided us with a phenomenal mini feast of star fruit, pamplemousse (grapefruit), and coconut served on a 'plate' of breadfruit leaves. These leaves are also used to wrap food for cooking. The Polynesian pamplemousse is very much sweeter than the grapefruit we normally eat from Florida, and it is also seedless.
Pamplemousse and Star fruit   © Nancy G. Kaull
The Vanilla Tour was wonderful, and if you ever get to Tahaa do not miss it. Alain is a trained biologist, was educated in France, and he and Christina came to French Polynesia about 30 years ago, fell in love with the whole area, checked out various islands, discovered Tahaa, purchased land, built dwelling after dwelling, planted trees, and both literally and figuratively set down roots.  They are remarkable!
After a lovely swim to cool off, and some lunch, we eventually slipped the mooring line and motored gently down Bai Hurepiti, raising the mainsail and unfurling the genoa in light winds. At about 3 pm we motored into the wind to allow us to get the anchor down well before dark. At this point we had come full circle, as we were now all the way back to our first anchorage in French Polynesia. Sadly, as all good things must eventually come to an end, we headed back to the Sunsail base at Raiatea.
Some general observations about the islands:
On a clear night The Southern Cross is always visible. It is small relative to other constellations, but is easy to find with its pointer stars. This was a first for me.
The majestic beauty of the volcanic mountains rising out of the sea is mystical and otherworldly. It is like no other place we have ever been. The only vaguely similar place is the Tobago Cays because of the sandy bottom and clear water. This is vast and isolated.
There are very few other sailboats. We saw almost none as we passed between islands.
The islands are lush, with multiple layers of green foliage right down to the sand on the beach. It is either green, or sandy, or blue.
Getting fuel and water was not obvious and dinghy docks were few and far between.
Bora Bora's Mount Otemanu is 2,385 feet tall and so incredibly impressive. Sleeping in the cockpit in the presence of Otemanu, with the nearly full moon shining brightly, and the sound of the waves on the reefs, was one of my favorite things.
Outriggers practice intently in most places, particularly in Bora Bora near the yacht club. Are they practicing for competition? Might this be their national sport?
Things to know before you go:
Definitely brush up on your French. Most people speak French and some speak English, but not all. Some Polynesians, such as those on Maupiti, may speak only Tahitian.
Credit cards are widely accepted, as are US dollars, but it is convenient to have local currency, FPF (French Pacific Franc), for small purchases. We exchanged money at the airport and got cash from an ATM in Bora Bora. The exchange rate was 100 FPF = 1.09 USD.
Provisioning is relatively easy, and we shopped where the locals shop, so prices were quite reasonable. Alcohol was sold in the grocery stores.
Everything is closed on Sundays, so plan accordingly.
Have an incredible time! Of all our Sunsail voyages – and we loved many aspects of each and every one of them – we both agreed that this one was our absolute favorite.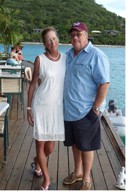 Nancy G. Kaull and Dr. Paul F. Jacobs live in Saunderstown, RI. Voyages: Stories of ten Sunsail owner cruises is available at Amazon.com, and you'll find several excerpts at windcheckmagazine.com (search "Voyages: Stories of ten Sunsail Cruises". Look for Part II of this article in our March issue.