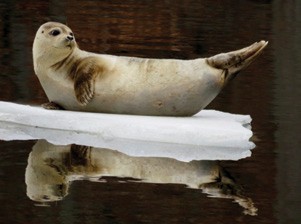 The Connecticut River Museum (CRM) located in the historic Steamboat Dock building in Essex, CT, has once again partnered with Connecticut River Expeditions to offer Winter Wildlife Eagle Cruises in February and March. These popular trips are a chance to get out on the River in winter to see bald eagles, as well as other winter species that visit the estuary such as harbor seals.
A harbor seal lounges on the Connecticut River ice.   © Bill Yule
Cruises aboard the environmentally friendly R/V RiverQuest provide passengers with a comfortable, heated cabin supplied with hot coffee and tea, as well as binoculars to aid in spotting and narration from a staff naturalist. These cruises depart Fridays, Saturdays and Sundays at various times in the morning and early afternoon, and are $42 per passenger. Museum members get 10% off and group rates are available.
In addition, CRM will offer its annual Eagles of Essex exhibit, which offers a wealth of information about bald eagles and their return to the lower Connecticut River. Patrons can try their hand at building an eagle nest, and marvel at life size silhouettes of eagles and other large raptors, a map showing good shore viewing locations, and other displays. On the opening day of the season, Saturday, February 3, the exhibit will host family activities related to the return of the eagles from 1 to 4 pm, free with Museum admission.
On Saturday, February 17 and March 17, award-winning photographer Stanley Kolber will present his annual Bird Photography Workshop at the museum. These popular programs are also free with Museum admission. A Live Birds of Prey Show will be offered on Sunday, February 18 at 4:30 pm. CRM will partner with Horizon Wings Raptor Rehabilitation & Education for this annual show, which will be held at the Centerbrook Meeting House. Admission is free. The Connecticut River Museum is open Tuesday – Sundays from 10 am to 5 pm. For more information, call 860-767-8269or visit ctrivermuseum.org. For more about RiverQuest, call 860-662 -0577 or log onto ctriverquest.com.