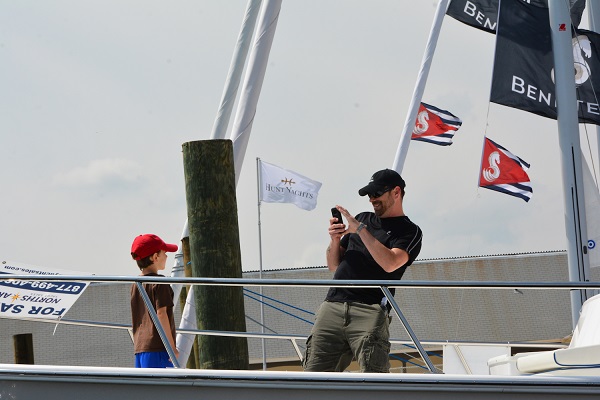 The Connecticut Spring Boat Show will be held Friday, May 4 – Sunday, May 6, 2018 at Brewer Essex Island Marina, 11 Ferry Street, Essex, CT. The show is a production of WindCheck Magazine and is sponsored by Brewer Essex Island Marina, Essex Boat Works, Yacht Brokers Association of America, and YachtWorld.  This year, 100% of attendee gate proceeds will go to SailsUp4Cancer.
"We are so excited to be a part of this growing show and this year is a big step forward." said Tom Pilkington, owner of Prestige Yacht Sales. "This boutique boat show, located in one of the most beautiful waterfront towns in New England, has expanded to offer a larger assortment of new and brokerage boats, more land exhibits while still allowing for boaters to spend time on boats of interest, and chat with the brokers in an informative and relaxed manner.  It is one of the most successful shows we attend and now, it will be even better with this more significant financial contribution to support such an important cause that touches so many."
Over 2500 visitors are anticipated with a suggested donation of $5 per person to benefit SailsUp4Cancer, a non-profit organization and local charity who distributes funds raised to families impacted by cancer.   Attendees will see a wide range of new and brokerage, power and sail models with sea trials available.  Boating gear, accessories, water front real estate and "water lifestyle" service companies will also be on site.
And of course, there will be spring time fun! Brewer Essex Island Marina is located on a beautiful 13-acre private Island on the Connecticut River, accessed by a complementary ferry service, and offers 125 slips accommodating vessels up to 200'.  Free parking on the mainland will be provided by Essex Boat Works at 9 Ferry Street.  This resort marina is family friendly and offers restaurant dining as well as other food, beverage and fun vendors who will be open for the weekend.
Sails Up 4 Cancer is a non-profit organization based in Mystic, Connecticut. SU4C has been dedicated to supporting cancer care, education, prevention and research along the Shoreline and Southeastern regions of Connecticut. To learn more, go to SU4C.org.
CT SPRING BOAT SHOW:  The CT Spring Boat Show features some of the newest boats on the market including center consoles, fishing boats, luxury cruisers, sport and sail boats.  The show is open to the public at Brewer Essex Island Marina with a requested $5 dollar donation to SailsUp4Cancer for attendees ages 13 and up.  Visit www.ctspringboatshow.com for specific event details.  Anne Hannan of WindCheck Magazine at contactus@windcheckmagazine.com for dealer and vendor application information.