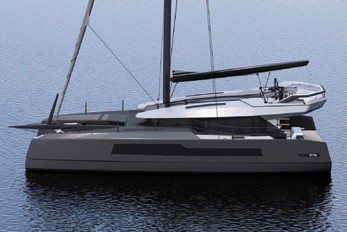 McConaghy Boats has appointed Aeroyacht Ltd., a multihull specialist and international catamaran dealership in East Setauket, NY, to represent McConaghy Multihulls as an importer in North America and South America.
Jason Ker of Ker Yacht Design drew the McConaghy MC50's stunning lines.   © mcconaghyboats.com
"The sector of high performance luxury catamarans is on a growth path, and the exciting new range of McConaghy Multihulls starting from the MC50 all the way to the MC90 are an excellent addition to our current range of Bavaria and Sunreef catamarans," said Gregor Tarjan, CEO and Founder of Aeroyacht. "They offer innovations such as safe, retracting centerboards, a very sporty flybridge and an amazing open-floorplan luxury interior. The McConaghy brand really set themselves apart from other builders in this sector. McConaghy multihulls are all about lifestyle defining features and provide a unique experience to the owner. We feel privileged and excited that we can represent this beautiful brand in the U.S."
"We are very pleased to have Gregor Tarjan of Aeroyacht Ltd. on board," said Mark Evans, CEO of McConaghy Boats. "His international reputation in the industry precedes him and his in-depth knowledge and long involvement in the world's most illustrious catamarans makes him our number one choice to represent our brand in the Americas. Gregor is not only a professional multihull importer, but also a yacht designer with several catamarans to his credit. He was involved in the Stars & Stripes Americas Cup build campaign, which lets him understand the high level of technical detail which go into our yachts. We have confidence that Gregor will take our new multihull brand to the next level and establish it at the very top of the market." For more information, visit aeroyacht.com and mcconaghyboats.com/multihulls.