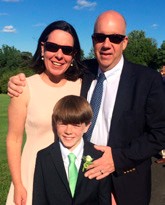 Dear Sailing Community,
The overwhelming response and generosity to Jim Hahn's GoFundMe page (gofundme.com/JimHahn) has been a powerful cog in Jim's recovery. Watching the fund jump to over $100,000 in under 48 hours and reading the thoughtful comments put Jim and his family into full-send mode.
Jim's catastrophic skiing accident on February 3 left him paralyzed from the waist down, and a GoFundMe page was quickly established to ensure that he can one day return to his life as the well-known energetic Ronstan traveling salesman, a sailor with a wealth of nautical knowledge and jokes, and the consummate cheerleader for his family (his wife Alix is the two-time International Women's Keelboat champion and his son Nick is an American Yacht Club Optimist sailor).
Jim is already making great progress in physical therapy and while the Hahn's course has been changed forever, the wave of support from the sailing community – well beyond what we originally hoped – is helping them navigate their new reality. Please know your good vibes and well wishes are fueling Jim's recovery and giving them all the strength to get through today and look towards future days on the water.
With great appreciation and of course, Send it!
Carolyn Russell, Meghan Hopkins, and Jennifer Leary
˜