By Joe Cooper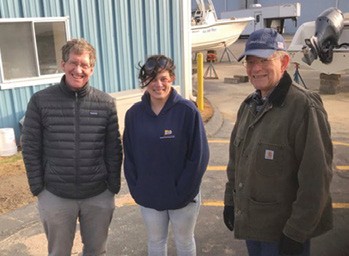 At the conclusion of the last edition's column we were hanging by our fingernails off the edge of the cliff, with small stones, dirt and dust blowing by us on their way to the bottom of the canyon below, and our hero was just about to embark on a Kaper. Well, it turns out the Hero is a Heroine.
Key players in Coop's latest Kaper include (l – r) John Bixby, Kelsey Britton and Barry Ripley.   © Joe Cooper/JoeCooperSailing.com
But first, let me give you the "previously on The West Wing" basso voiceover. Newport Yacht Club had taken the donation of a J/22. It needed some work. I had made contact with 'our heroine,' one of the instructors at the IYRS School of Technology & Trades, who, when asked if she and her students would be interested in fixing said J/22, said "Yup." And now yer up to speed.
Kelsey Britton is, (of course), a third generation Gold Star, card-carrying, Rhode Island boat building Water Rat, complete with a boat builder/engineer dad and boat builder grandfather and a Bristol 19 in her backyard, waiting for some love time… (Sound familiar?) She is also an instructor at the IYRS Composite School, now housed in downtown Newport adjacent to the main IYRS building. It was she who agreed that, philosophically, 'this could be done.' This? I thought that having the IYRS Composites students take on repairing this J/22 for NYC would be the perfect combination of mates helping mates. I mean, really it seemed like the perfect double-handed crew.
Newport Yacht Club has a long tradition of conducting junior programs over the summer and offering, amongst other things, a great community-centered Junior Adventure Sailing Program in Ensigns and the occasional member's yacht, with member. The addition this summer of the (soon to be revitalized) J/22 expands this program. Using something a bit more subdued than a 420 or a 40-footer to introduce young Padawans with zero experience to sailing is a direction junior programs are starting to take. There are many youngsters living in Newport, but on the edge of the wonderful sailing community we all take for granted as we wait on line for a bowl of chowder in the summer. Bringing young, local kids out on a sailing boat and exposing them to the wonders that have given us all so much happiness over the years is one way to get them to know about sailing. The opportunity to do this in Newport Harbor, to learn, softly, about its history, the remarkable marine environment and flat out beauty of Narragansett Bay is adventure to be had, and from a perspective likely few of them have experienced.
Joining forces with Newport YC is a (possibly THE) world class technical institution offering instruction in boat building, the marine trades and technology, moored the proverbial biscuit toss down the road. Taylor Rock, a teacher and coach of the Rogers High School Team and head of the Junior Program at Newport YC, is looking into bringing some of the Rogers students into the Kaper and showing them what is available to them in terms of careers in the marine industry in Rhode Island and where to go to learn about it all. This year's Composites class is currently 11-men (yup, all men this year) strong and, Kelsey tells me, champing at the bit to put their newly learned skills to work. Never mind Heaven, this is really a tale that I think can only be told about Newport.
One bump that needed to be addressed is of course that one protagonist is a yacht club's junior program and the other is a dot Edu school, so neither have pockets of sufficient depth to simply throw money at the problem. So, for this kind of Cooper Kommando Kaper, I proposed to smooth the way by promoting all the players. I had cause today to advise one of my former Prout sailors, also a recent graduate of IYRS that, if yer going to ask something of someone, always and try and have something to offer in return.
Today's social media (never mind WindCheck) makes 'promoting' this kind of pro-bono Kaper a reasonable proposition for all hands. The IYRS students get to work on a real live boat project, crawling around inside the confines of a 30-year-old, 22-foot sailboat hauled out on the hard and covered with an instant Plastic Shed, in February – serious on-the-job training compared to standing at a bench in a heated classroom and doing their composite thing. Newport Yacht Club gets some non-cash coverage of their junior sailing program. IYRS gets a mention, even though they could not take it on as an in-house Kaper. Local kids get an opportunity to go sailing, high school students get a glimpse into what makes all these boats in the harbor happen, a generous club member (cf below) parks the boat on his property just coz he can, and I get to write about it all. Wadda deal.
But a few details still needed to be ironed out. Where to do this temperature-sensitive fiberglass work in the winter at 40 degrees north? Well, there is a dearth of freely available heated sheds of a size suitable to put a J/22 in, in downtown Newport. Bust. The IYRS campus is chock-a-block with small boats in various stages of repair, not to mention the cars (not in for repair, just parked). Casey's Marina, immediately to the west of the new building, equally is managing a first-class imitation of street art: Boats as Sardines in an industrial landscape, and space there is unavailable. Bust. The yacht club was getting some serious plant upgrades this year, so no luck there. Bust. But, have cocktail party invitation, will travel.
It was through a chance meeting, at a Rhode Island Marine Trades Association party, with my mates at New England Yacht Rigging in East Greenwich that the boat's real estate opportunity found its mark. "Sure," they said, once I explained the Kaper to them, "bring it on over." This was convenient because Kelsey, and, she told me, many of the Composites class live on the mainland (as we Aquidneck Island dwellers call, well, the mainland) and so travel time was less. But, not so fast mate…
As it turned out, Kelsey was not able to get the IYRS leadership on board for a couple of perfectly reasonable reasons, not germane here. Undaunted, Kelsey and her class of Composites students were on board regardless. "No problem," quoth she. "We'll do it anyway, 'credits' or not. Hands-on practice is hands-on practice."
Meanwhile, time was becoming an issue with getting the boat out of the water. Enter NYC member Dick Cromwell. Mr. Cromwell's day job is as owner of Maritime Solutions, Inc., aka the Inflatable Guys, halfway up the island on East Main Road, with a charming view across a field to the Sakonnet River. I make no claim to this part of the Kaper, but two club members who have been in on this from almost the beginning, Jon Bixby (Chair of the Junior Committee at the club) and Barry Ripley, (Minister without Portfolio on behalf of the club for this Kaper) conspired with Mr. Cromwell, the result being that the boat was whisked away to the MSI compound opposite aforementioned field and view.
On a brisk, but not freezing Sunday at the end of January, Kelsey, Jon, Barry and I convened at the boat for a review and the composing of The Work List. Now, you probably know a J/22 draws about four feet. The 'average' inflatable draws maybe 6-12 inches, and 30 with the engine down. This factoid was brought home when we arrived at the boat and discovered it propped up on boat stands perhaps 30 inches tall and filled-in with baulks of timber. It was not so much braced on stands as sitting on top of a pile of stands. The mast was lashed down on top, the boom was in the cockpit, and docklines and fenders were in the cockpit.
Jon had the foresight to bring a ladder that we secured alongside the boat and gingerly made our way aboard. In fact, it was not really that bad. Still, it would have not been the story to read about in WindCheck: "Two injured, boat destroyed in freak accident as it falls off stands. Story on page six." This version, in your hands, is much more fun. So, Kelsey climbed up the ladder and dove inside, 6-foot Stanley in hand, and started measuring and taking pictures. I climbed up, and with my marketing mind fully mobilized, started taking pictures of her taking pictures. A 30-year-old, not-so-much-loved J/22 is a sight not to behold. The main bulkhead is in a sad way, there are cracks and crazes in various spots, and lots of generic scuzzy fuzz occluding the interior of what are actually pretty sweet, fun, little boats, well suited to the task of beginner sailing.
Many of you will know of my interest in anything that gets Padawan Learners out on big boats. At the aforementioned RIMTA cocktail do, I ran into one Jonathan Kabak. Jonathan is the Director of Marine Operations at the U.S Merchant Marine Academy Sailing Foundation in Kings Point, New York, and works with my mate Ralfie Steitz. Now, Ralfie is a card-carrying Water Rat of a similar mind to me, i.e. getting kids out sailing. Jonathan and I struck up a conversation and discovered we also have many of the same interests: Kids, sailing, old style-just go sailing, never mind the racing. If a kid falls in love with sailing, he, or more so these days, she, will find his or her way to racing without any help from summer coaches yelling at them to tack or trim the main. Anyway, since I have a Charles Dickens serial story kind of thing going here, I will continue with the details of the Kabak and Cooper Kaper next month.
Congratulations to Carina Becker for absolutely killing it, on a personal level, in the Rolex Sydney Hobart Race. (I too was just 18 when I did my first Hobart on a half-tonner…) I have a 90-minute interview and 20 minutes of video with her I need to get to. This adventure is all the more fun for me to watch since I have known Carina's parents since well before she was born, and her dad is a longtime shipmate of mine and half of the pair of parents who made the Young American Junior Big Boat program into the success it has become. And more on that program later on.
I was really saddened to hear of the collision the Vestas 11th Hour Racing guys and girls had off Hong Kong. I am sure all of us are sharing our best good vibes with them and the family and friends of the fisherman who died. The latest news today, 29 Jan, reports they will not be sailing in the Hong Kong to Guangzhou leg because they are still fixing the boat. And, the odds of getting the National Sailing Hall of Fame in Newport continue to increase, said he, hoping to not spook the herd. Phew, good thing it's the off-season; come summer I'll need a rest.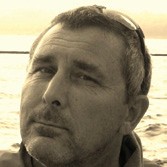 Australian born, Joe 'Coop' Cooper stayed in the US after the 1980 America's Cup where he was the boat captain and sailed as Grinder/Sewer-man on Australia. His whole career has focused on sailing, especially the short-handed aspects of it. He lives in Middletown, RI where he coaches, consults and writes on his blog, joecoopersailing.com, when not paying attention to his wife, teenage son, dog, two cats and several, mainly small, boats.