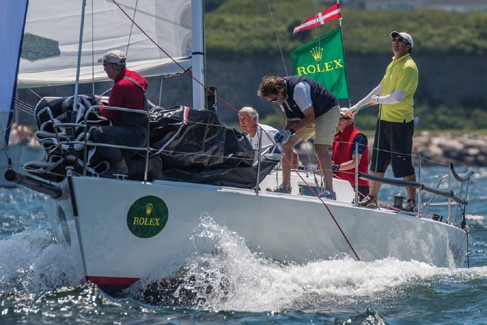 Founded in 1844, New York Yacht Club is a mainstay of sailboat racing in the Northeast. Since the commissioning in 1988 of its first permanent waterfront facility, Harbor Court in Newport, RI, NYYC has the perfect location to run events on Narragansett Bay and Block Island Sound, perhaps one of the most beautiful and reliable venues on the planet. We sat down with NYYC Commodore Phil Lotz to discuss the upcoming season.
This year mark the 164th running of the oldest annual regatta in the U.S., the NYYC Annual Regatta presented by Rolex. Pictured in last year's event is Donald Santa's J/105 Santas Reign, Dear (Edgewater, MD).   © Rolex/Daniel Forster
We also checked in with Harry Melges III, CEO of Melges Performance Sailboats in Zenda, WI, to learn more about the IC37, the exciting new one-design class that will carry the Rolex New York Yacht Club Invitational Cup into its second decade and beyond.
WindCheck: Phil, how do you determine what events the Club is going to run in a given summer?
Phil Lotz: We plan the schedule about five or more years out, so we're now out to 2022. Planning starts with the fixtures like the annual and semi-annual regattas.
WC: Does the NYYC have racing for people who are not Club members?
PL: Most of our racing involves non-member participation. There are a few member-only events, but one of the missions of the Club is to promote the sport in all its forms. From team racing to PHRF to inter-club "big boat" racing and Grand Prix events, the Club consistently welcomes all to participate. This season starts with the Leukemia Cup on June 2. It's a great warm-up for a great cause, and we welcome all PHRF boats. The only limitation is that you need a Narragansett Bay PHRF rating.
The following weekend, we host the oldest annual regatta in the country. This year is the 164th Annual Regatta, June 8 – 10. Friday the 8th is the Around-the-Island Race, which is a fun and great way to get tuned up before going around the buoys. The Regatta is open to PHRF boats from 25 feet on up, as well as IRC, ORC, one-design classes, Classics, 12 Metres, M32s, and offshore Multihulls. We look at this as a "super regional event" and hope to have boats ranging from Marblehead to Western Long Island Sound to come and kick off the summer with us.
WC: That's a lot of classes! How are One-Designs selected?
PL: We will run starts for classes with a minimum of eight boats. Just contact us and we'll try to get your fleet on the starting line.
WC: This is a Newport Bermuda Race year too, so this event is part of the Onion Patch Series.
PL: Yes, that definitely adds to the excitement, even if you're not racing to Bermuda.
WC: OK, my summer is off to a fantastic start! I catch my breath, then come back to Newport for the One-Design Regatta (June 30 – July 1)?
PL: Yes. This year, we host Etchells, J/70s, Melges 20s, Stars and IC37s. Weather-wise, this might be the "plum" weekend. Maximum daylight, typically great seabreeze, summer warmth…it's about as perfect for these classes as you can ask for, and we are very excited to host them.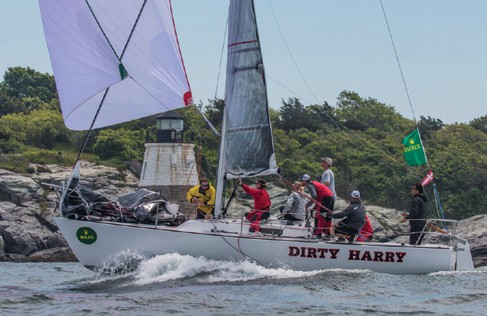 Jack McGuire's J/29 Dirty Harry (Annapolis, MD) surfs past Castle Hill Light in last year's NYYC Annual Regatta presented by Rolex.  © Rolex/Daniel Forster
WC: And then we have Race Week at Newport presented by Rolex (July 16 – 21). A quick read of the NOR on your website and you really see the diversity accommodated at this event.
PL: Yes, Race Week has something for everybody. Registration opens on the Monday The same broad range of classes are hosted but we have some clinics on the Monday and Tuesday. Traditional buoy racing for one-designs, IRC and ORC classes and then Navigators Racing around government marks or a middle distance race for PHRF boats.
WC: So, I really could bring the family to this one…
PL: Well, that's the beauty of Race Week. It's mid-summer and you can pick and choose what kind of sailing you want to do, from pretty relaxed to fairly intense competition. The final day is a Saturday, so wrapping up the week is not a big stress event for family programs.
WC: August looks like team race month at Harbor Court.
PL: We do run our three biggest annual team races in August. First is the Morgan Cup (August 3 – 5), which is an invitational based on winning one of a few select team racing events or by resumé. Then we have the Hinman Masters (August 17 – 19) for skippers 45 and over and teammates 40 and over. Then the Grandmasters (August 24 – 26) for skippers 60 and over and crew 50 and over. We run these events in our fleet of 22 Sonars.
WC: OK, so we're done right? Back to school…pack it in?
PL: We are not quite done. We host the Resolute Cup September 10 – 15. We like to think of the Resolute Cup as a de facto yacht club national championship. We invite 30 U.S. clubs to race Sonars, and we work hard to spread the invitations around the country. It's a perfect time of year, as teams have all summer to get ready.
WC: You have a great history with sponsors, and we should give them their due.
PL: Thanks and thanks for bringing this up. We like to recognize our sponsors at every opportunity we get. This is Rolex's 60th anniversary of involvement with the Club. Think about that for a moment. Everyone in the sailing community owes Rolex a big thank you for their commitment to the sport. I'd also like to mention and thank some of our other partners for this upcoming year, including AIG's Private Client Group and Helly Hansen.
WC: So Phil, we are really eager to dig into the Club's next big initiative…and I don't mean the America's Cup. What is the new IC37 class?
PL: For starters, we needed a boat to carry on the foundation we have (ten years now) with the Rolex NYYC Invitational Cup; a biennial Corinthian competition amongst yacht clubs from around the world. The Swan 42 worked well, but we needed to move on so we did the following: We are building 20 boats that the Club will own. In addition to using them for the Rolex IC, Members can charter them for the season, but it's unlike other charters – it's a concierge charter. You pick up the boat two days before an event, bring your own sails (which are just three), and return the boat at the end of the event. The teams will be strictly Category 1 amateur with one Category 3 boat captain, and that will be pretty strictly monitored in terms of who that Cat 3 is (sorry, Kenny). Additionally, there is a requirement for women to be on the team once the crew is over 6 people (8 is the expected size).
WC: Do you get the same boat all season?
PL: Not necessarily – you probably won't get the same boat two events in a row. We have very strict control of the boats, and the rules are written to be very tight. The only rigging adjustments are the blocks under the mast for tension. You cannot adjust the shrouds. So, it's simply up to pulling the big strings, including the running backstays and dealing with an asymmetrical kite that will be retrievable through a string system. The design brief was for a boat that was fun to sail upwind, without insane hiking, but would achieve the downwind speeds that everyone is getting used to; in the mid-teens. It should be a lot closer to a small TP52 than a Melges 32.
WC: Why is this relevant to other sailors and clubs in the Northeast and beyond?
PL: Melges is running the class and as I said, we have built very tight rules: one builder, measurement templates, one sailmaker, one hardware provider, etc. You can see the rules at melgesic37class.com/rules/. If somebody wants to purchase a "private" boat to race with our fleet of 20 boats, we anticipate that boat to be on the starting line for less than $300,000.
WC: Hold on. How is that possible? You can finance that for less than $15,000 per year! (Editor's note: WindCheck is not a licensed financial advisor and past performance is not proof of future outcomes. Please consult your registered financial advisor to check this math. But do feel free to contact Melges Performance Sailboats anyway.)
PL: You said it, not me. But I do encourage people to check out the IC37 Class rules because they will see where a lot of the one-design direction helps keep costs down. Three sails only, no wind instruments, and crew limitations are all designed to provide great racing for Corinthian men, women and juniors! We are very excited about the prospects.
WC: OK Phil, I think you're pulling my leg, probably because you're still bitter about that Lightning Midwinters in '88 where I cost you and Wendy the title to the dreaded Dave Curtis. (Editor's note: Wendy Lotz, Phil's wife, is an outstanding sailor.) Or maybe it was that J/105 NAs where I totally blew that persistent right shift. But we're interviewing Harry Melges (see below) to confirm what you've said…we have standards at WindCheck and we won't be trifled with.
PL: Umm, OK, you seem to have a better memory on all that then I do. All I remember are things like winning the Prince of Wales Bowl (U.S. Match Racing Champs) together…Speaking of which, don't you want to ask me about the America's Cup?
WC: Oh! Yes, as a matter of fact we do. What can you tell us?
PL: Well, it's still really early days but we are very excited about the prospect of live training in Narragansett Bay in the summer of 2019.
WC: And…?
PL: If we were to win it for the United States, one of the obvious venues to host would be Newport. But that's a long way off. In the near term, one of the goals of the campaign is to rejuvenate and showcase the technology, marine industry and sailors that the U.S. is capable of producing and winning the America's Cup. The Club would not be involved without that part of the mission. For example, NYYC and the Team are partnered with Oakcliff Sailing and the US Sailing Team to make sure we are connecting with some of the most promising sailors in the USA.
WC: Well, that's outstanding news and I'm sure all of our readers wish this campaign the very best. I'm equally sure that we'll revisit this conversation in the future. Thanks Phil! And now on to Harry Melges to fact check this IC37 program.
WC: Harry from Wisconsin! Thanks for calling in! So, WindCheck, LLC wants to buy an IC37. How much will it cost?
Harry Melges: Hang on…putting away the DN…What was the question? Oh, well the next available build slot is mid-2019 and the base cost is $279,000. That can change because we have yet to pop out the very first one, but we are pretty confident. We have the 20 boats on order from the NYYC and then another 15 on top of that.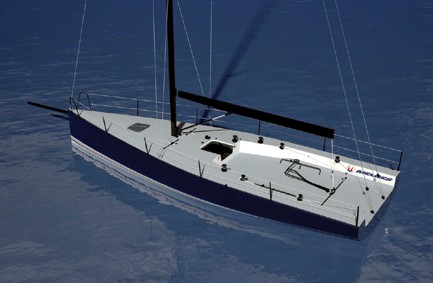 The product of the New York Yacht Club's partnership with Melges Performance Sailboats, Mills Design, Westerly Marine and North Sails, the IC37 is the next great one-design class.   © Melges Performance Sailboats
WC: So you already have 35 boats scheduled! Where are these other 15 orders from?
HM: Well, the Canada's Cup organizers from Toronto have chosen the boat so that resulted in six orders. We have one order from Rochester, NY, one from the UK, one from Sweden, one from California and another six from the Northeast. It seems pretty popular.
WC: As my son would say, "Let's GO!!!" That is outstanding, and congratulations. I think the concept is fantastic and I can't wait to sail one!
HM: Let me just echo what Phil said. Check out the rules. You'll see that we're going to attract Corinthian teams of all shapes and sizes: men, women, and juniors. It should be a great platform, so thanks and stay tuned!
Thanks much Harry and Phil! Sounds like we need more vacation time!
To learn more about the New York Yacht Club, log onto nyyc.org. Special thanks to Stuart Streuli, NYYC Director of Communications, for assistance with this story.