An interview with Leon Sefton, Head of Television for the Volvo Ocean Race 2017-18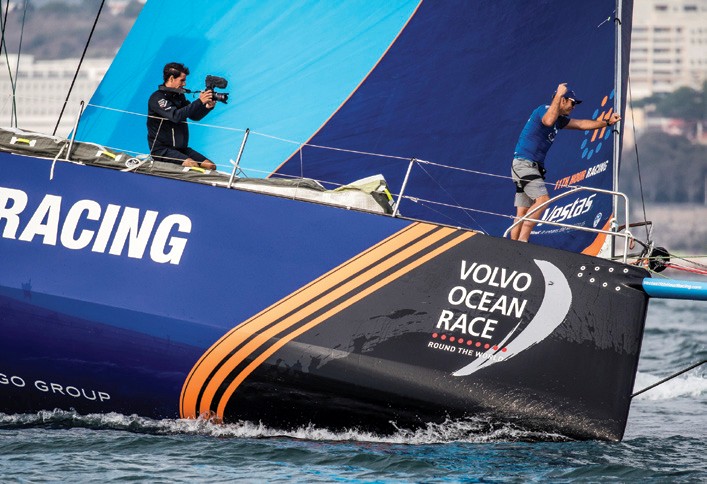 With millions of people all around the world following on several media, the current edition of the Volvo Ocean Race is perhaps the most viewed event in the history of yacht racing. We spoke with the man charged with delivering that content to legions of eager fans.
Onboard Reporter Martin Keruzoré films Vestas 11th Hour Racing bowman Nick Dana of Newport, RI in action during a practice race in Lisbon. © Jesus Renedo/Volvo Ocean Race
WindCheck: Please tell us about your career path to the Volvo Ocean Race, and your jobs with the 2011-12 and 2014-15 editions.
Leon Sefton: I worked in local television and news production in New Zealand for many years, and with my passion for sailing I was lucky enough to begin working on the America's Cup television productions. I was a director for the 2007 and 2010 AC productions and IMG Media – which was the host broadcaster for the 2010 America's Cup – produced the Volvo Ocean Race 2011-12. They brought me on board as the Director for that coverage. I've been hooked ever since on the Volvo. I was lucky enough to be able to make time to produce the 2013 America's Cup in San Francisco and run the host broadcast for the 2016 Rio Games, but then I joined the Volvo Ocean Race full-time to plan and prepare for this 2017-18 edition.
WC: What are your responsibilities as Head of Television?
LS: The Head of Television role here at the Volvo is wide-ranging. It goes far beyond a traditional television production role, mostly because of the numerous outputs that exist for video: television, websites, social media, streaming, the stopover venues and internal sponsorship and prize-giving videos, as well as news video releases created by the TV team. Beyond all of those outputs, we've also been charged with overseeing the Onboard Reporters [OBR] program, which is the most ambitious program we've ever had in the Volvo, to put independent journalists on board each boat.
Onboard Reporter Ugo Fonollá, who hails from Spain, is clearly a man who enjoys his work.             © Pedro Martinez/Volvo Ocean Race
WC: How many people comprise the VOR Communications Team?
LS: We have the television team within the overall communications team, which provides additional infrastructure for outside media and online editorial outputs. The full-time TV and Comms team is about 14 within the comms team and there's an additional 12 television production freelancers that are part of that and often come to each stopover to help us with our streaming coverage.
WC: What percentage of your content is provided by the Onboard Reporters, and who provides the other content?

LS: During the racing out at sea, almost all of the content has to come from the Onboard Reporters unless we've sent a helicopter up for a special shoot like we might do around some crucial points in the race. Otherwise we're reliant on their shooting, which is why the OBR program is so important. Obviously as the boats get closer to the finish, we'll have the RIB and heli ready to go. It's not so much a percentage as it is where on the racetrack they are. Anywhere beyond one hour from the stopover and it's going to be onboard stuff. The exception might be a really short leg at the race finish when we'll have a boat tracking the whole way and we can map out helicopters to follow most of the route.
WC: The drone footage the OBRs are shooting is amazing! Is the VOR the first ocean race to utilize drones in this way, and what are the challenges (and dangers) of operating a drone from aboard a Volvo Ocean 65 at speed?
LS: We're really proud to have paved the way with flying drones from ocean racing yachts. Last race, we were the first. This race every OBR has to have a high degree of drone piloting capability, and there's a healthy level of competition amongst them to be the best – to fly in higher wind ranges, discover new angles. Just recently, we even streamed live from a drone from the middle of the ocean –another first. Our hardware partners, Cobham, and satellite partners Inmarsat make that technically possible, but it also requires a cool head and hand on the controls.
The OBRs are all safety conscious, all certified, and therefore trained to manage situations accordingly. The toughest phase of the flight is launch and retrieval, so we encourage them to use slash-proof gloves and eyewear when doing so, particularly in feisty conditions. We're currently using DJIs Phantom 4 Pros, which have performed absolutely brilliantly, and the configuration of the landing gear makes them safer and easier to catch.
Every OBR in this edition of the Volvo Ocean Race is shooting incredible images with drones, although those by Connecticut native Sam Greenfield – like this shot of team AKZONobel in the South Pacific – are arguably the best of the bunch.   © Sam Greenfield/Volvo Ocean Race
WC: How are you promoting the race on social media?
LS: We try to be platform-agnostic and publish to all different social platforms be it photos, video, interviews, etc. Each of them has its benefits, specific demographics and attributes. We've been using Facebook Live in particular for some of our video updates. For our fan base, it still seems to grab the largest audience and be the most global.
WC: For the first time in Volvo Ocean Race history, the sailors are posting social media updates via the Crew Communicator platform. How is this changing the face of the race, and does any of that content appear in the TV shows that you're producing?
LS: This is something – developed by our technical team – that we were particularly excited about. The objective is to allow the stars of the show – the sailors – to communicate directly to their followers. That's a crucial step in this day and age for professional sportsmen and women; generating their own story and brand. With us, the application is unique, if you consider how few sports in the world allow an athlete to communicate their thoughts from the field of play. One of the complications is that it's one-way traffic, meaning the sailors can't engage in an active conversation with followers. That's to protect the integrity of the race, to protect against outside assistance. In the Volvo Ocean Race, decisions related to strategy have to be made by the sailors onboard. They all receive the same weather information daily, and have to make their calls on routing from that.
But overall the Crew Communicator has been a hit. The sailors enjoy taking some control of their own story – it can be a way of feeling like they're still in touch with the outside world even though they're in the middle of one of the world's oceans. They can post their thoughts, photos and videos directly from a handheld device, then via satellite, it's online. The resolution is necessarily kept low – good enough to be absorbed on social media, but not too big so that file sizes become a problem to send, so it's not something we'd immediately see as high quality enough to include in our TV outputs, but if a team member was the only person that captured something amazing then of course we'd consider it.
WC: What's the nature of your partnership with Sunset+Vine, and how can fans in the Northeast U.S. follow the race on TV?
LS: Sunset+Vine helps us twofold. One, they assisted with signing over 50 television agreements with broadcasters around the world to carry the Volvo Ocean Race on their channel. Having an agency that knows the ins-and-outs of the race and knows the programming chiefs at all of the major global sports and lifestyle channels is a huge plus for the race. While we've taken the production in-house, Sunset+Vine was crucial in getting our race to be covered in some key markets.
Unfortunately the U.S. is a challenging market, with traditional sports and broadcasters asking for big guarantees from events or sponsors to cover their event. We have an agreement for our show to be covered on Outside Television. Otherwise, the easiest is to sign up for our YouTube notifications and watch each show as it gets put on YouTube just days after the production finishes for global viewing.
Amory Ross captured this beautiful sunset image aboard Vestas 11th Hour Racing on Leg 4, somewhere between Melbourne and Hong Kong.   © Amory Ross/Volvo Ocean Race
WC: It remains to be seen whether sailing can ever be as popular in the U.S. as it is in your native New Zealand, but is the VOR building the fan base here in the States?
LS: You look at the success of the Newport Stopover in 2015 and you have to think that any time an event has 125,000 people passing through its gates you are building fan base. Compare that to about 1/10th that in 2012 in Miami and that's growth, for sure! The U.S. market is tough. It's a massive country and there are tons of entertainment options. At the same time, there are hundreds of thousands of sailors and sailing fans in America and it still makes up one of our largest audiences on social media and on our website, so clearly it's a big number. What we need to do beyond building fan base is make sure that those fans consume our content and want to come back for more to follow the race over the nine months. That's the idea behind our increased video output and upgrading our onboard reporters program to have the best quality we can offer.
WC: What's the best thing about your job?
LS: That's easy – simply telling the story of these incredible people who push themselves to their limits and beyond to race to their absolute limit. I'm here to tell their story, and have surrounded myself with a media team fueled with the same, single goal. Because competing in this race is their everything…as Mike Sanderson famously said after winning in 2005-06, it's their childhood dream, their Olympic Gold, their Mount Everest…and it's really like that. These people detest losing. The level of determination, commitment, loyalty, skill and bravery that it takes to make it onto a Volvo Ocean Race team is one thing; finishing the race is quite something; winning it is quite another. It's a unique event and a unique story.
Thank you very much Leon!
Special thanks to Volvo Ocean Race Media Manager Rob Penner for facilitating this interview.