Excerpt from The Medal Maker: A Biography of Victor Kovalenko
By Roger Vaughan   Special to WindCheck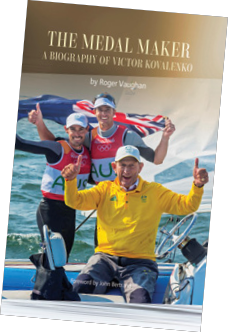 Author's note: Born in 1950 and raised in Ukraine under USSR rule, Victor Kovalenko became a national champion in the Flying Dutchman. He obtained a university degree in Sports, and became a coach, winning his first medal with a Ukrainian Women's 470 team. After the 1996 Olympic Games, Victor was recruited by Australia. With political problems a deterrent in Ukraine, he accepted. Victor's teams have won 10 medals (six gold) in eight Olympic Games, a coaching record. He is Australia's head (and Men's 470) coach. He is currently preparing his teams for the 2020 Games in Toyko.
© Daniel Forster/Altamira Creation AG
Victor speaks to everyone who competes in any endeavor, at any level.
Strength of character has been the foundation of Victor's coaching philosophy from the beginning. That presumes the participant is well trained, technically and physically, to be among the very best. To bring sailors to that level, when he first started coaching sailing Victor brought what he'd learned from other sports to the table. "Tennis, badminton, volleyball," he says, "They are the same as sailing. They require fast reactions, and you have to be smart with strategies and tactics. Tennis is more a head game. In tennis you have maybe two times more time to think about a shot than in badminton. In light wind, sailing is more like tennis. In stronger winds, it is more like badminton. It requires lightning reflexes. I learned a lot from badminton. I was playing myself, and watching the best people. They would take one element, one stroke or shot, and would do it many times, over and over. They divided the game into small elements, and practiced those elements. So I broke down sailing the same way."
There's little doubt that the necessity of making the Ukrainian women sea pentathlon athletes he inherited in 1985 – Larisa Moskalenko and Iryna Chunykhovska – into top 470 sailors in barely three years, was the mother of the coaching fundamentals Victor would develop for the rest of his career. Over lunch one day, I asked him about how he approached the enormous task of teaching the two women the complicated basics of racing a high performance dinghy like the 470 in world-class competition. Victor took my pen and sketched this Magic Box on a napkin.
Then he explained it. Across the top are the major categories involved in racing a boat: Basics, Boat Speed, Starts, Tactics, and Strategy. Under each of those headings are listed the essentials of each category. Looking at it, my eyes started doing circles as I thought about my own sailing career that began at age 9. Over the years I had worked on many items on the chart, but I had never thought to organize them in a way that made any sense. I was a weekend sailor, never a top of the fleet regular, but even so I applied myself. I read books, I observed, I practiced, had some good days. Even though I consider myself a quick study, it was slow going. What a difference it would have made if I had woken up one morning and found Victor's concise little chart under my pillow; how many years of trial and error it would have saved me!
Because in very little space and with few words, this Magic Box is all any sailor needs to understand what's required to be competitive. It is deceptively simple, like flying India fighter kites or printing black and white photographs. Most anyone can achieve what it calls for on a rudimentary level. But mastery takes tens of thousands of hours, even more, to attain Olympic potential. But as a comprehensive, easy reference guide of what is required, the Magic Box is as good as it gets. It's something sailors need when they begin racing, and it will be just as valuable if and when they find themselves going for a second Olympic Gold Medal.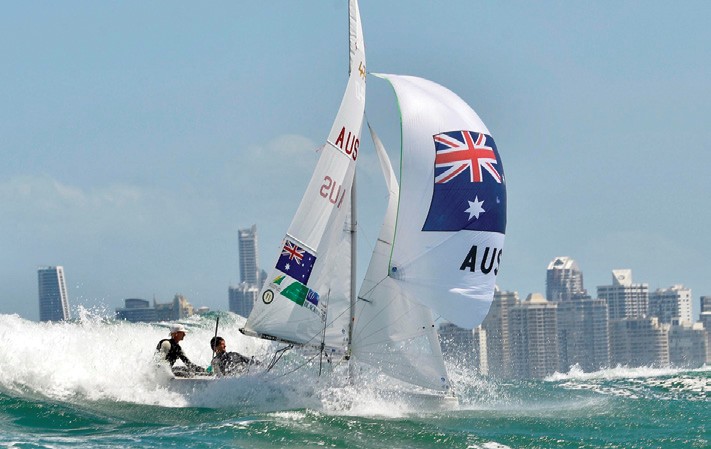 "Under Basics," Victor says, "we have sailing intelligence, your level of education in aerodynamics, weather, hydrodynamics, the rules, how sails work, all this theory. The psychology of sailing has to do with your attitude when you get in the boat, your approach, your degree of confidence, your mental readiness."
Australian Sailing Team members Mathew Belcher (helm) and Will Ryan surf their 470 during a recent practice session. Coach Kovalenko says they will have these conditions in Gold Coast when a strong southerly combines with an ebb tide. Belcher and Ryan won the Silver medal in the Men's 470 at the Rio Olympics in 2016, and Belcher (with crew Malcolm Page) won Gold in London in 2012.   © Victor Kovalenko
"Under Boat Speed are techniques, or boat handling…" [Practice 20-30 hours a week for a couple years, come back, and then we'll move on.] "Tuning is the scores of things on the boat that can be adjusted individually and in combination, like sail trim and shroud tension; then selection of materials or just materials, what to buy – this boat, that mast, this sail… When you are at the top top, it becomes 'development of materials' because you can't buy them; you have to develop them."
"Under Starts, you begin with vision of the starting line. Then it is the positioning game where you select where you want to be on the line and obtain it or protect it. And then acceleration. Maybe you can see the line and you have a good position, but if you accelerate one second too late you are dead. One second means everything in some situations. One second too early and you are dead as well because you are OCS (over the line early: 'On the Course Side')."
"Tactics are easy. They only apply when boats meet. Tactics are actions taken to obtain or maintain an advantage. Tactics take place in three places – at the upwind mark, the downwind mark, and in open water. You use tactics to execute strategy."
"Strategy begins with wind strategy: where is the wind from and what is it doing, trending to the right or left, increasing or decreasing? Before each race, question number one is always wind strategy, how to approach the race given the wind conditions. There are many sources of information: internet reports, a coach who can mislead you, flags, local knowledge, history, smoke, other boats, wind patterns on water… Also conditions: waves and wind together. Light wind calls for different strategy than strong wind. If the wind is strong and that's your strength and it is club racing, your strategy is to have fun because you know you will kill all of them."
"Then there is fleet strategy. Maybe you only have to beat one boat, so never mind the wind. You have to cross him and stay ahead. Race and regatta strategy depends on the format: how many races, how many discards? If there is only one race, to win you have to maximize risk. If there are 20 races, a marathon, minimize risk because if you are conservative you will be the winner if you have good speed. Next look at the competitors: Who is your main competition and what are their strengths and weaknesses?"
The discussions stimulated by the Magic Box will last a lifetime. Its genius is that every element of sailing is contained within it.
© 2017 Altamira Creation AG/Roger Vaughan
Look for a review of The Medal Maker in an upcoming issue of WindCheck.