By Peter Cronin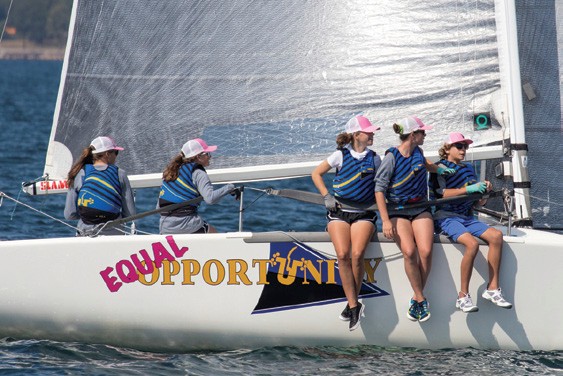 In the weeks leading up to the Melges 24 Canadian National Championship, I did my research and it did not look promising. As a 17-year-old adrenaline-seeking sailor, I always looked forward to the windy days. The forecast for Lake Ontario during our regatta, hosted by National Yacht Club in Toronto September 21-25, 2017 was not exactly what a kid like me was looking for. With breezes forecasted at under 10 knots, it was time to test our hand at light wind sailing.
From left to right (and sporting the coolest pinnies in the regatta) are skipper Lily Flack, Cara Samson, Caelen Desmond, Lucy Rath and Braedon Hanson.   (Not visible in this photo is author Peter Cronin.)   © Julia Cronin/Outrageous Photography
I was going to be on a boat with a group of sailors with an average age of 15 ½, we were all itching to show the adults in the Melges 24 class what us kids could do. Despite the weather forecast, or perhaps because of it, that is exactly what we did. We even surprised ourselves in the process.
We had been practicing for this event all summer, and intensively for the final four weeks. It wasn't just practice on our minds – there was an obstacle course of logistics to complete before we could leave for Toronto. As the only youth team in the Melges 24 circuit, the MudRatz Youth Sailing Team decided to send two boats to Canada for this regatta, with one being a boys boat, and the second consisting of mostly girls. I was selected to be on the girls team. We did our best to deal with the logistics, but without the parents it would not have been possible. From passports, housing, transportation and trailer registrations to boat upgrades and repairs, there was much work to be done in order to have everything go smoothly in Canada.
The boats were packed up and we hit the road. Twelve hours and a blown tire later, we arrived in Toronto late at night. The next morning we were ready to rig the boats and practice for the race days to follow. We were given our first taste of lake sailing. There was a faint breeze – enough to fill the sails, but not much more. Excitement of what was to come more than wind propelled us throughout the day. And that was how it would be for the rest of the week.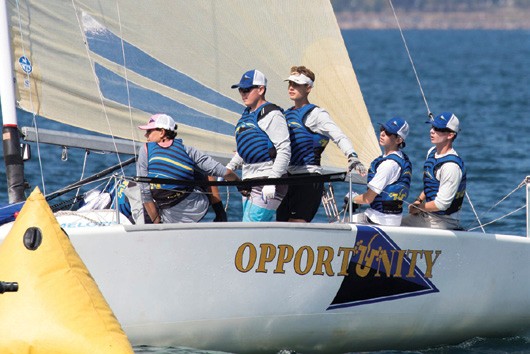 The first day of competition arrived and this was the moment we had been waiting for. A steady breeze of seven knots was filling the course. Not the kind of breeze we had been hoping for, but enough for us to show what we can do.
Rounding a mark aboard Opportunity are (l – r) Jack Derry, Evan Spalding, co-skipper Eli Gleason, Tanner Kelly and co-skipper Stewart Gurnell.   © Julia Cronin/Outrageous Photography
Crossing the finish line in the top half of the 23-boat fleet was the goal. When we came across the line in tenth place in the first race, we were ecstatic. The first day of racing was filled with emotion. With two tenth place finishes and a 14th, we were very happy with our performance.
The second day there was not much racing, but instead a day in which we practiced our dives and swimming skills. With the light conditions we were experiencing, we knew there would be a day of no breeze at all, and that there was. We had a delayed start, went out and drifted for several hours, and didn't start the first race until 2:30 that afternoon. We continued to sail well, finishing with a 13th and 7th. With breeze topping out at 7 knots, the fact our crew was light was actually paying off. Unlike other regattas where as a light crew we were negatively affected, here we were benefiting from being underweight. That afternoon, a spontaneous decision to go into the city and watch a baseball game was made. It brought the team together as we enjoyed the city and game.
On the final day of the regatta, the forecast again did not look promising. Without even a breath of air on the lake, it was impossible for us to go out. Boats were beginning to derig and line up at the crane and some had even lifted out when the call was made at noon and racing was back on for the day. Though that day we did not finish as well as we did the days before, we gave our all on the course.
Canadian Nationals was a goal that we as a team set and worked to achieve. Ending the season with a completed goal is a great feeling. In the weeks leading up to the regatta, we sent out emails trying to raise awareness about the MudRatz. When we arrived in Canada, many of the sailors welcomed us with words of advice and donations – everything from practice sails to race sails to monetary donations. While the competition itself was amazing, it was the attitude and generosity of the other sailors that made the biggest impression on me.
It seems as though the saying "It takes a village" could not be more accurate in terms of this team. Without the donors, our regattas, and even our practices would never be possible. Being a member of the MudRatz has taught me the importance of donating time and resources, and has made me want to pay it forward in whatever capacity I can.
A resident of Ledyard, CT, Peter Cronin began sailing with Ram Island Yacht Club when he was 9, and joined the MudRatz as a charter member when he was 13. He is an active member of the C420 class, and through the MudRatz has competed on Melges 24s and J/70s at local, national, and international competitions. He was recently accepted to Salve Regina College in Newport, RI and plans to study business and marketing, and of course, hopes to be a member of their sailing team.