By Andrew Shemella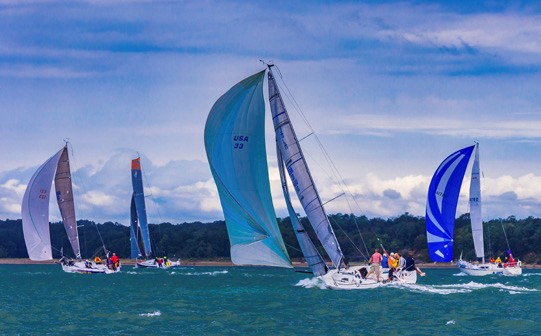 Twenty-five years! Wow, that's a lot of years for a regatta that was started by five guys sitting around a table in a bar. The Sailing Instructions were written on a napkin, and they were just the course. Ten boats sailed in the original rendition of the Peconic Bay Sailing Association's (PBSA) Whitebread Race. It must have been a good idea, because the race quickly grew to over 100 entries. It wasn't long before there was a post-race party, and then a band and a barbecue.
© RJ LaBella/RJLaBellaPhotos.com
Whitebread XXV will be sailed on September 29, 2018, starting in Little Peconic Bay and circumnavigating Shelter Island either clockwise or counterclockwise. The PBSA is at work to make this year's race the best yet. There will be the same great venue. Same great competition, with classes for every type of boat. Better trophies than ever. Another great logo designed by Paul Kreiling, great commemorative gear sales, and a kick-butt dance party with a live band and complimentary beer and wine. Better yet, PBSA is moving the start line east into Little Peconic Bay to make the day easier for boats from the east and Connecticut. And, local marinas are offering discounts for dockage. They will be listed in the Notice of Race (which is online through PBSA.us). We are planning a new special menu for the post-race party.
We've appointed captain Pat Mundus, worldwide sailing adventurer, as Honorary Chairperson of Whitebread XXV, and she and her classic 57-foot ketch Surprise will be on the water. We've also engaged the Peconic Star Cruise Line to run a spectator boat capable of bringing 80 racing fans out on the course to watch the action and to enjoy food and beverages. So, with at least three "Greats," you know it's going to be Great!
Sailors in Whitebreads past have enjoyed many different conditions: some trial and tribulation, some pure joy. In one very light air rendition, racers were forced to anchor when the wind wouldn't permit progress against the tide…so did the Volvo Ocean Race fleet. We've had lots of wind – sometimes too much of a blessing. The fleet has bashed its way around the "MO-A" buoy in Gardiner's Bay many times. We've had fog. That was my favorite: more than 100 boats groping their way around Little Peconic Bay with no visibility. We've had rain so hard it couldn't be distinguished from spray but for the taste. We've had full moon fall tides when the current made or broke podium ambitions. We sailed with heavy hearts in 2001 just weeks after the terrorist attacks. We had one tropical storm cancellation. Last year, we sailed in sunshine while Southampton was getting battered with some of the worst storms they've seen in years.
Most years it's been a delight. Some years we even had those ideal fall sailing conditions with azure skies and brisk winds. But every year has been special and we keep doing it because, well, we can. To learn more about this unique race – and to register! – log onto PBSA.us.