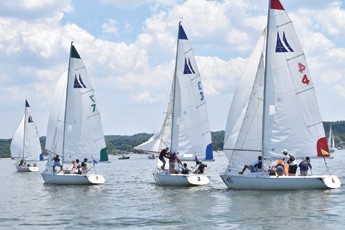 Representing Riverside Yacht Club, the team of Jack Parkin (Greenwich, CT), Ashton Borcherding (Greenwich), Bram Brakman (Darien, CT) and Wiley Rogers (Kemah, TX) won the 2018 U.S. Youth Match Racing Championship for the Rose Cup. The event was co-hosted by Oakcliff Sailing and Seawanhaka Corinthian Yacht Club in Oyster Bay, NY June 27 to July 1, 2018 and sailed in Sonars. Parkin's team finished nine races with eight points, and only one loss in the Round Robin.
Ten teams of four, each with at least one female crew, competed in the 2018 U.S. Youth Match Racing Championship for the Rose Cup.©  Francis George/Oakcliff Sailing
In its brief, yet impactful history on youth match racing in the U.S., this invitational event for 16 to 20 year-olds has served as an outstanding training ground for young sailors who are passionate about match racing and focused on competing at the next level. At each Rose Cup, one team receives the Nick Scandone Sportsmanship Award, with recipients chosen by the other competitors. This year's recipients were Conrad Vandlik, Carl Eaton, Emma Aubuchon and Nathan Olmstead, all from Wayzata, MN.
Coaching and instruction plays a major role in these sailors' experience. Five-time U.S. Match Racing Champion, Dave Perry (Southport, CT) led a North U Advanced Match Racing Clinic on Wednesday and Thursday before the regatta, and coached all three days of the regatta. Perry's enthusiasm was contagious and invaluable to keeping sailors' morale high despite the hot, humid and mostly windless conditions.
Originally known as the Rose Cup, this event was founded by members of the Balboa Yacht Club and the Newport-Balboa Sailing & Seamanship Association (NBSSA) as an invitational youth match race event in 2010. US Sailing elevated the Rose Cup to an official US Sailing National Championship in 2015, with a mission to promote youth match racing in the U.S. and improve the skills of racers from around the country in national and international competition. The U.S. Youth Match Racing Championship is sponsored by Gill North America.
Jake Fish, US Sailing's Communications Director, contributed to this report.