By Peter Cronin
Editor's note: In 2016, the Newport Bermuda Race Organizing Committee initiated a new division for young sailors. To qualify for the Stephens Brothers Youth Division, 50% of a yacht's crew must be between the ages of 14 and 23 (inclusive). An enticing prize donated by the Cruising Club of America's New York Station and honoring legendary sailors Olin and Rod Stephens, the Stephens Brothers Youth Division Trophy is awarded to the yacht with the best performance in that division. Hailing from Southeastern Connecticut, the MudRatz Offshore Team claimed the Stephens Brothers Youth Division Trophy (and the Alfred E. Loomis Trophy as the winners of the 14-boat Class 5 of the St. David's Lighthouse Division) in the 51st Newport Bermuda Race. To learn more, log onto MudRatz.org.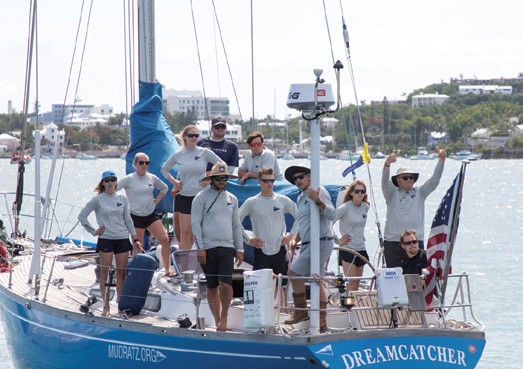 The idea of the MudRatz participating in the Newport Bermuda Race was conceived about a year ago. MudRatz founder Brandon Flack had seen us grow in the Melges 24s and was ready for us to take on the challenge of offshore racing. The only thing stopping us from doing these events was the availability of a boat. Brandon put the word out that we were actively looking for a boat that we could use for the Newport Bermuda Race, but as the cold, dark days of December 2017 rolled through there were no real prospects in sight.
Celebrating aboard Dreamcatcher in Hamilton Harbor are (front row, left to right) Taylor Walker, Peter Cronin, Steve Kylander, Megan Gimple, John Winder, OJ O'Connell (kneeling) and (back row, l – r) Lindsay Gimple, Annie Longo, Sarah Wilkinson, Morgan Buffum and Fritz Finkenauer. © Julia Cronin/OutrageousPhotography.net
However, one phone call in the deep of winter changed the MudRatz Racing Team's future for the good. Brandon was asked if he would be interested in accepting a donation of a Swan 48! Now that we had the boat, it was time to get the experience needed to go offshore.
Our team was led by two sailors who had instructed for the MudRatz, and even instructed several of us in our learn-to-sail classes back in the day. Taylor Walker (age 29) and Neil "OJ" O'Connell (24) took on the responsibility of getting us to the racecourse. We were also joined by the donor and previous owner of Dreamcatcher, Steve Kylander, and Newport Bermuda Race veteran John Winder. Knowing we had capable adults and instructors onboard, it was time we found a crew.
In early January, the official announcement was made for the MudRatz Offshore Team, and applications were to be submitted before the end of the month. The coaches and the MudRatz Board reviewed over 40 applications, and 18 sailors made it through the first round which was announced in mid-March. An initial crew of three youth sailors was selected, and spots for five others would be determined based on tryouts during an intense training schedule in April and May.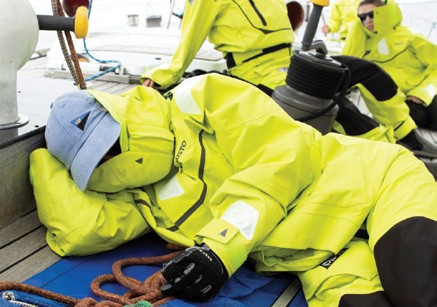 A wet and cold spring delayed much needed bottom work and we did not get the boat in the water until mid-April. In addition to long sailing sessions every weekend, many of us would meet at the dock after work or school to address the long "to-do" list.
An unidentified crew member catches a 'RatNap.   © Sarah Wilkinson
It was hard training in the weeks leading up to the Bermuda Race. With no weekends off since the first practice, the learning curve had been remarkable. Leaders emerged and positions began to get set as people's passions grew. Dreamcatcher was built in 1973, so some boat issues arose. Each one of those provided us with huge learning opportunities that could not be passed up. From winch maintenance to learning to splice, every day afforded us the chance to learn a new, practical skill.
As training continued and new faces came on and off the boat, the anticipation began to grow. At the end of May, just before the start of the Block Island Race, the team roster and positions had been finalized. In addition to our coaches and adult mentors, we now had Megan Gimple (age 18; Trimmer), Fritz Finkenaur (23; Mast), Gannon Troutman (15; Midbow), Annie Longo (20; Pit), Morgan Buffum (23; Mast), and Sarah Wilkinson (21; Trimmer). Lindsay Gimple (23) and Peter Cronin (17) were named as Watch Captains.
As the team began to grow together and skills began to get honed in on positions, the Bermuda Race grew closer and closer. With just two weeks before the start in Newport, there was somebody on the boat every day. From washing teak decks and adjusting electronics to cleaning the tanks, there was always work to be done.
In the days leading up to the race, there were new faces on the boat every hour, from Newport Shipyard technicians fixing a refrigerator that went out 24 hours before the start to Ben Bardwell lending a hand on splicing a traveler. It certainly wouldn't be a regatta if we didn't lose both the refrigerator and the radar 48 hours before the start!
Our nerves increased as the dockoff time grew closer. For the majority of the crew, it would be our first time offshore and it began to get to us. As we pushed off the dock, our voices were quiet and the crew was subdued. Nobody would say it, yet we all had a twinge of nerves. Checking in before the start, we rid the boat of one more sailor. An up-and-coming MudRat, Dylan Flack (13) had jumped on the boat and after checking in, jumped off in the same style as the Volvo Ocean Race guests. Having Dylan on board seemed to calm nerves and prevent pre-race jitters.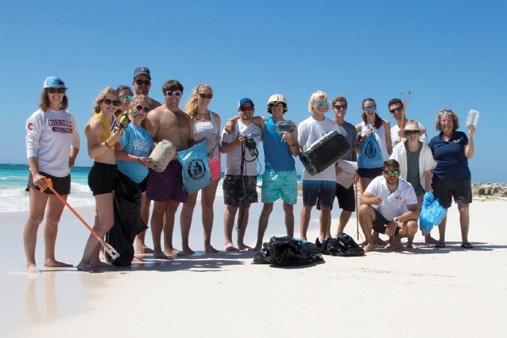 The MudRatz Offshore Team and members of the Young American Sailing Academy teamed up with Keep Bermuda Beautiful for a beach clean up. From left to right are Lindsay Gimple, Megan Gimple, Annie Longo, Morgan Buffum, Fritz Finkenauer, Sarah Wilkinson, OJ O'Connell, Peter Cronin, Gannon Troutman, Carson Crain (YASA), Julia Lines (YASA), Jay Greenfield (YASA), Becca Luther and Anne Hyde (Keep Bermuda Beautiful), and Taylor Walker (kneeling).  © Julia Cronin/OutrageousPhotography.net
After our first night, the team got into the rhythm of offshore sailing. Shift changes and sail changes were done quickly and efficiently. As we ticked off the miles from Bermuda, we came across the Gulf Stream. We had all heard stories of the weather in the Gulf Stream: 20-foot waves and 40-knot breezes. We were all mentally bracing ourselves for a storm that might not be in the weather forecasts, knowing the Stream could brew up some nasty storms. But when it came crossing time, there were 12-knot breezes and no more than two-foot seas. For some it was a relief, and others it was a disappointment, hoping the Stream would provide us with some exciting conditions.
As the days rolled on and the breeze began to shut off, we all grew hot and seemingly always hungry. There was no escape from the heat wherever we went, and we grew anxious to get to Bermuda. As the tedious sound of the sails luffing from one side to the other due to a complete lack of wind, we began finding new ways to entertain ourselves and others. From hiding snacks to telling stories (some true and some not), we passed through our shifts and kept the boat sailing at her full potential.
Things did not spice up until the fourth day as a high pressure system that was dominating the fleet moved south and brought in a cool 20-knot breeze, setting us directly at Bermuda. The helm grew heavier and the crumbs of four days' worth of snacks were washed off decks. Before we knew it, we were bearing down on Bermuda at nine knots, a number we hadn't seen in what felt like forever.
Eighteen hours later, we had Bermuda in our sights as we began to get occasional scents of land with the breeze as lights began to illuminate the horizon. A few short hours and several good laughs later, the entire crew was on deck to witness the finish.
Crossing the line at 0400 marked the close of our race. We had spent three months of hard training to get to where we were in that moment in time. Though we had no idea where we had placed, the fact that we had just completed the Newport Bermuda Race as an all-youth team made it a success for all of us.
Upon arriving on land, most MudRatz bee-lined it for the bathroom, while others celebrated. News had reached us that it just so happened our youth team had pulled out a class win. It was a feat that we will all remember through our sailing career, and one that couldn't have been completed if it weren't for the volunteers and sponsors that helped us get to the start line. Many thanks go out to the individuals and companies that donated time, money and equipment to make this race possible!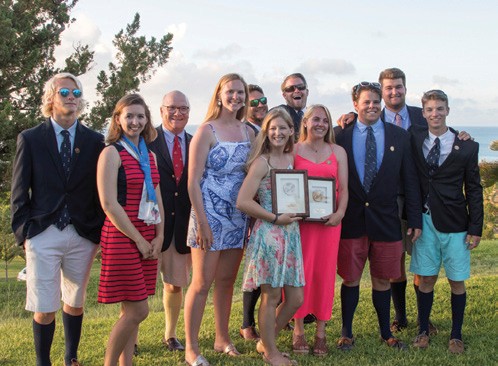 Savoring the taste of victory on the grounds of the Royal Bermuda Yacht Club are (l – r) Gannon Troutman, Lindsay Gimple, John Winder, Sarah Wilkinson, Taylor Walker, Megan Gimple, OJ O'Connell, Annie Longo, Fritz Finkenauer, Morgan Buffum and Peter Cronin.  © Julia Cronin/OutrageousPhotography.net
Peter Cronin is a 17-year-old sailor from Ledyard, CT. He began sailing with Ram Island Yacht Club when he was 9, and joined MudRatz as a charter member at 13. He is an active member of the C420 class, and has competed with MudRatz on Melges 24s and J/70s at local, national and international competitions. He was recently accepted to Salve Regina College in Newport and plans to study business and marketing and, of course, hopes to be a member of their sailing team.