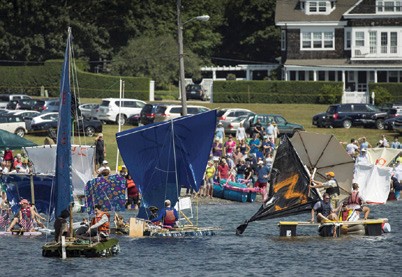 The Fools' Rules Regatta, a family-oriented event for fun-loving folks of all ages sponsored by the Jamestown Yacht Club, is celebrating 41 foolish years on Saturday, August 18, 2018 on the Town Beach, East Ferry in Jamestown, RI.
© Onne van der Wal/vanderwal.com
"The cannon will be fired at 9:00 am to begin construction of the 'vessels," said Chief Fool Greg Hunter. "Entrants have two hours to construct a sailing craft on the beach, which must be made of non-marine items only. The craft may be pre-constructed, but must be disassembled and built again on the beach. Races, on a 500-yeard downwind course, begin at 11:00 am with the firing of the cannon for the start of the Class 1 race.
This crazy event has attracted regional attention, being highlighted in Yankee magazine and the National Geographic's World magazine. America's Got Talent winner, Mat Franco, named the Fools' Rules Regatta as one of his "five favorite things about summer in Rhode Island." Last year, The Fools' Rules Regatta was named "Best Regatta" in Newport Life Magazine's "Best of…" contest.
"Join us for a day of fun and foolishness," Hunter continued. "Design your 'boat' and scour your basement, attic and garage for anything that floats. Bring it to the beach on August 18 and join the foolishness!" Complete information, rules, and entry form can be found on the Jamestown Yacht Club's website, jyc.org, or by calling 617-593-2117.